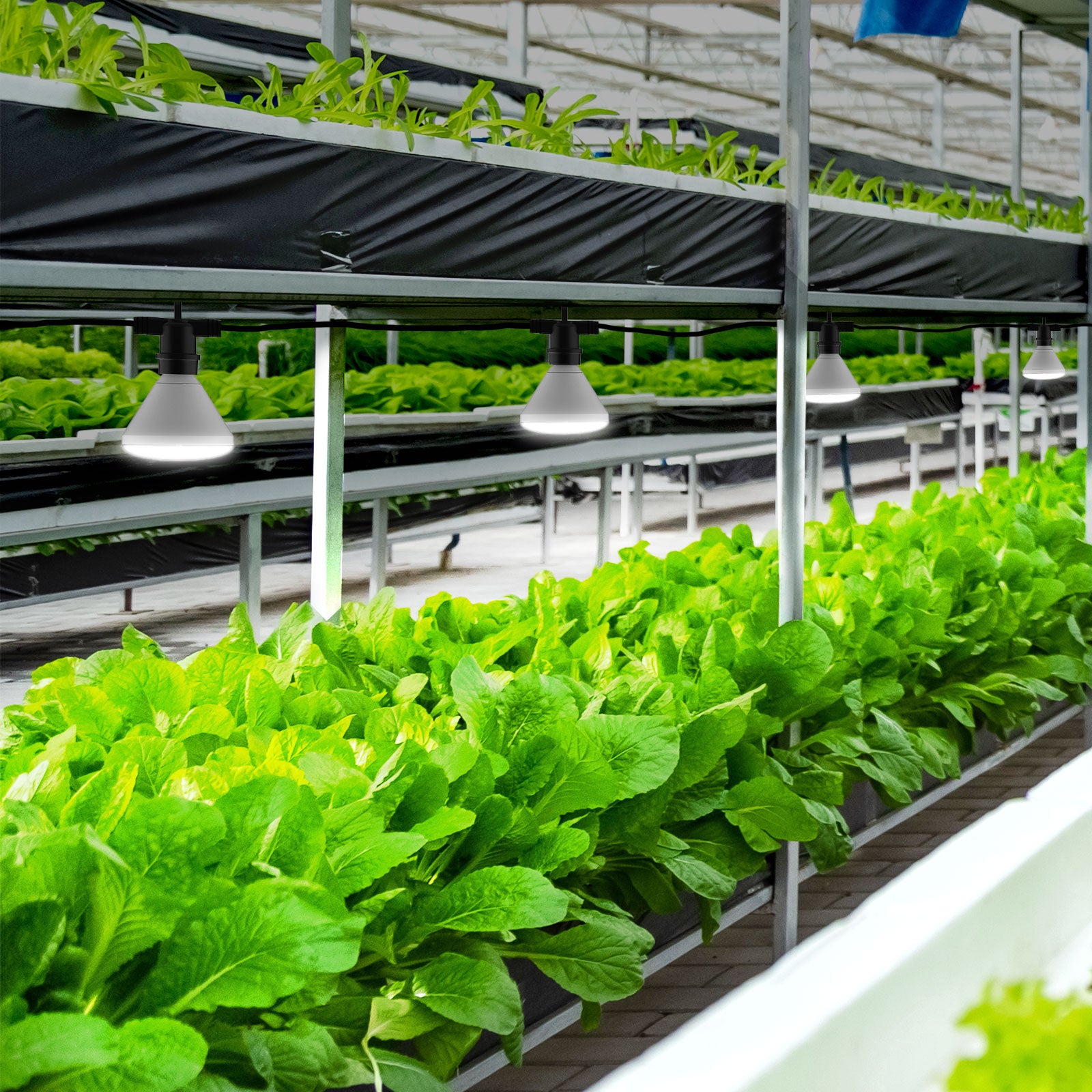 String Led Grow Light for Greenhouse
LED Grow Lights for Greenhouse Waterproof String Grow Light, Full Spectrum LED Plant Grow Light Lamp, Waterproof Greenhouse Grow Lights for Seedling, Veg, Flower (8-Bulbs), if you want to customize the spectrum, the gap length or the quantity of grow bulb, please contact us.
Features


1. FULL SPECTRUM PLANT LIGHTS: PPFD: 100.05 μmol/s/㎡ @ 1ft. SANSI's grow bulb imitates the solar spectrum, customizes a more ideal full life cycle full spectrum supplementary light program, covering the entire visible spectrum of 400nm-780nm.
2. 4000K NATURE DAYLIGHT: SANSI's grow light bulb gives out white 4000K daylight. Its color rendering index Ra is close to 100, infinitely close to natural light, suitable for every cycle of plant growth, effectively promotes plant growth, and improves crop yield and quality.
3. PATENTED COC TECHNOLOGY: Chip on Ceramic, SANSI's patented technology replaces the traditional Mcpcb aluminum substrate with a non-conductive ceramic heat sink, and directly solder the LED chip on the ceramic heat sink, effectively reducing the system thermal resistance between the LED PN junction and the surface of the heat sink, resulting in faster heat conduction and higher product reliability, makes the SANSI bulb has higher light efficiency.
4. EASY INSTALLATION: Direct screw-in, save time and energy
5. CUSTOMIZE: The spectrum, the gap length and the quantity of grow bulb are customizable according to your needs
6. SAFE and RELIABLE: IP54, we also provide two-year warranty for this full spectrum grow light. If there is any problem with this grow light during usage, pls contact us at any time.


Specification

Wattage: 22W
Voltage: AC 120V, 60Hz
Beam Angle: 120°
Lumen: 17600 Lumen(8 bulbs)
PPF: 280umols(8 bulbs)
PPE: 1.6umol/J
Color Temperature: 4000K Daylight
The Gap Length: 3.28 FT(Customizable)
Working Temperature: -50°F-104°F
IP Rate: IP54
Luminous Efficacy: 100lm/w
Dimensions: 3.78in*3.90in

How long will it take for my order to arrive?
It takes 2 working days by Express shipping after you place an order and we complete shipment. For Standard shipping, most orders will arrive 3-5 working days after shipment is completed.
We are not liable to any shipping delays, nor loss of any kind caused by unforeseen and uncontrollable circumstances, such as unreachable recipients, invalid addresses, weather conditions that affect delivery, customs clearance delays and so on. In these situations, SANSI will try our best to notify customers of the delay, and if possible, make new delivery/collection arrangements with an estimated delivery date.
This product has no reviews yet.