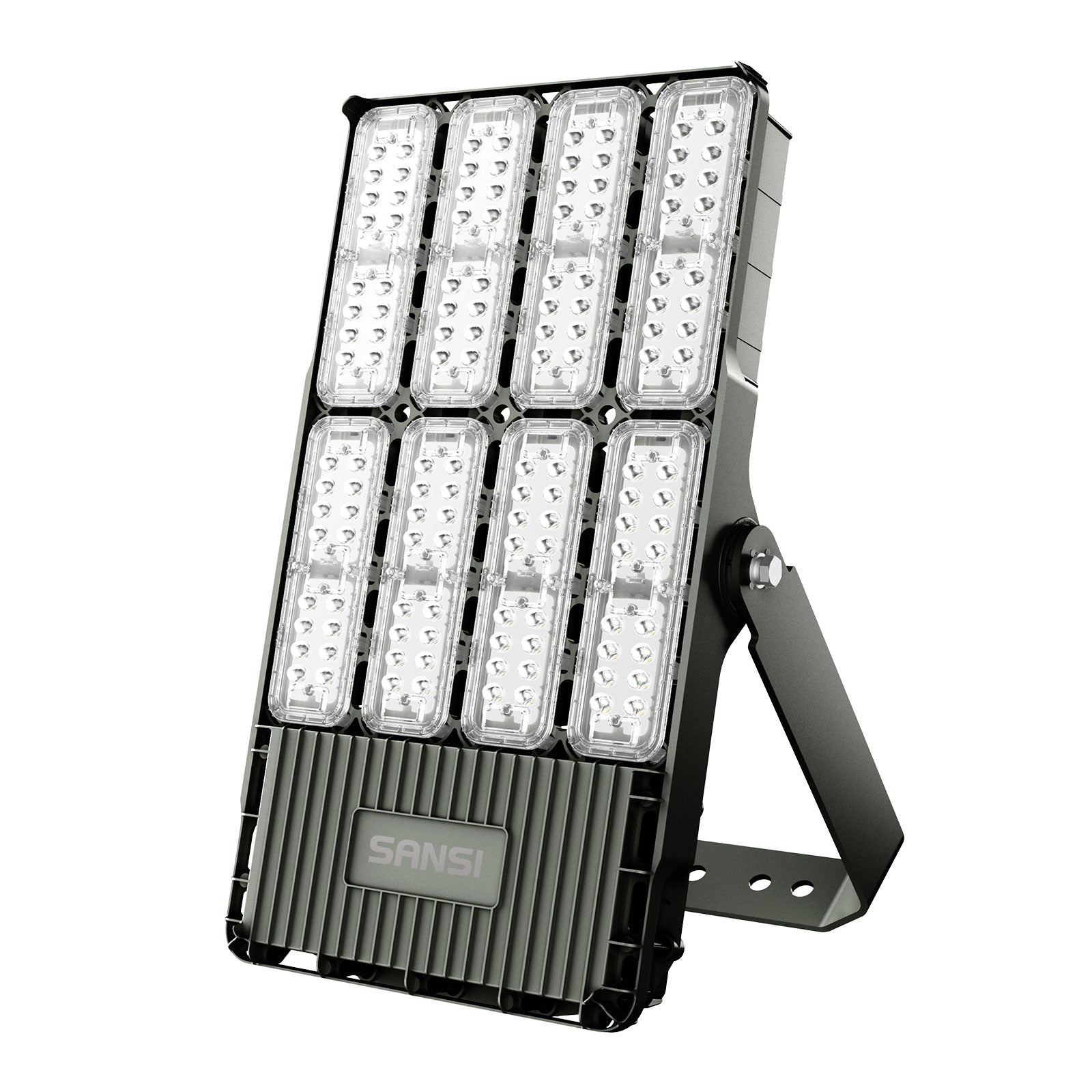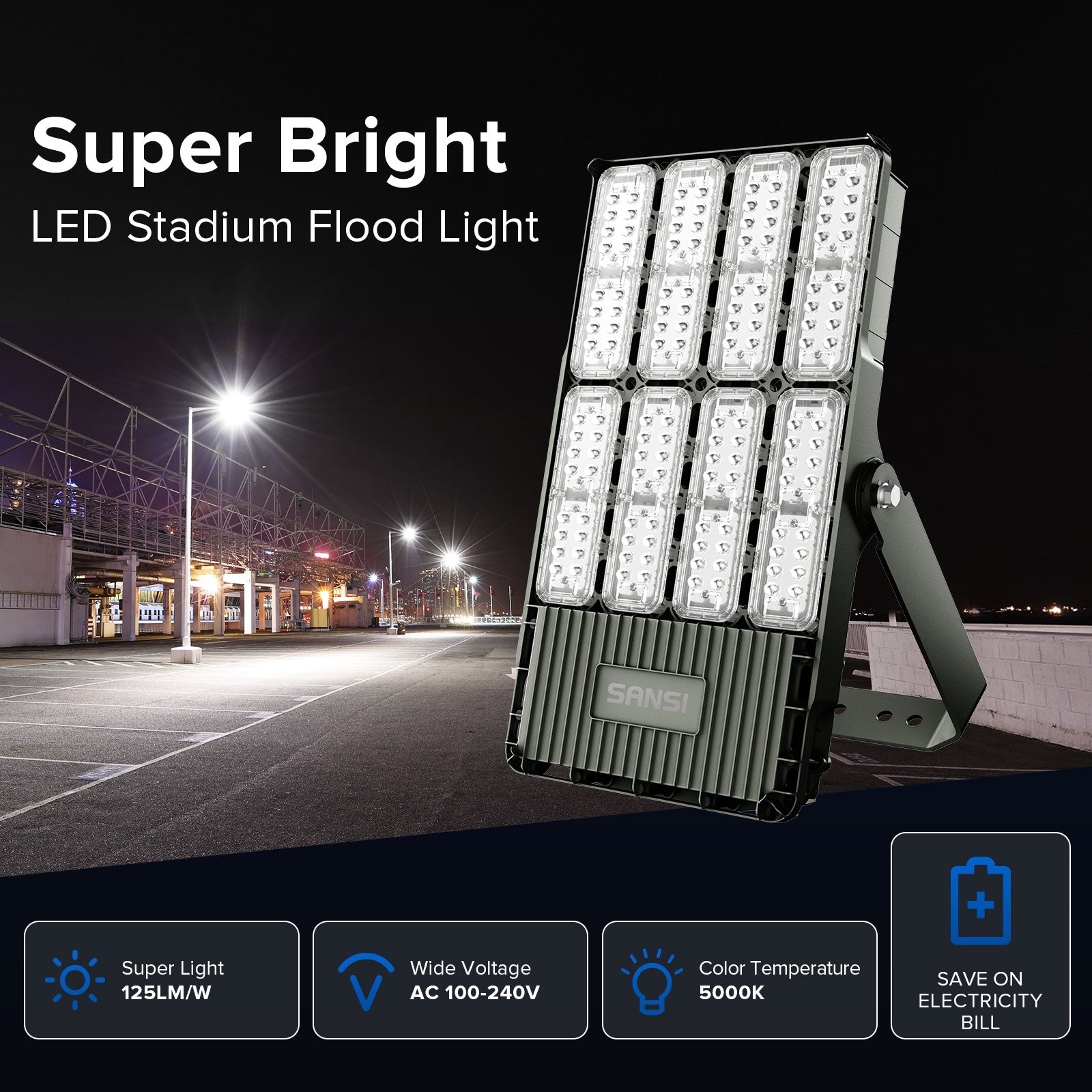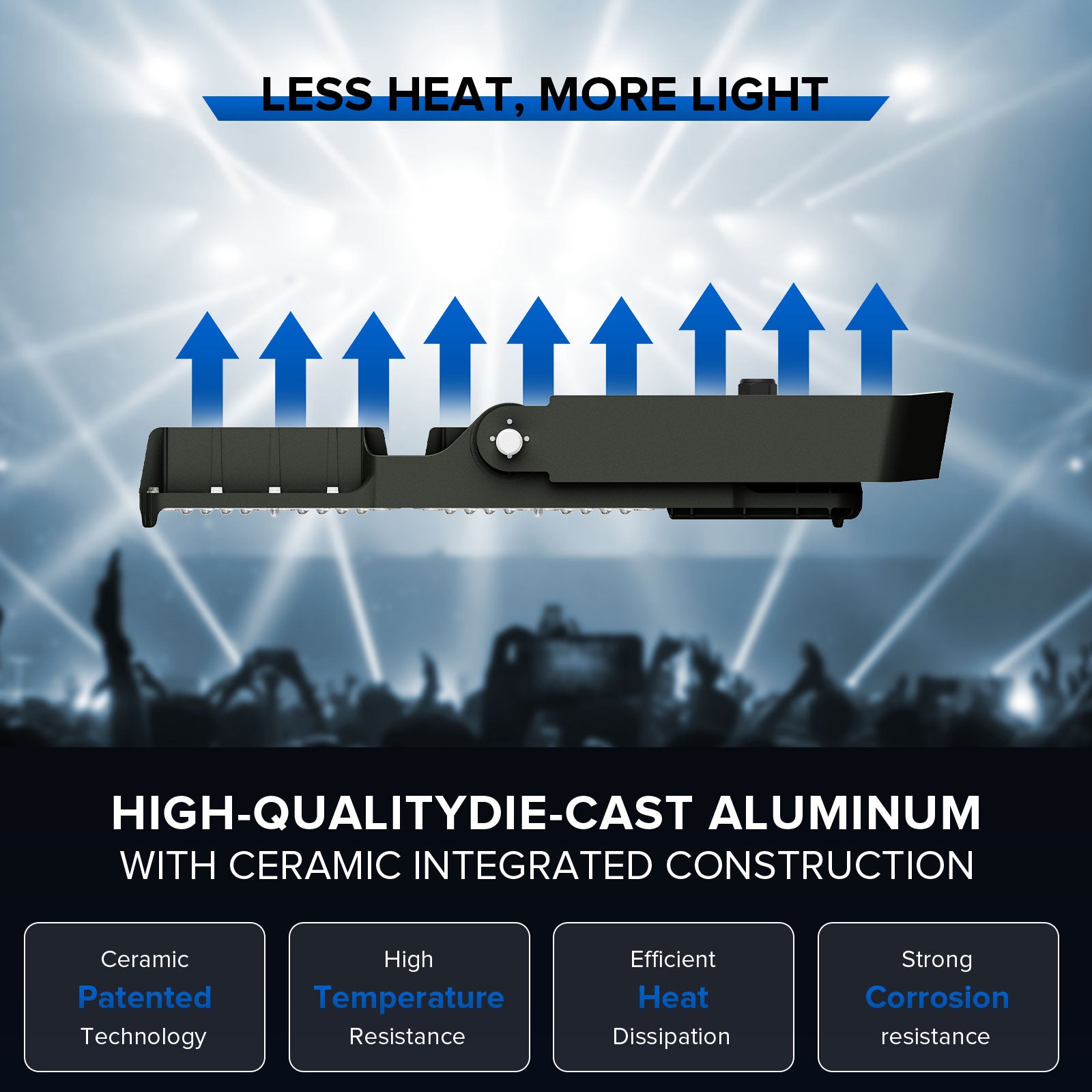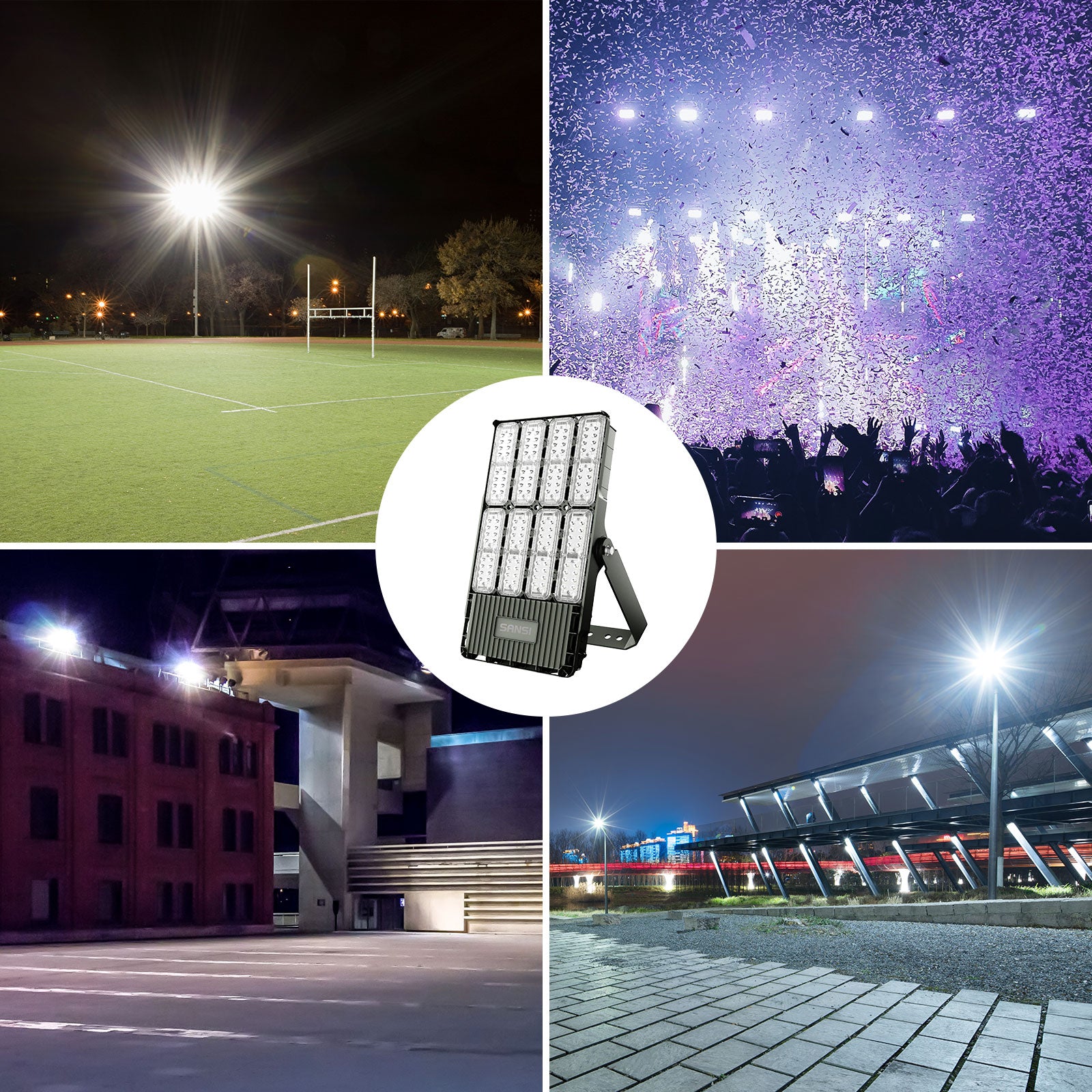 SANSI 400W LED Stadium Floodlight
SANSI 400W LED Stadium Floodlight, 50000LM Super Bright Outdoor Flood Lights with Wider Lighting Angle, 5000K Daylight White, IP66 Waterproof Outdoor Lighting for Garage, Garden, Lawn, Yard, Parking Lot.
Features

1. Super Bright & Energy Saving: SANSI 400 Watt LED flood light outdoor comes with 360 ultra-bright LED beads, producing up to 50000LM(125LM/W) high brightness 5000K daylight white light and saves 90% on your electricity bill.Provide super brightness and extra security to your playground, court, swimming pool, patio, yard, driveways, entryway, parking lot etc.

2. Save On Maintenance: The housing of this stadium light is made of high-quality die-cast aluminum, using 1070 pure aluminum stamping process, and the back is pure aluminum fins with copper tubes, low surface temperature,strong corrosion resistance. With good thermal conductivity, hightemperature resistance and efficient heat dissipation, its service life is greatly improved, up to more than 50,000 hours.

3.  Secondary Optical Design: Suitable for standard sports venue lighting, customized light distribution design, according to different needs of customers to provide reasonable light distribution design, compared with ordinary floodlights, with a specific beam Angle, maximum energy utilization, reduce the use of power consumption; In the case of ensuring the irradiation effect, the irradiation distance is increased, and the irradiation surface is brighter and more uniform, without glare.

4.  Release Your Worries: The lifespan(50,000 hours) of this flood light is ten times that of the traditional incandescent light. IP66 waterproof protection:the power cavity and optical cavity are air-tight protection, which can effectively avoid short circuit of lamps and "vulcanization" of LED chips in high humidity environment. Perfect for outdoor locations like warehouse, yards, patios, parking lot, stadiums, driveways, etc.2 years warranty. Please contact our team if you met any problems.
How long will it take for my order to arrive?
It takes 2 working days by Express shipping after you place an order and we complete shipment. For Standard shipping, most orders will arrive 3-5 working days after shipment is completed.
We are not liable to any shipping delays, nor loss of any kind caused by unforeseen and uncontrollable circumstances, such as unreachable recipients, invalid addresses, weather conditions that affect delivery, customs clearance delays and so on. In these situations, SANSI will try our best to notify customers of the delay, and if possible, make new delivery/collection arrangements with an estimated delivery date.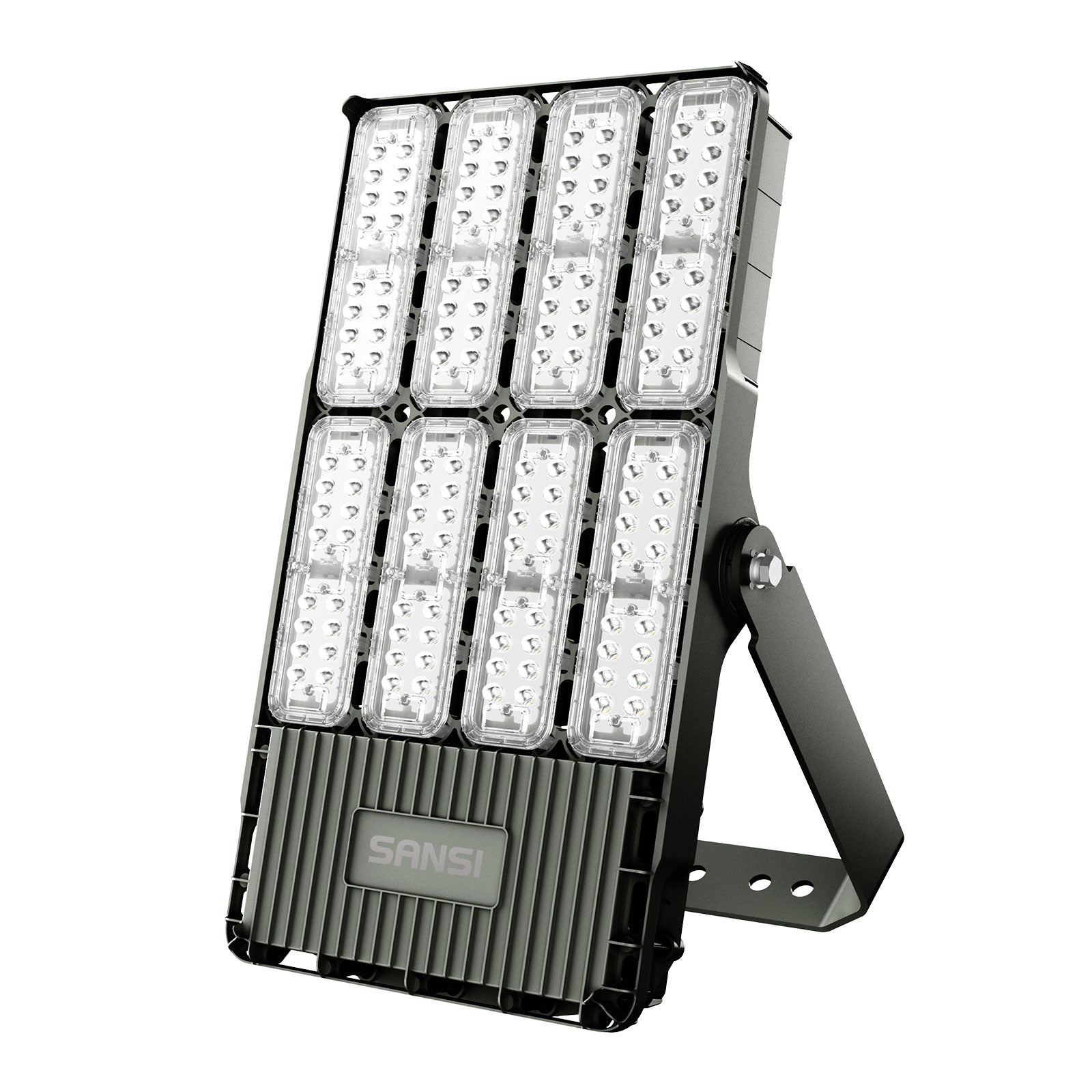 This product has no reviews yet.