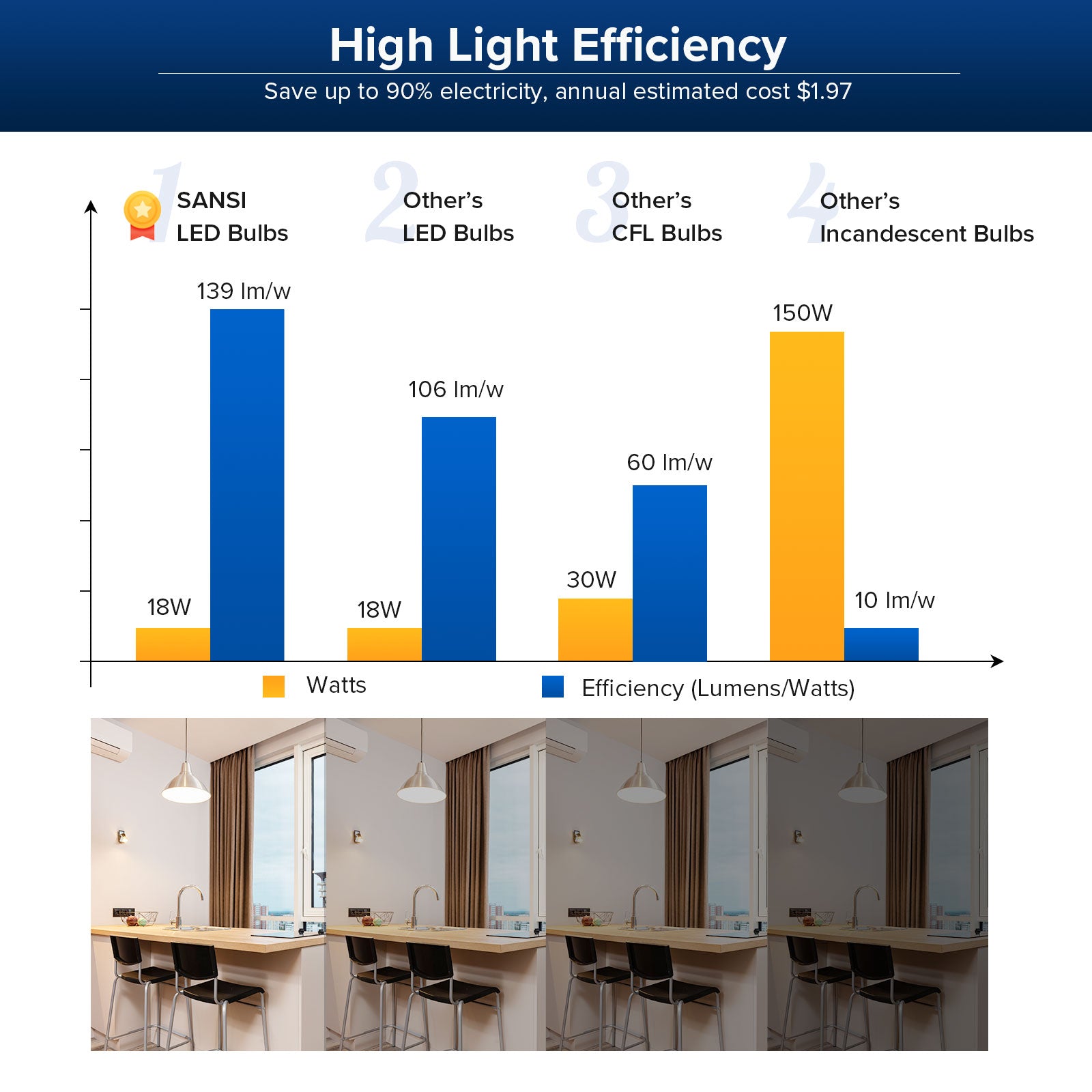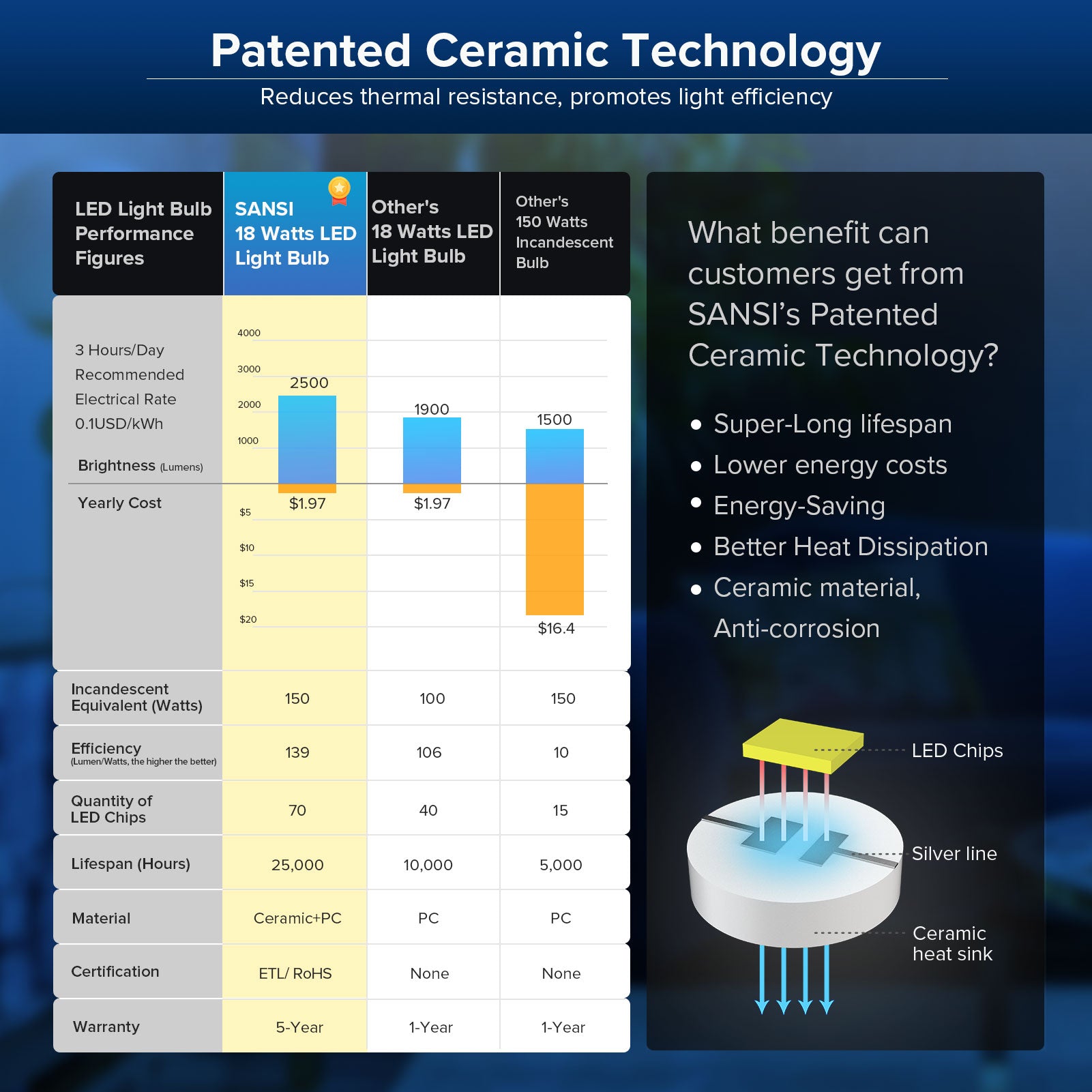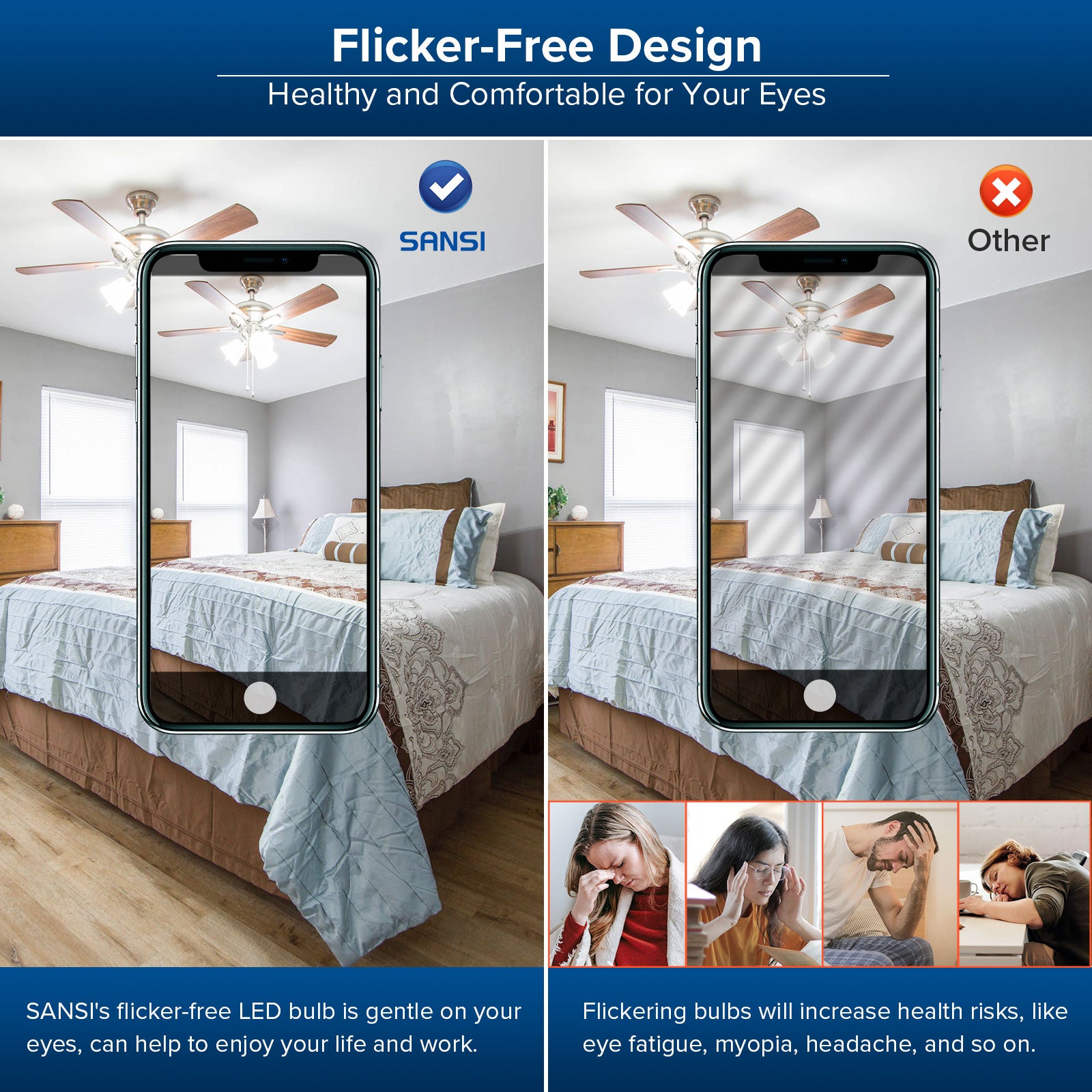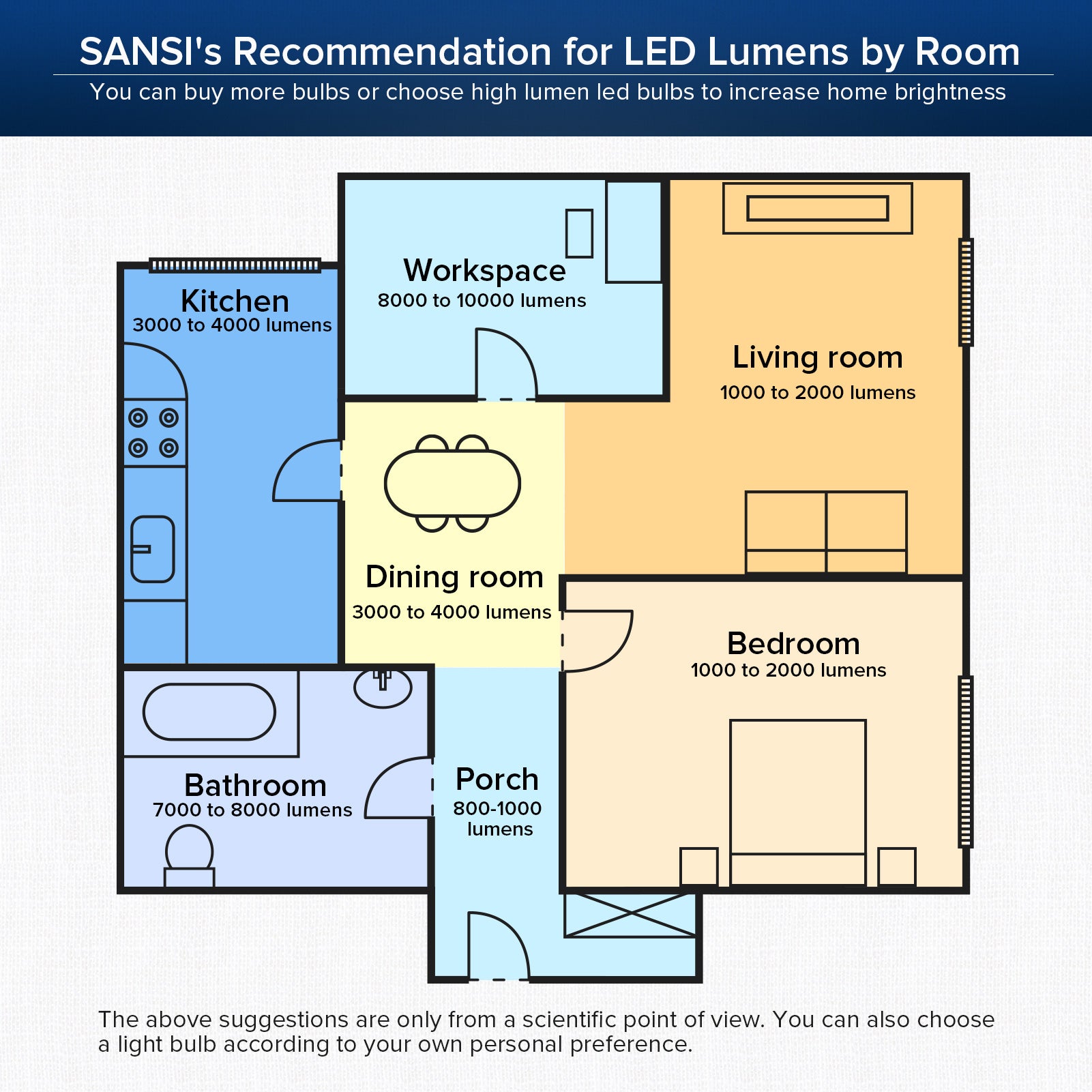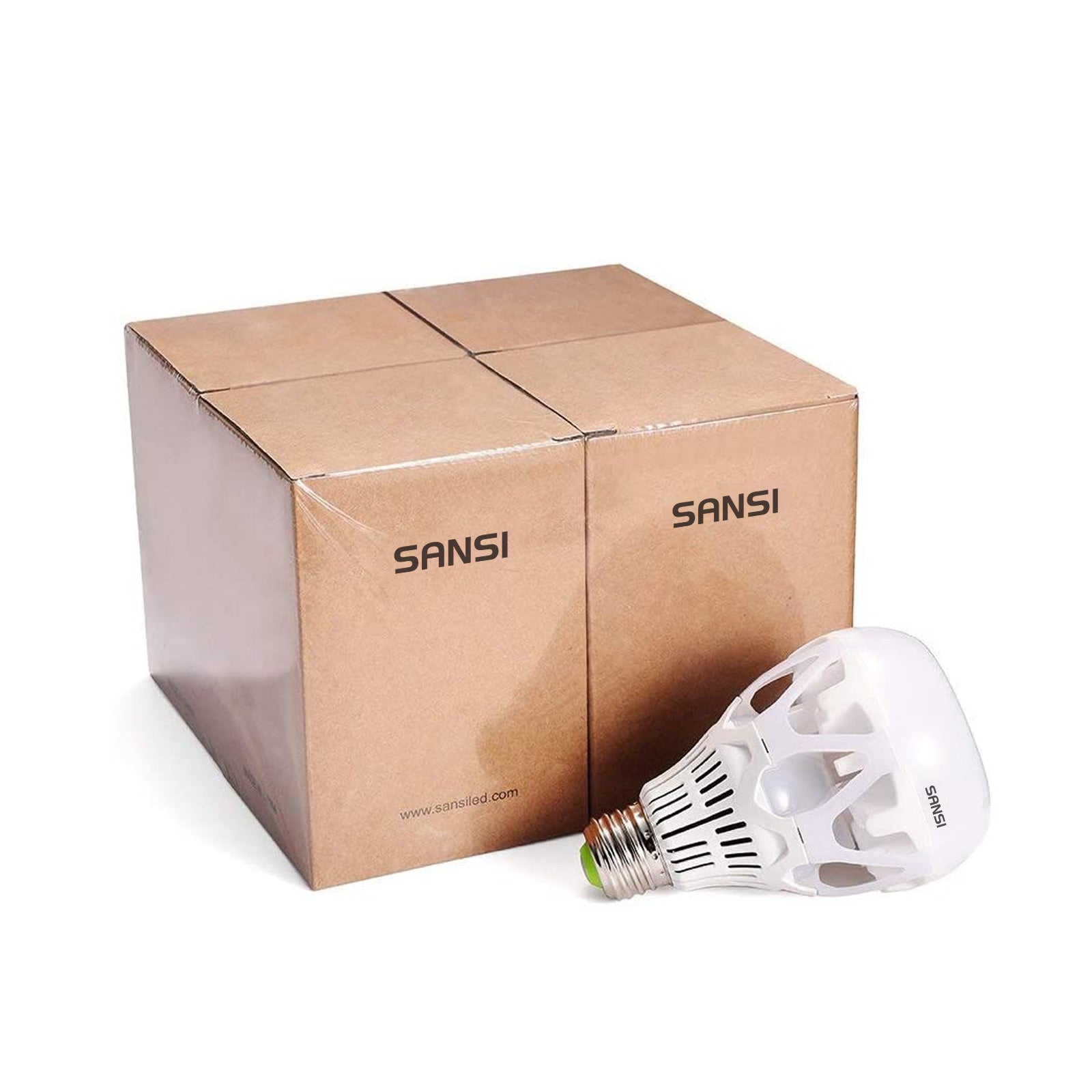 A21 18W LED 3000K/5000K Light Bulb (4-Pack) (US, EU ONLY)
SANSI 18W (150 Watt Equivalent) LED Light Bulbs, A21 LED Bulbs, 2500 Lumens Light Bulbs, 3000K Warm White, E26 Base, Non-Dimmable, Bright LED Bulbs, 4-Pack.
Features


1. Perfect replacement of 200W: Warm white comfortable glow 3000K/5000K and very bright light output 2500lm, works as a great replacement of 200W traditional incandescent bulbs.
2. Easy installation: Standard A21 shape with E26 medium screw base fit in applications where the ordinary E26 incandescent or CFL lights bulb is used.
3. Save your money & energy saving: With a long lifetime 22. 8 years (with 3 hours/day), you don't need to change your light bulbs anymore.
4. Safety for your application: These LED lights do not overheat or emit harmful components (no UV&IR, no toxic mercury lead). You can safely install them in ceiling light fixtures, pendant fixtures, floor lamps, table lamps, and bare lamp sockets.
5. Certified quality: SANSI bulbs are crafted to meet international safety and reliability standards. With our 5-year and 30-day-no-question-asked policy, you can sure buy with confidence.

Specification

Item Model Number: C21BB-VE26-18W
Wattage: 18W
Voltage: AC 120V 60Hz, 220/240V 50Hz
Replacement Wattage: 200W Incandescent Bulb or 45W CFL Bulb
Dimming: Not Dimmable
Beam Angle: 180°
Ra: 80
CCT: 3000K/5000K
Lumens: 2000 lm
Base Type: E26, E27
Product Size: Φ75mm*H117mm
Weight: 1.81 lb

Package Included

4*LED Light Bulbs

Tips

1. Indoor use only.
2. Please do not use it in dimmable fixtures.
3. Please do not use it in totally enclosed fixtures.

How long will it take for my order to arrive?
It takes 2 working days by Express shipping after you place an order and we complete shipment. For Standard shipping, most orders will arrive 3-5 working days after shipment is completed.
We are not liable to any shipping delays, nor loss of any kind caused by unforeseen and uncontrollable circumstances, such as unreachable recipients, invalid addresses, weather conditions that affect delivery, customs clearance delays and so on. In these situations, SANSI will try our best to notify customers of the delay, and if possible, make new delivery/collection arrangements with an estimated delivery date.
This product is rated 4.9 of 5.0 stars.
It has received 36 reviews.
JUST THE LIGHT I NEED
I am trying to replace all my old light bulbs with LED long lasting bulbs. These bulbs will go in the living room lamps for a brighter light. These lights do no flicker or make a noise when they are turned on. Very nice and they will last for years.
Efficient lighting, nice brightness
I acquired these bulbs in hopes of replacing a few that are used more frequently in the house. I have had plenty of issues with different LED bulbs, from delays going to full brightness to blinding offending brightness.These bulbs are pretty big, and wide (2nd and 3rd attached pics).My main intended use was in the kitchen. It currently has a old 60w max fixture. The current bulb is a 53w (75w equiv) Sylvania bulb.~ First, it is stated on the box that this these bulbs are not intended for "enclosed luminaire" (1st attached pic). So that rules the globe out, but the bulb didn't fit over the bulb anyway, so strike 1 (4th attached pic)~ Second, the radiated light is directional, so in an upward fixture, the light radiates upward and not too much downward, which I decided would not work in the bathroom fixture (5th attached pic).~ Lastly, I had no intentions on using them in the living room lamps, but decided to give it a shot. And I love them there! These Sansi bulbs (18w/150we/2000l) bulbs replaced and blew away the GE CFL bulbs (42w/150we/2700l).The light is brighter and crisper and makes a world of difference when reading with 2.00 reading glasses, where every bit of better light helps. I thought the upward direction of the bulbs would be a problem, but I'm assuming with the lampshades, there is a good amount of light shining downward.Overall, these are solid sturdy bulbs, just be aware that they cannot be used in enclosed fixtures and the are larger in size.
Soff, warm Light
These are excellent bulbs. They provide plenty of bright light. The soft white is warm and easy on the eyes. They are not dimmable but work well with lamps. A few years ago I switched mg bulbs to leds and the savings has been more than realized. Great bulbs.
Very nice bulbs and a good value
So far I am very happy with these SANSI bulbs. I have only been using them for a little over a week but they are working great and are very bright and instant-bright which is exactly what I wanted. I obviously haven't owned these long enough to comment on the longevity but it looks like they should hold up well. I'll update this post if they don't.
Wonderfully bright, just warm enough, with just a few limitations
I have a Luxo Swing Arm Lamp on my desk - you might know these from the Pixar logo. It's one of the few places where I've continued to use a 100w incandescent since most LED bulbs can't quite match that for intensity or white temperature. This particular bulb has a few limitations: it won't work with dimmers, it may not look right inside shaded fixtures where you'd want light going both up and down as well as to the sides, and it can't be used in enclosed fixtures. It's also larger than a standard 100w bulb, just as a standard 150w incandescent is larger than a 100w bulb. And it's heavier than a 100w bulb, so in my swing arm lamp, I upgraded the two top springs to accommodate this bulb. Those issues aside, I'm very pleased with this bulb. It comes on immediately, doesn't radiate the heat (or get the fixture itself warm) that a standard bulb emits, and it's wonderfully bright while providing a white temperature that has neither too little or too much warmth. Great for reading and studying while consuming only 18w instead of my usual 100.