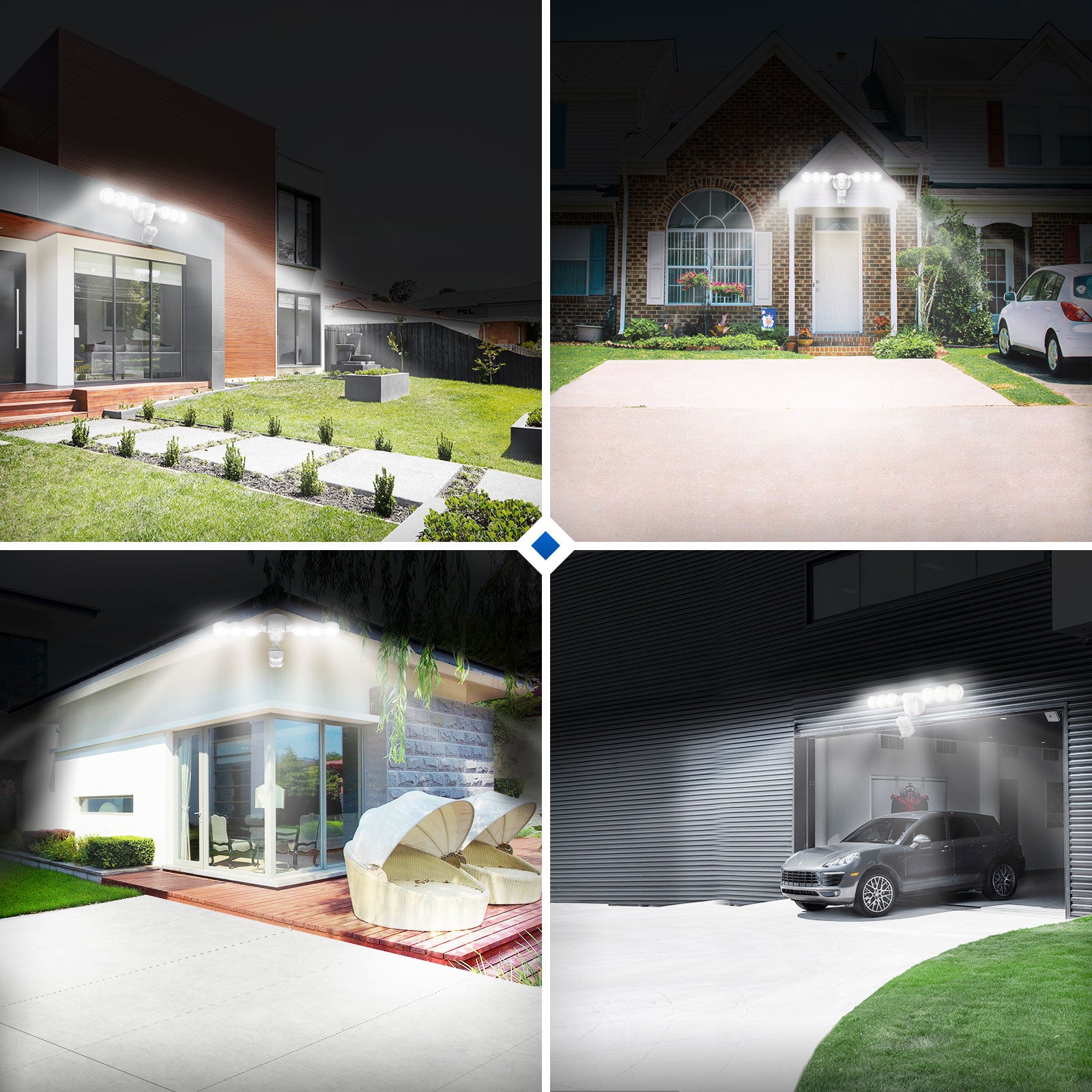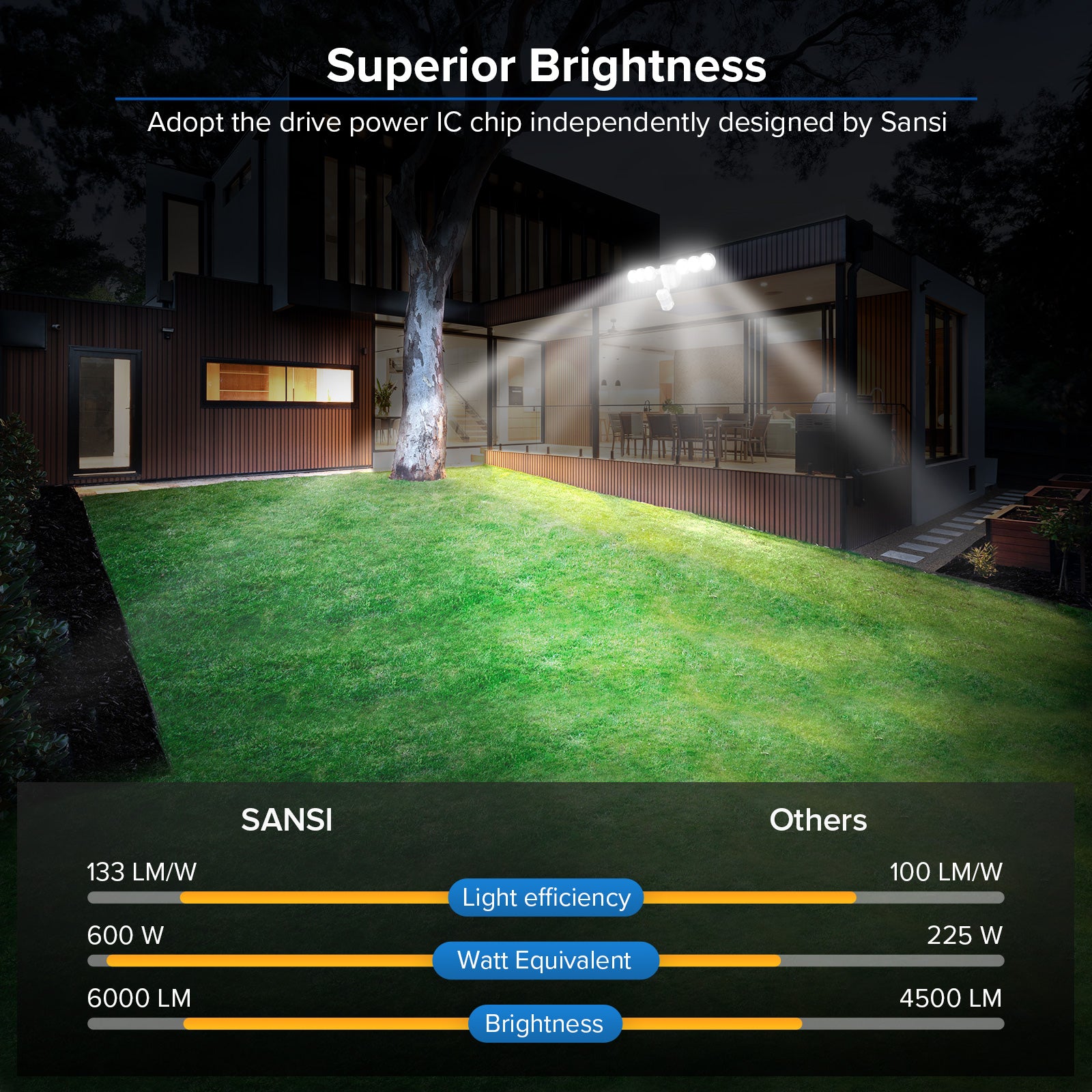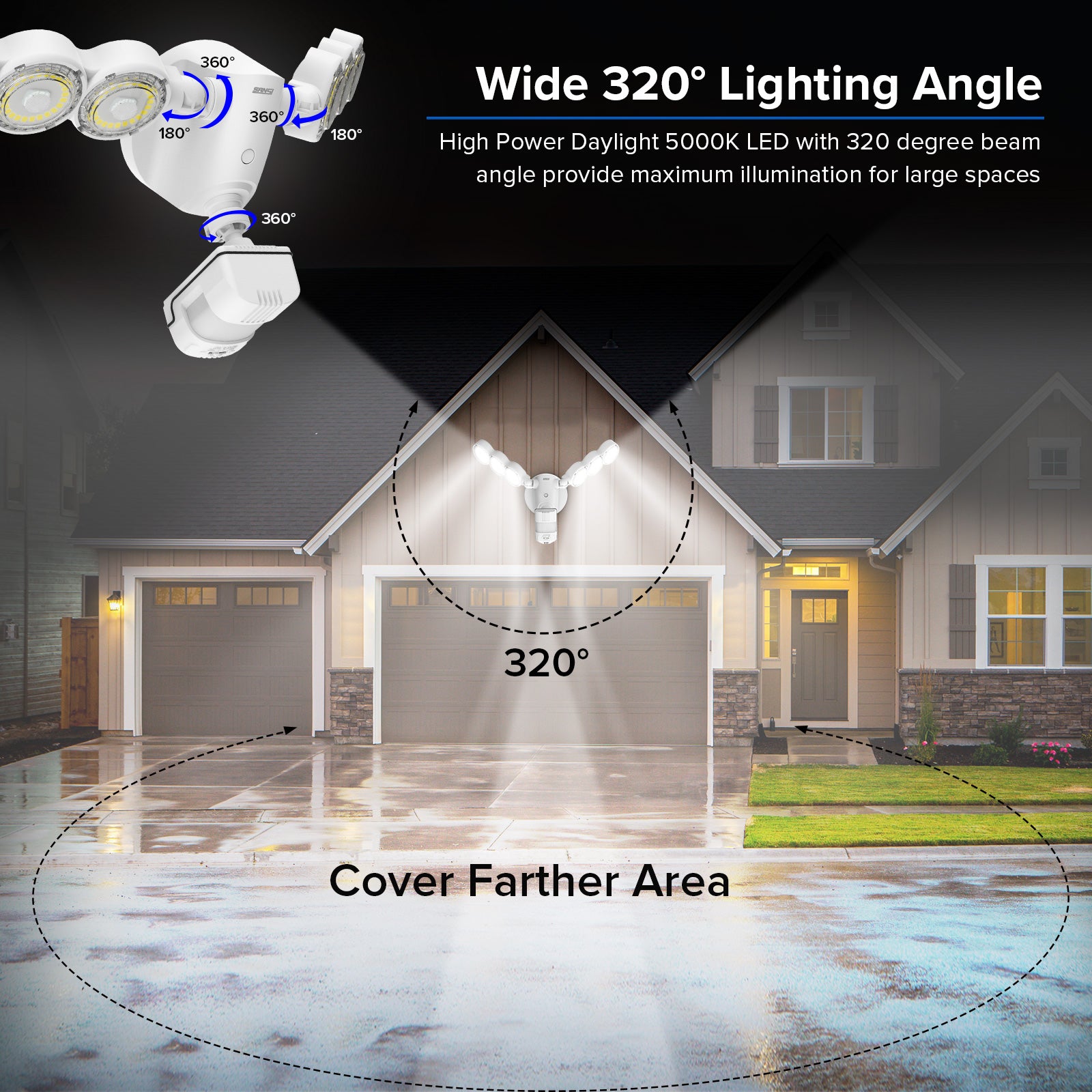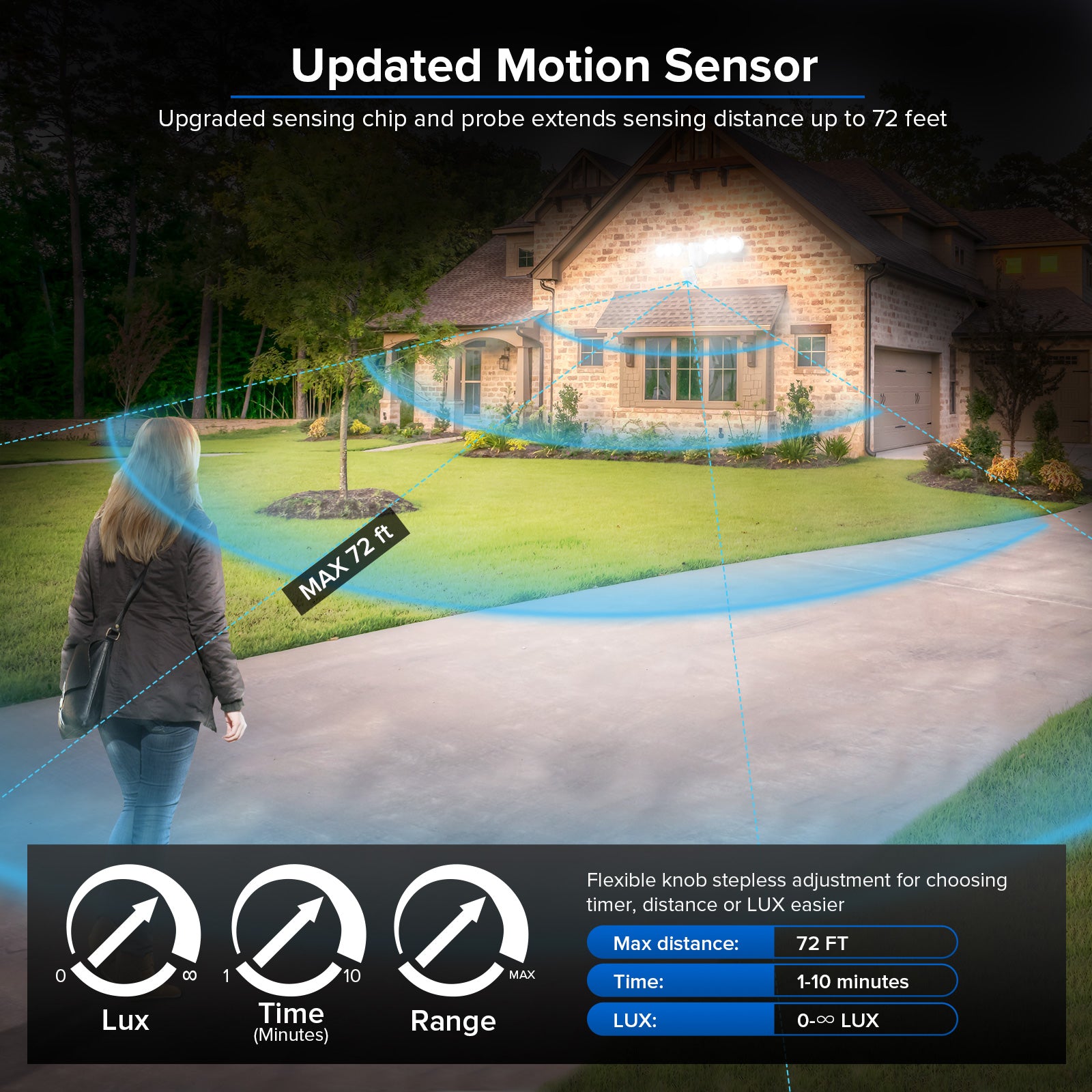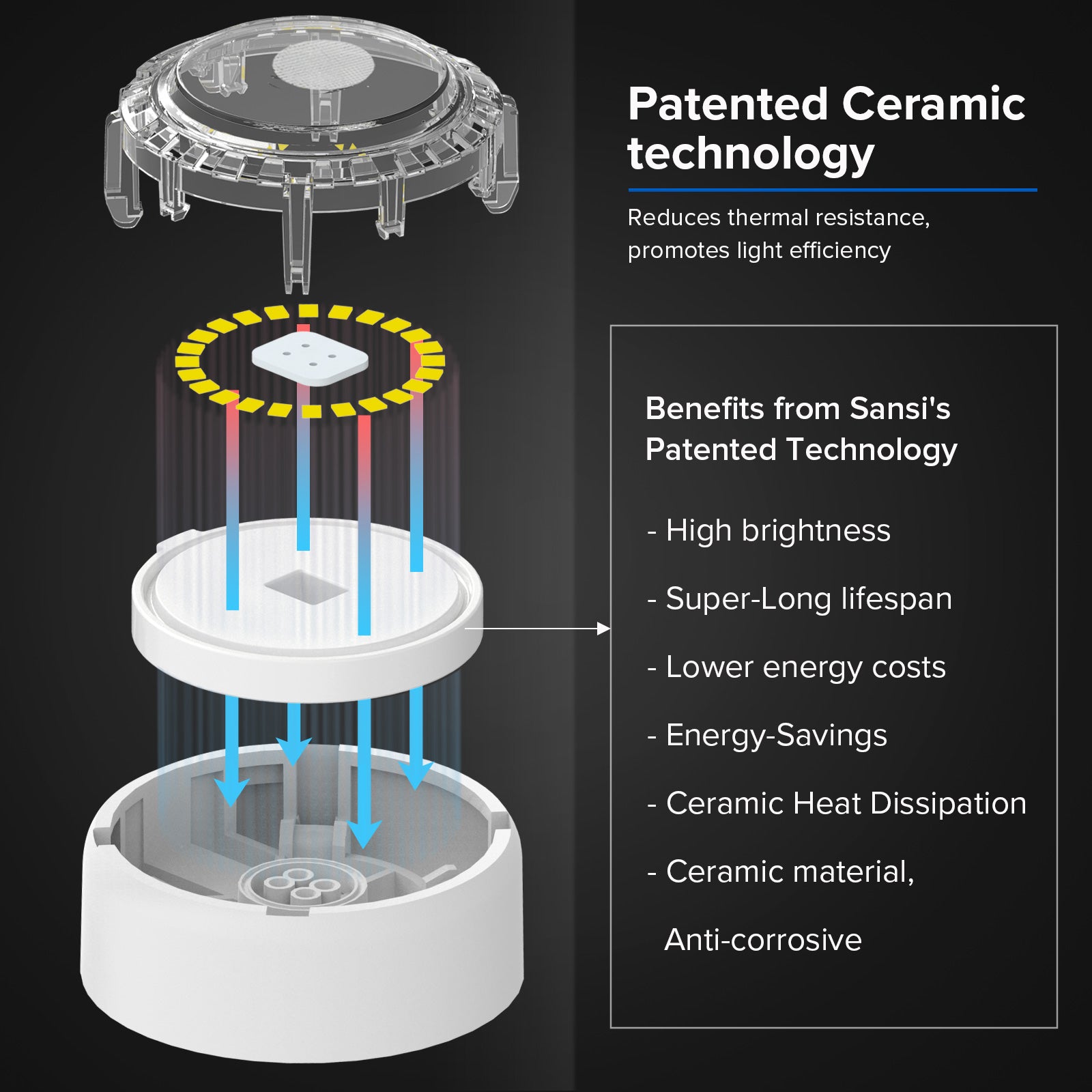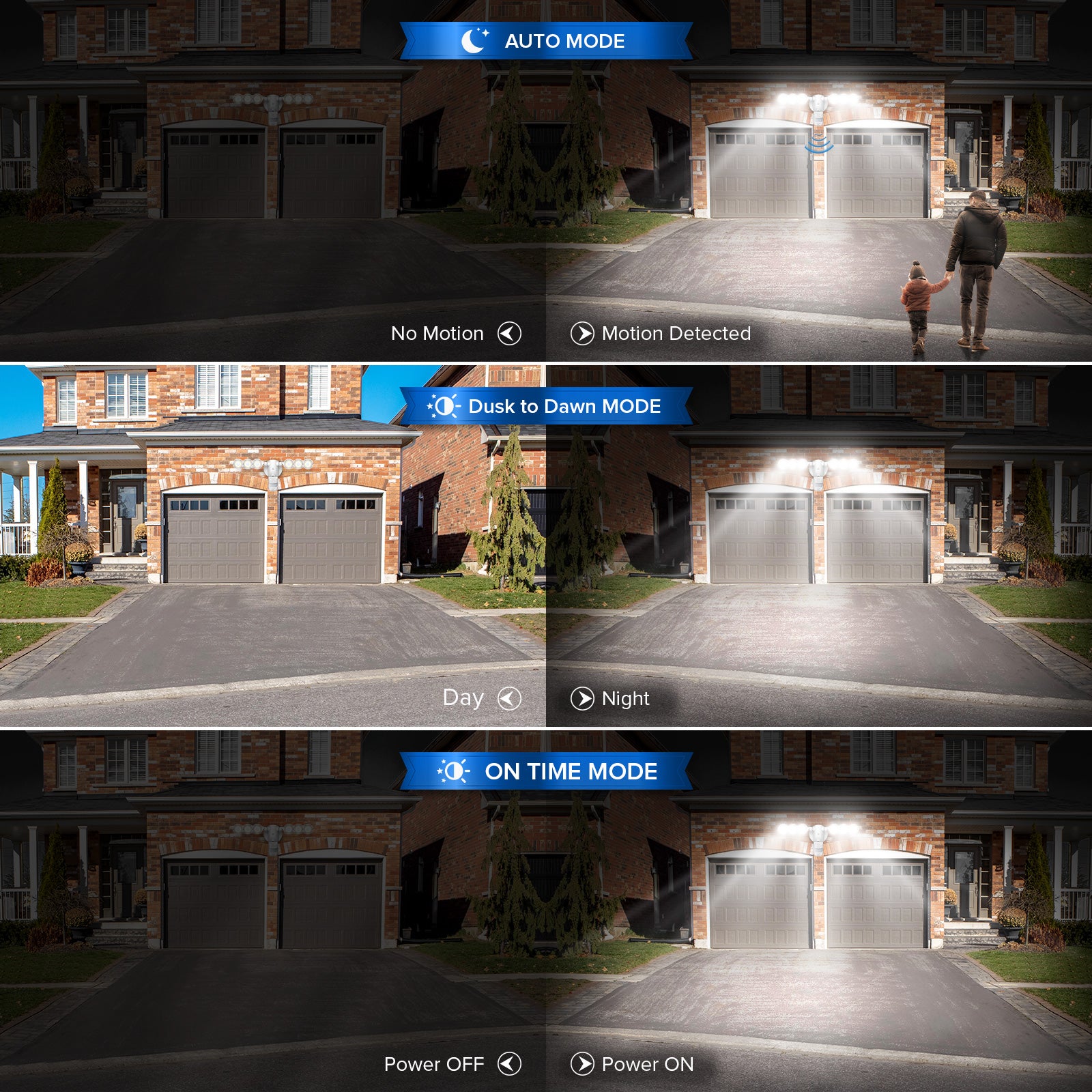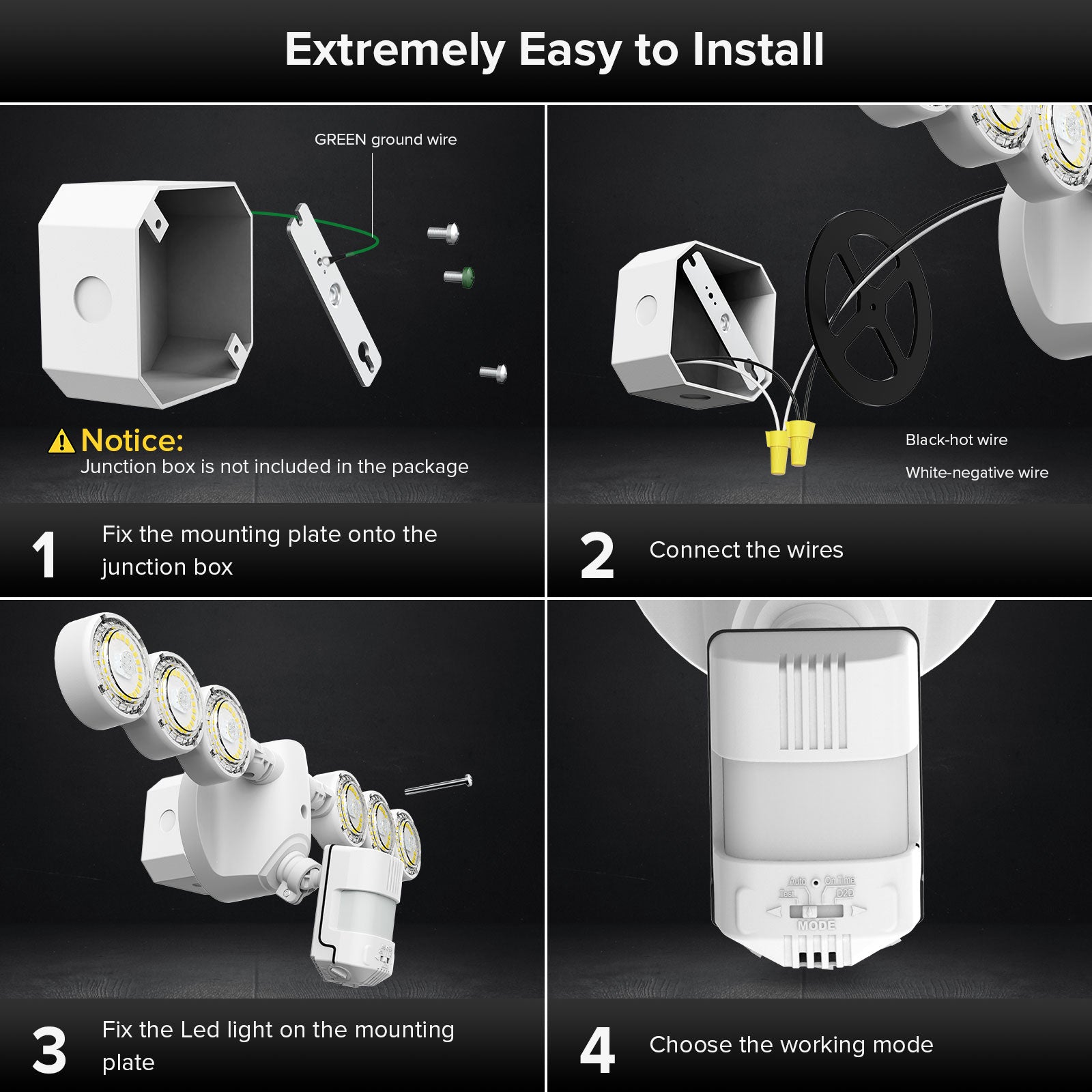 45W LED Security Light (Dusk to Dawn & Motion Sensor)
45W LED Security Light (600 Watt Equivalent) with patented Chip on Ceramic (COC) technology and hollow design, through higher effective heat dissipation, improves luminous efficacy and lifespan. Super Bright (6000 lm) for yard, porch, garage, garden, etc. 5000K daylight. IP65 waterproof floodlight. Motion sensor/dusk to dawn.
🔥 40% OFF
Code:
BLACK40
copy
Features


1. Motion sensor lights: The outdoor led flood lights are equipped with a strong motion sensor which has a highly sensitive sensing angle of 180 degrees and a long sensitive distance of 72 feet. This light can sense people, animals, people in cars,s etc., perfectly as outdoor lighting for the safety of your family.
2. Super Bright & Larger Lighting Area: The 45W security light can produce up to 6000 lm ultra-bright, using exclusive lens sealing technology to ensure a focused and brighter output. The lighting direction is adjustable. Two flexible light heads can easily move upwards, downwards, and horizontally, up to 270 degrees. One SANSI light is equivalent to a floodlight, a motion sensor light, even a wall lamp.
3. Soffit mount & 4 working modes: This light can be both soffits (eave) mounted and surface mounted. It can be installed horizontally by adjusting the light heads. This LED motion sensor light supports 4 working modes: Auto Mode, On-Time Mode, Dusk to Dawn Mode, and Test Mode to meet your different needs.
4. Easy installation & all weather resistance: This LED outdoor security light can be installed by mounting to a wall and following a few simple wiring steps. IP65 waterproof design ensures safety for outdoor use protecting lamps from rain, dust, and snow. Perfect lighting solution for driveway, garage, deck area, stairways, and decks, along with walking paths, and certain areas of your backyard.
5. High quality & 5-year warranty: Adopt Ceramic Heat Dissipation Technology (CHDT), this exterior light has a longer lifespan than regular lights. All SANSI products include a full 5-year warranty, unconditional 30-day refund or replacement, and free lifetime technical support, you can surely buy with confidence.

Specification

Item Model Number: C2440-MW-45W
Wattage: 45W
Voltage: AC 120V 60Hz
Replacement Wattage: 600W Incandescent
PIR and Photocell Control
Beam Angle: 180°
Ra: 80
CCT: 5000K
Lumens: 6000 lm
Working temperature range: -25~+40℃
Product Size: 260mm*156mm* 123mm
IP Rate:  IP65
Weight: 2.33 lb

Package Included

1* SANSI LED Security Light
1* Waterproof Gasket and 3* Screws
3* Wire Connectors
1* Mounting Bolt
1* Bar-shaped Mounting Plate
1* User Manual
1* Rubber Screw Plug
How long will it take for my order to arrive?
It takes 2 working days by Express shipping after you place an order and we complete shipment. For Standard shipping, most orders will arrive 3-5 working days after shipment is completed.
We are not liable to any shipping delays, nor loss of any kind caused by unforeseen and uncontrollable circumstances, such as unreachable recipients, invalid addresses, weather conditions that affect delivery, customs clearance delays and so on. In these situations, SANSI will try our best to notify customers of the delay, and if possible, make new delivery/collection arrangements with an estimated delivery date.
Works well
Works well as have other Sansi lights I have bought