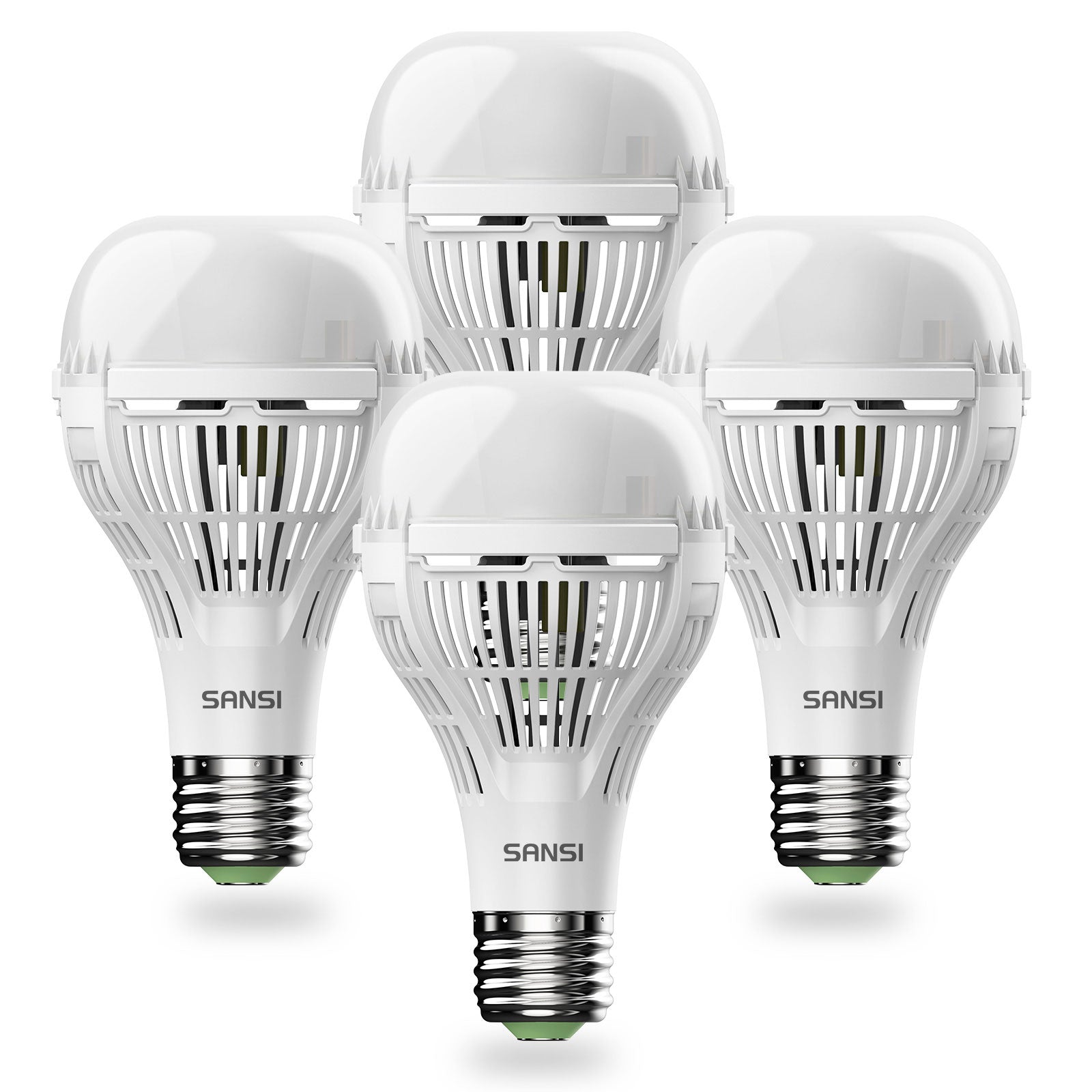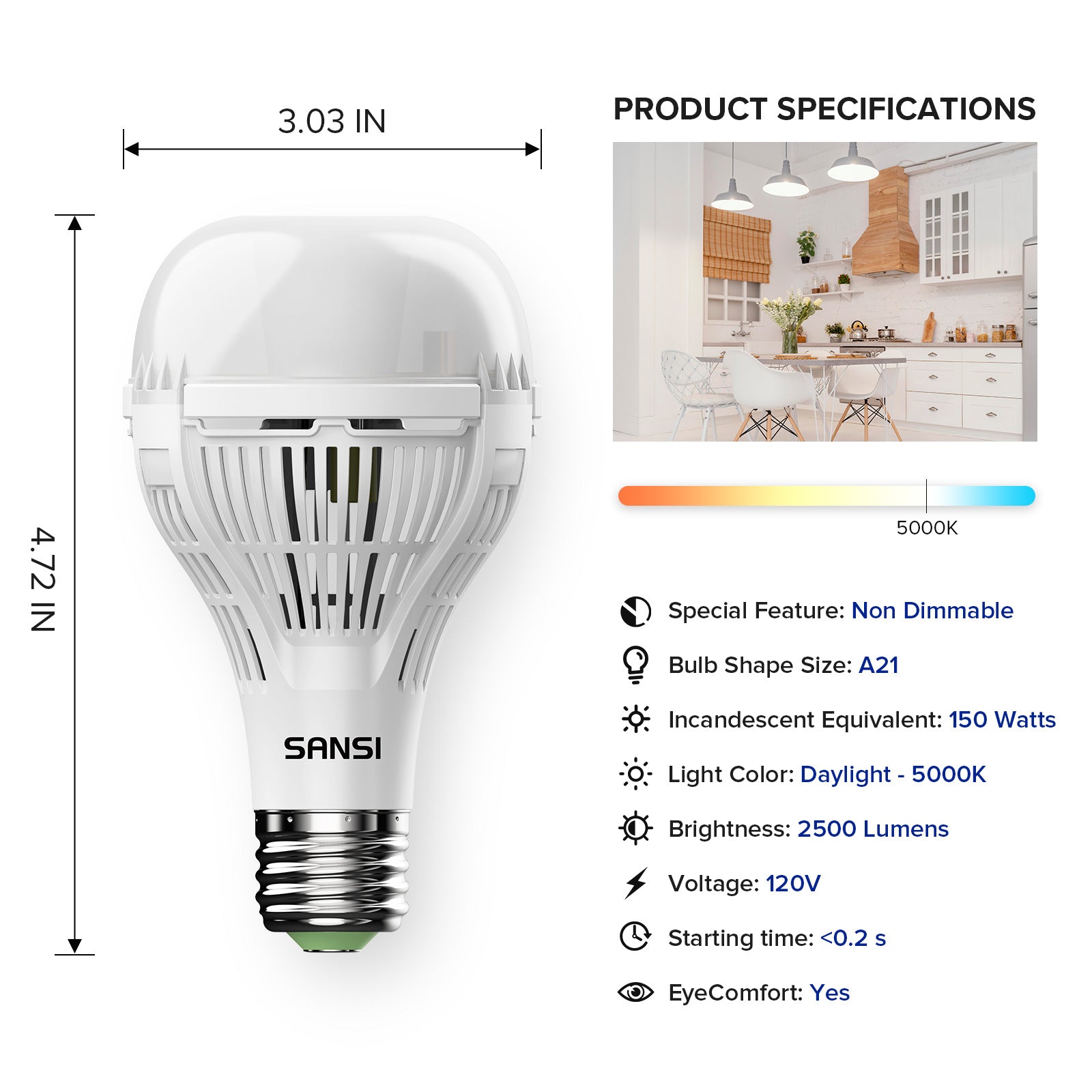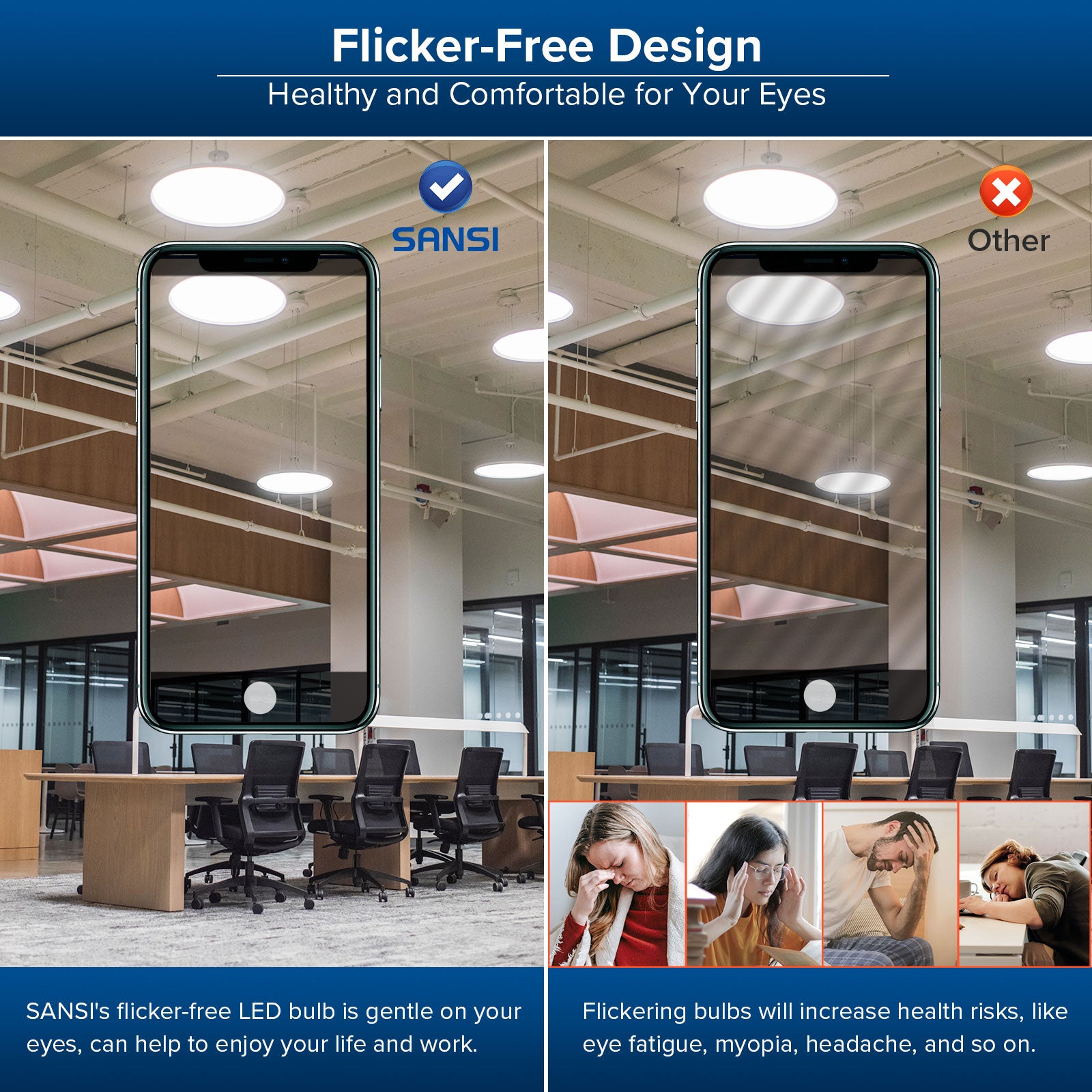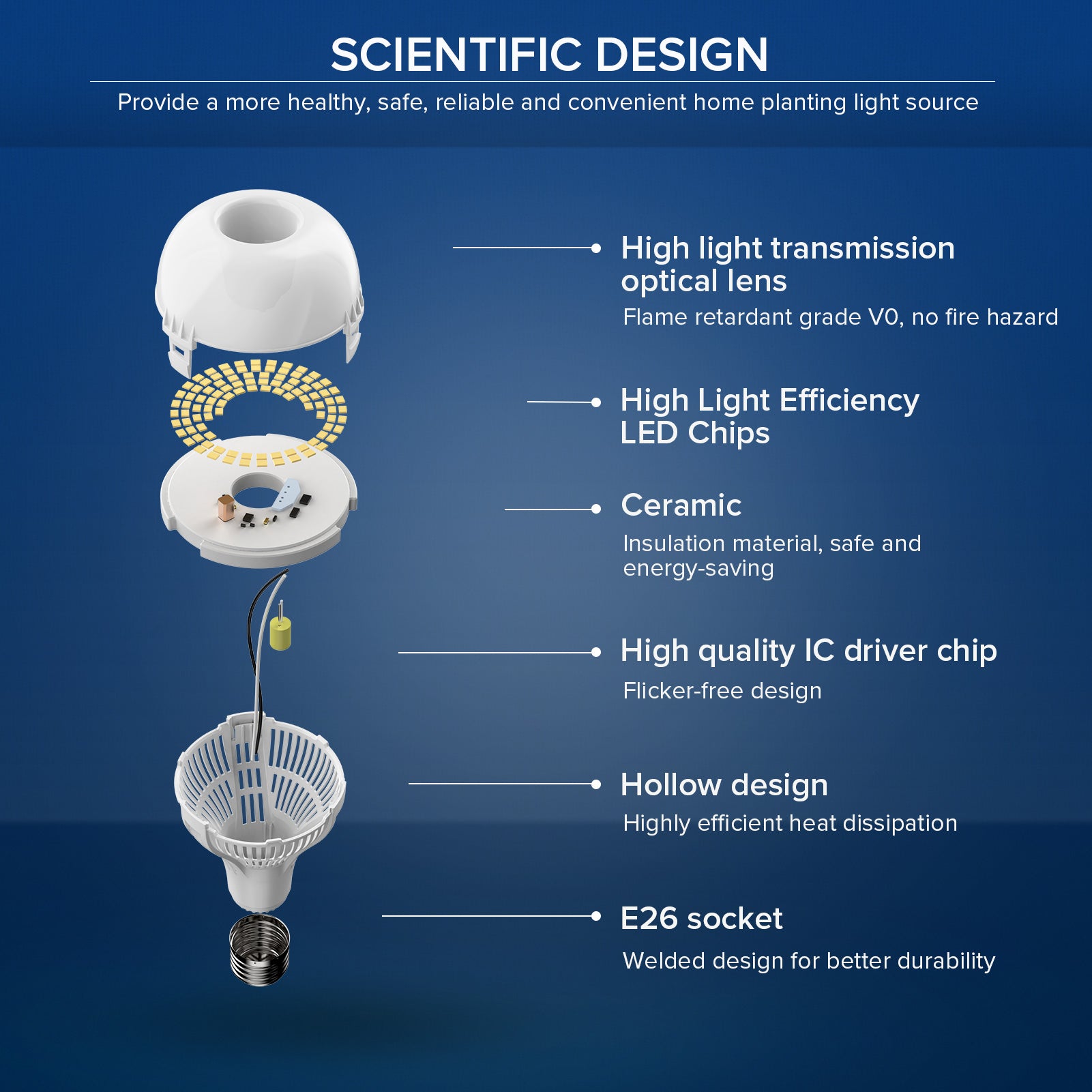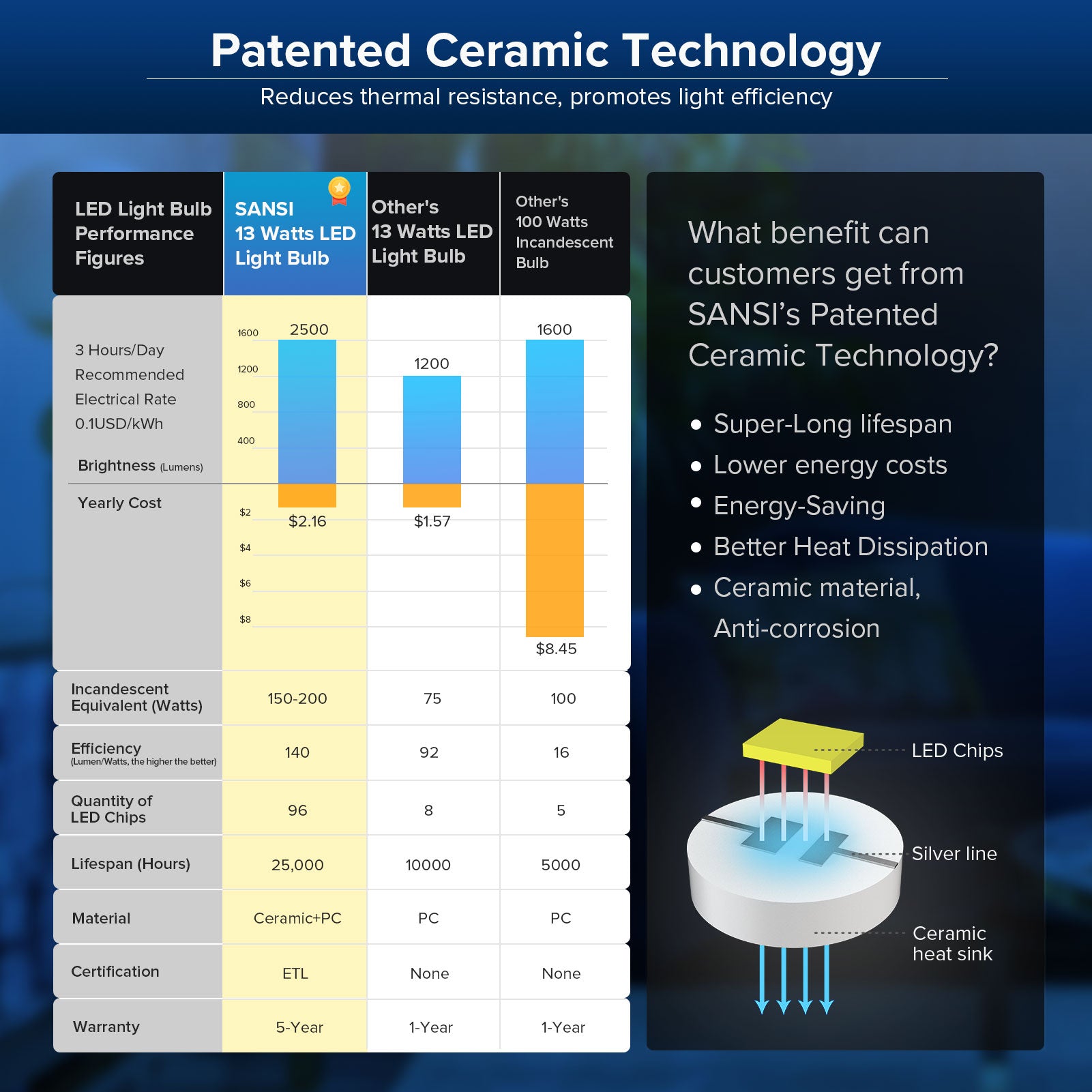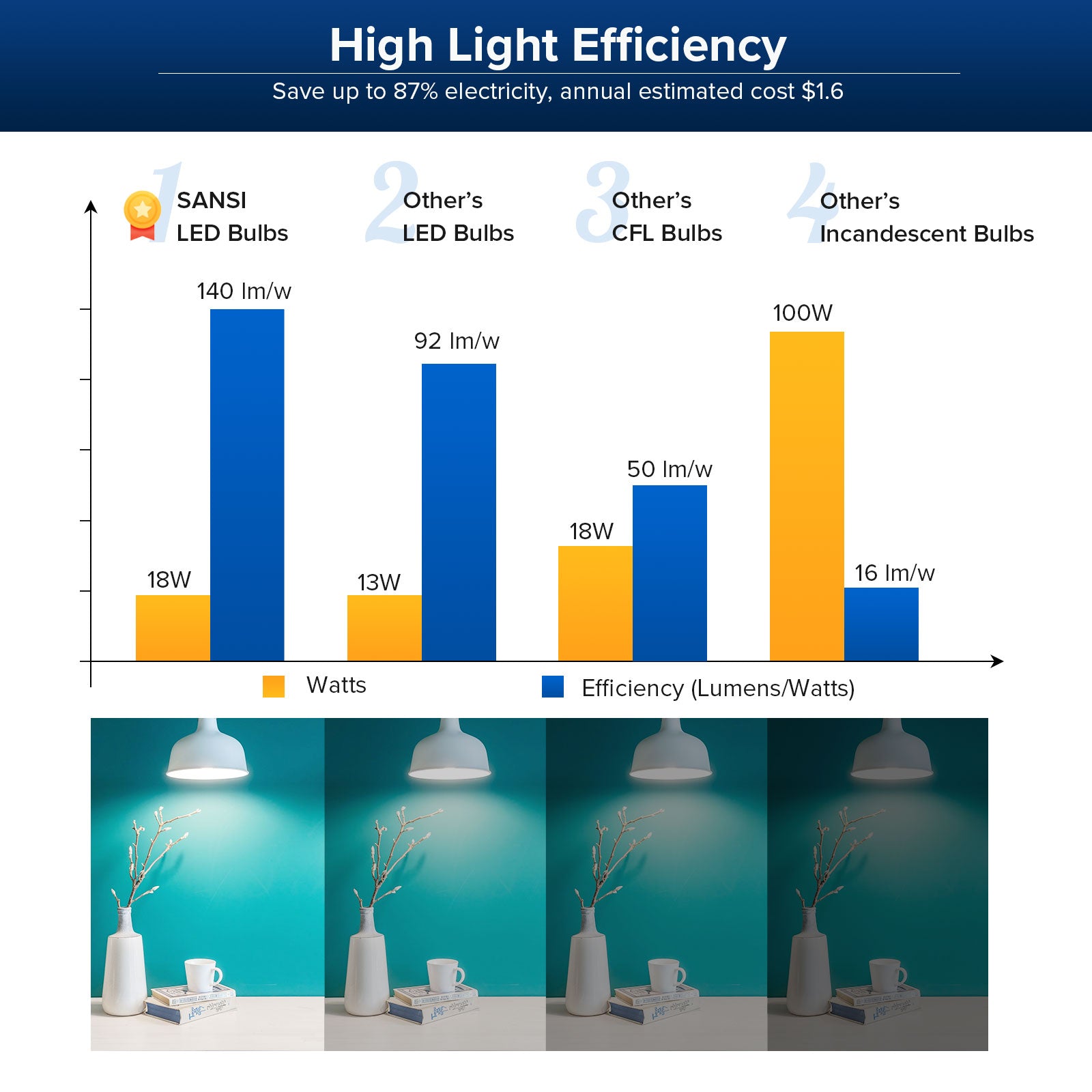 Upgraded A21 18W LED Light Bulb (US ONLY)
SANSI 150 Watt LED Bulbs 2500 Lumens, Super Bright Light Bulbs, 5000K Daylight LED Light Bulbs, Non-Dimmable, 25000-Hour Lifetime, Safe Bright White Light Bulbs, 18W Energy Saving for Home, 4 Pack
🔥 30% OFF
Code:
BLACK30
copy
Features:


Bright & Efficient: Compared with other LED bulbs, SANSI's highly efficient light bulbs can provide 2500 lumens using only 18 watts of power, equivalent to 150W incandescent bulbs. Based on 3 hours per day usage, save up to 87% electricity, annual estimated cost $2.16

Flicker-Free: Adopting high light transmission optical lenses, up to 96 LED chips can not only provide you and your family with the light source they need daily but also provide a healthy living or work environment. No flickering, no noise.

Patented Ceramic technology: SANSI's patented technology replaces the traditional Mcpcb aluminum substrate with a non-conductive ceramic heat sink, directly soldering the LED chip on the ceramic heat sink, effectively reducing the systematic thermal resistance between the LED PN junction and the surface of the heat sink, resulting in faster heat conduction and higher product reliability, making SANSI's bulbs perform with higher light efficiency.

Safe and Reliable: The lamp body is made of special ceramic material, and the flame retardant grade reaches grade V0; the reinforced insulation structure means no risk of electric shock, its safer; the whole shell material reaches the WF2 anti-corrosion grade, which is more reliable and durable; The hollow design is good for heat dissipation.

Guarantees: ETL listed, quality and safety verified, 22.5 years LED bulb lifespan, 5 years warranty.

Potential major adverse effects of flicker identified in published research and/or Expert Opinion include these five factors: 

Photoepilepsy or flashing-light induced seizure. 

Stroboscopic effect and associated apparent slowing or stoppage of rotating machinery. 

Migraine or severe paroxysmal headache often associated with nausea and visual disturbances. 

Increased repetitive behavior among persons with autism. 

Asthenopia, including eyestrain, fatigue, blurred vision, conventional headache, and decreased performance on sight-related tasks.

Abscrate from IEEE Std 1789-2015

What's the difference between SANSI LED bulbs which adopting SANSI Patented Ceramic Technology with other bulbs?

What benefits can customers get from SANSI Patented Ceramic Technology?

How to Determine How Many Lumens You'll Need to Properly Light Your Space?




Specification

Item Model Number: C21BB-TE26-18W
Wattage: 18W
Voltage: AC 120V 60Hz
Replacement Wattage: 200W Incandescent Bulb or 45W CFL Bulb
Dimming: Not Dimmable
Beam Angle: 180°
Ra: 80
CCT: 5000K
Lumens: 2500 lm
Base Type: E26
Product Size: Φ75mm*H117mm
Weight: 1.34 lb

Package Included

4* LED Light Bulbs

Tips

1. Indoor use only.
2. Please do not use it in dimmable fixtures.
3. Please do not use it in totally enclosed fixtures.
4. Not compliant with European voltage. 120V Only.

How long will it take for my order to arrive?
It takes 2 working days by Express shipping after you place an order and we complete shipment. For Standard shipping, most orders will arrive 3-5 working days after shipment is completed.
We are not liable to any shipping delays, nor loss of any kind caused by unforeseen and uncontrollable circumstances, such as unreachable recipients, invalid addresses, weather conditions that affect delivery, customs clearance delays and so on. In these situations, SANSI will try our best to notify customers of the delay, and if possible, make new delivery/collection arrangements with an estimated delivery date.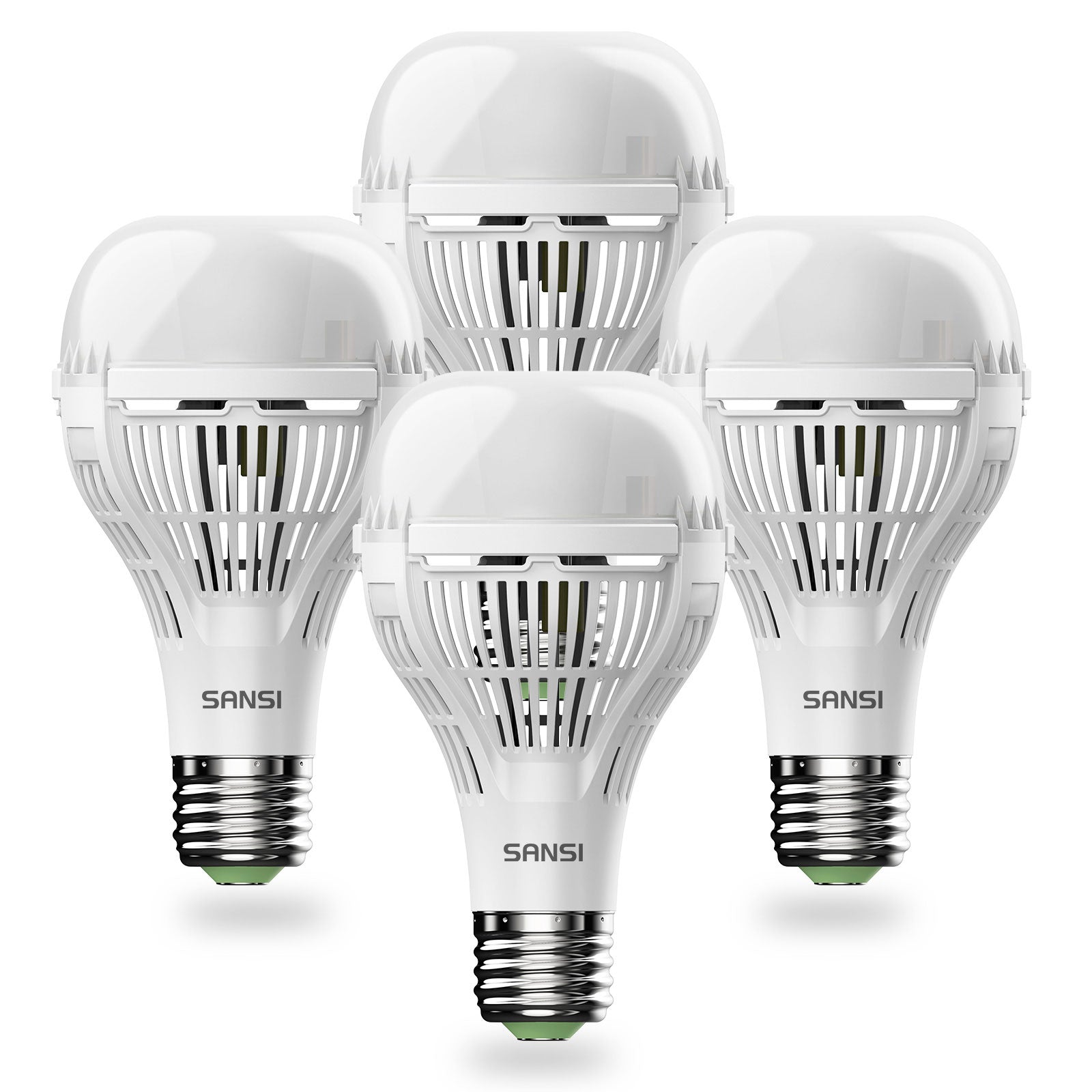 Better Than I Imagined
I put four in my bathroom. It brightened it so much. Made the room look brand new. Went back to order more but they were no longer on sale. I want to put them throughout my whole house. Don't hesitate to buy them. They are gorgeous. You don't be sorry!
Great lighting
Was better than we had hoped. Used in church hall.
Very, Very Bright Bulbs
SANSI has been a fairly reliable brand and these bulbs are no different. Very, very bright bulbs exactly as described 5000k and pretty close to 2500 lumens (sometimes this measurement is not exactly precise). I have 2 in my basement utility rooms which is making a world of difference, and 2 in outdoor enclosed light trim on front and back porch primarily to provide a clear video for my security cameras. It's important to note these bulbs can't be exposed to any potentially wet or high moisture area since they are not rated for it. It looks like maybe they are IP20 but no better. Therefore, do yourself a favor and don't waste money to place them outside where they can get wet and short quickly. Overall I recommend these bulbs and would buy again for indoor or enclosed light applications only.
Very bright and white in color.
They are working well. No problems, easy to install and very bright.