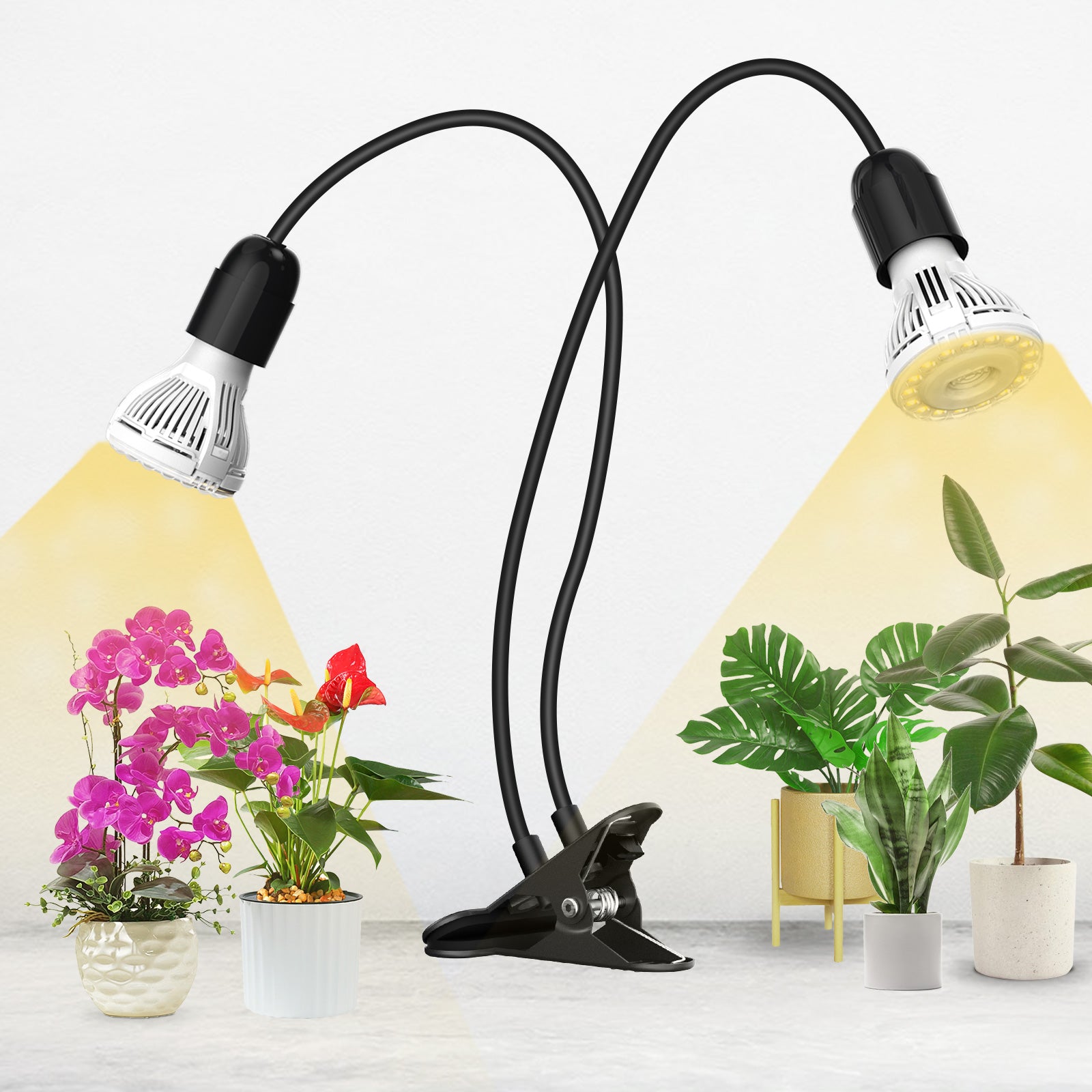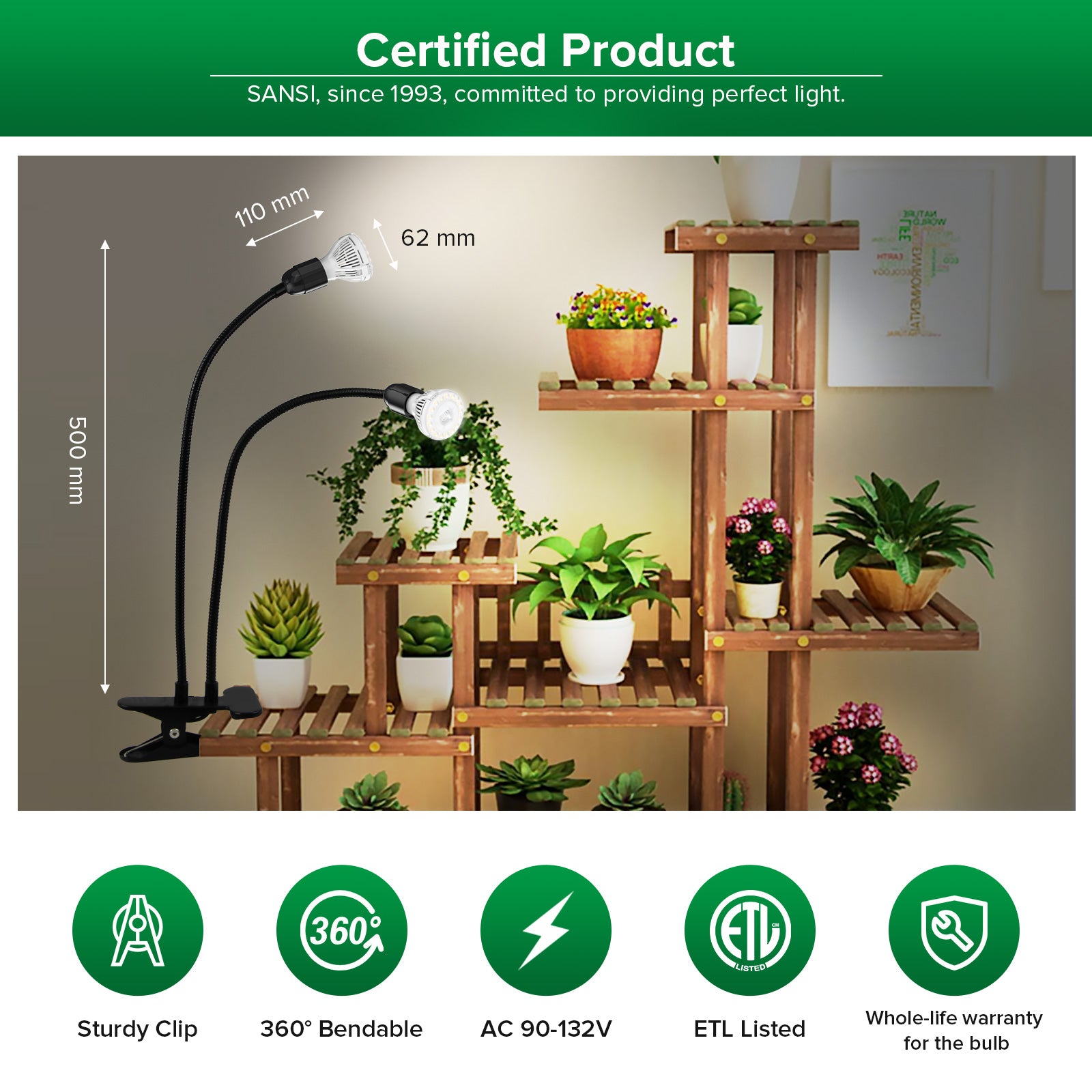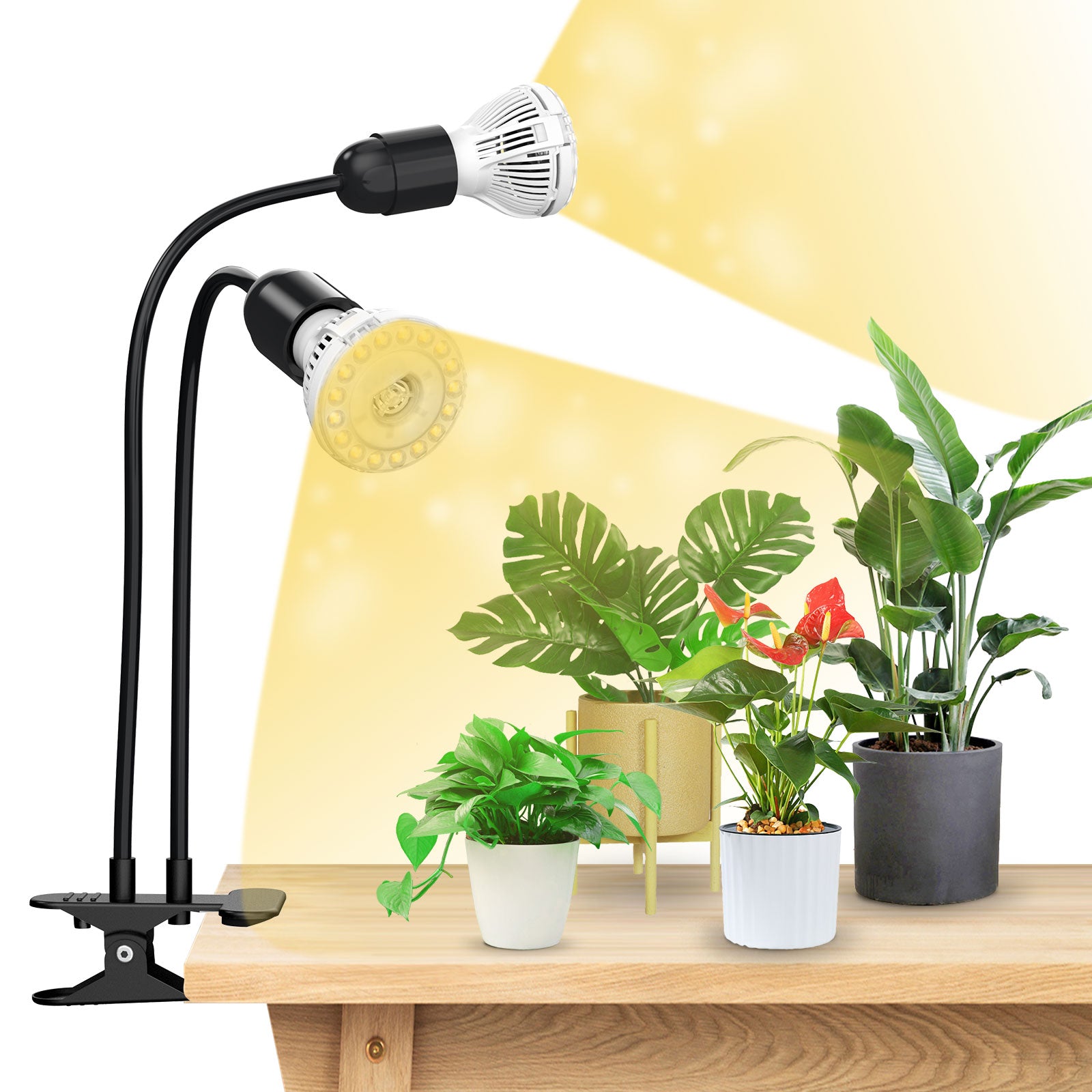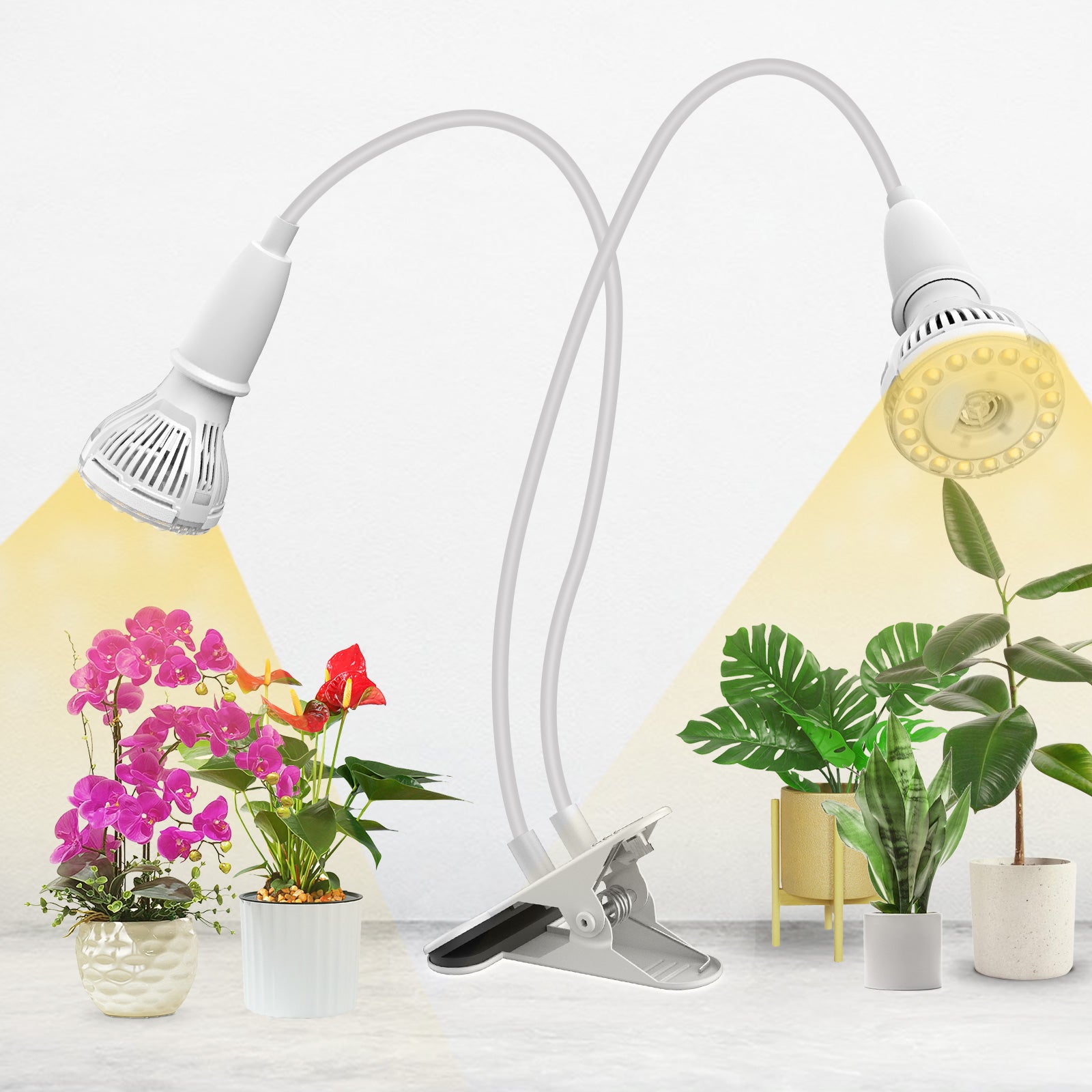 20W Adjustable 2-Head Clip-on LED Grow Light
This kind of SANSI adjustable clip-on full-spectrum LED grow light appears white and natural, which not only helps you spectrum the plants better but it gives you complete freedom to put your garden anywhere in your house. High PPFD output, up to 195.82 μmol/s/㎡@1ft, allows your plants to grow quickly on cloudy days and winter, It is suitable for indoor plant seedlings, potted plants, leaf cuttings, greenhouse vegetables, etc.
🔥 30% OFF
Code:
FLASH30
copy
Features:

The secondary optical design: PPF: 33.6μmol/s, PPFD:195.82 μmol/s/㎡@1ft. Through the lens for secondary scientific light distribution, improves light utilization, giving plants more supplementary light. Using only 20 watts of power, equivalent to 300W incandescent bulbs. Based on 18 hours per day usage, save up to 90% electricity, annual estimated cost $13.14.

360° Gooseneck & Full Spectrum: Making every plant covered by 360° surrounding light, actualize a more ideal full life cycle full spectrum supplementary light program, covering the entire visible spectrum of 400nm-780nm, suitable for every cycle of plant growth, effectively promote plant growth, and improves crop yield and quality. Providing 4000K daylight, color rendering index Ra is close to 100, infinitely close to natural light.

Replaceable bulbs: Different from similar products on the market, the bulbs of this product can be replaced, which not only facilitates customers to replace broken bulbs at any time but also avoids wasting money to repurchase the whole grow light. Saving money and protecting the environment. Additionally, whole-life warranty for the bulb.

Patented Ceramic Technology: Chip on Ceramic, SANSI's patented technology replaces the traditional Mcpcb aluminum substrate with a non-conductive ceramic heat sink, and directly solder the LED chip on the ceramic heat sink, effectively reducing the system thermal resistance between the LED PN junction and the surface of the heat sink, resulting in faster heat conduction and higher product reliability, producing a SANSI bulb with higher light efficiency.

Guarantees: ETL listed & CE certification, quality and safety verified, 25,000 hours lifespan, and whole-life warranty for the bulb.

Specifications:

Item Model Number: C21GL-GE26-10W
Wattage: 20W(2*10W)
Voltage: AC 120V 60Hz
Replacement Wattage:150W Incandescent Bulb
Beam Angle: 60°
PPF: 26umol/s
Product Size:Φ62mm*H84mm
Weight: 1.74lb
How long will it take for my order to arrive?
It takes 2 working days by Express shipping after you place an order and we complete shipment. For Standard shipping, most orders will arrive 3-5 working days after shipment is completed.
We are not liable to any shipping delays, nor loss of any kind caused by unforeseen and uncontrollable circumstances, such as unreachable recipients, invalid addresses, weather conditions that affect delivery, customs clearance delays and so on. In these situations, SANSI will try our best to notify customers of the delay, and if possible, make new delivery/collection arrangements with an estimated delivery date.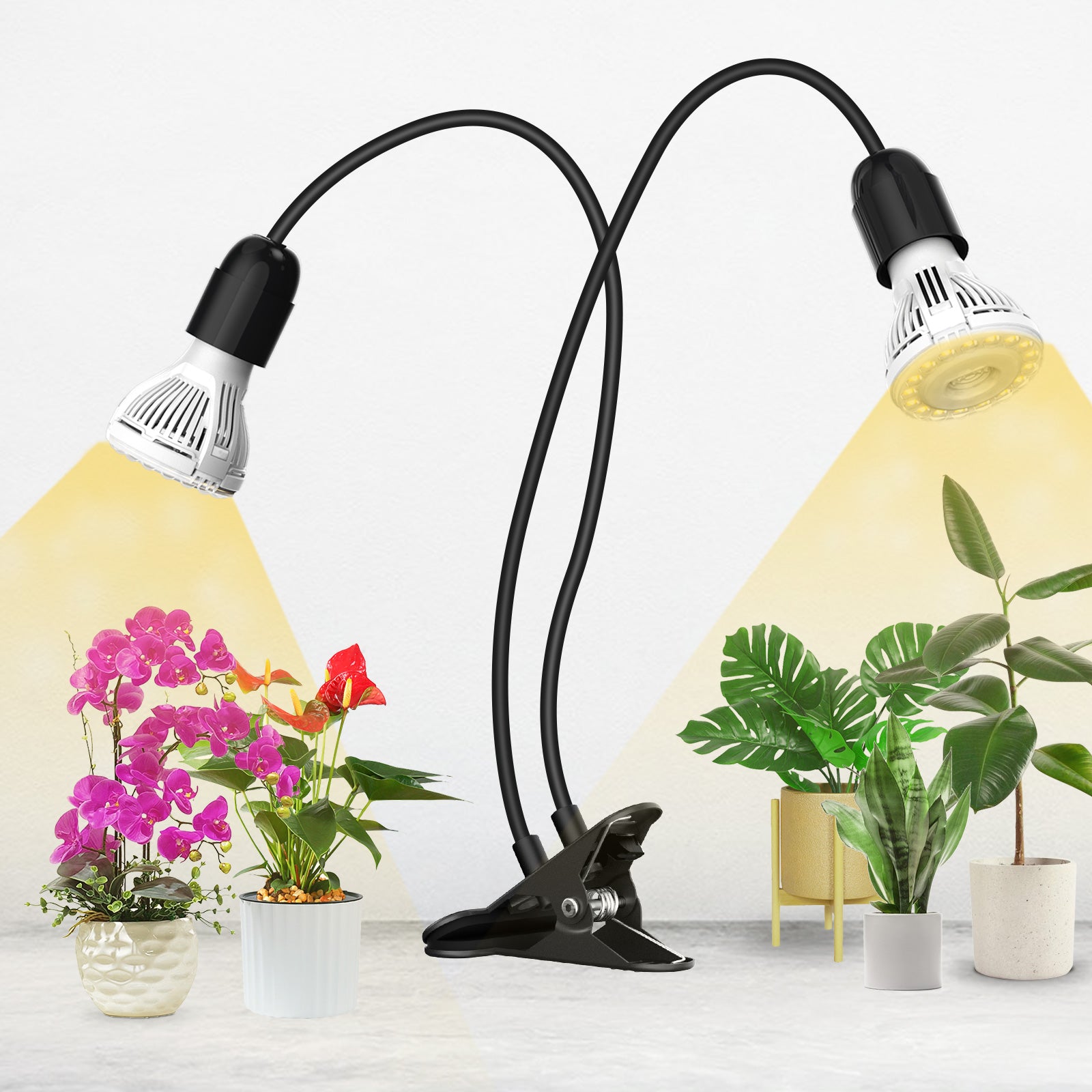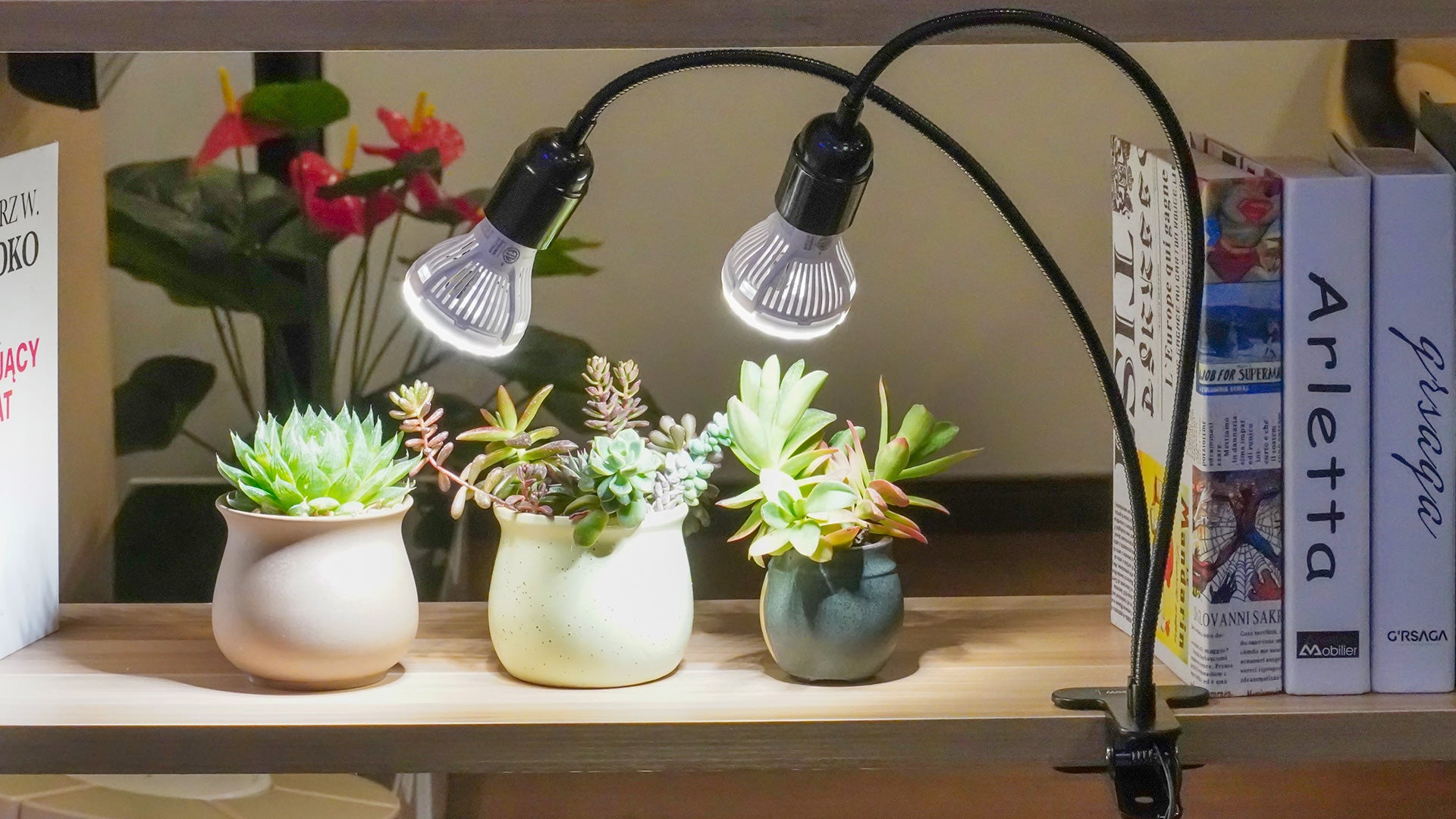 Replaceable bulbs
The bulbs of this product can be replaced, which not only facilitates customers to replace broken bulbs at any time but also avoids wasting money to repurchase the whole grow light.
Sturdy Gooseneck
360° adjustable gooseneck, it makes every plant covered by 360° surrounding light, providing the best lighting angle for your plants coverage around the plants
Sturdy Clip
The clip never shakes or falls! Its steady and reliable grip lets you use your plant growth light wherever you want. It can clip on to a 2.36 inches inch wide panel.
FAQS
Q1: What is the length of the gooseneck
A1: 20 IN
Q2: Is the grow bulb included?
A2: Yes, 2 grow bulbs are included
Q3: How long is the power plug cord?
A3: 6 FT
Q4:Does it has an on/off switch?
A4: Yes
Q5: Do the replacement bulbs need to be from the same company? or can it take any standard E26/27 bulb?
A5: It's suggested to use SANSI Grow bulb to offer the best performance of the grow light for indoor plants

Notice:
PLEASE DO NOT TOUCH THE BULB when it's working.
If you want to adjust the direction of the light, you can hold the base of the gooseneck, or adjust it when the power is off.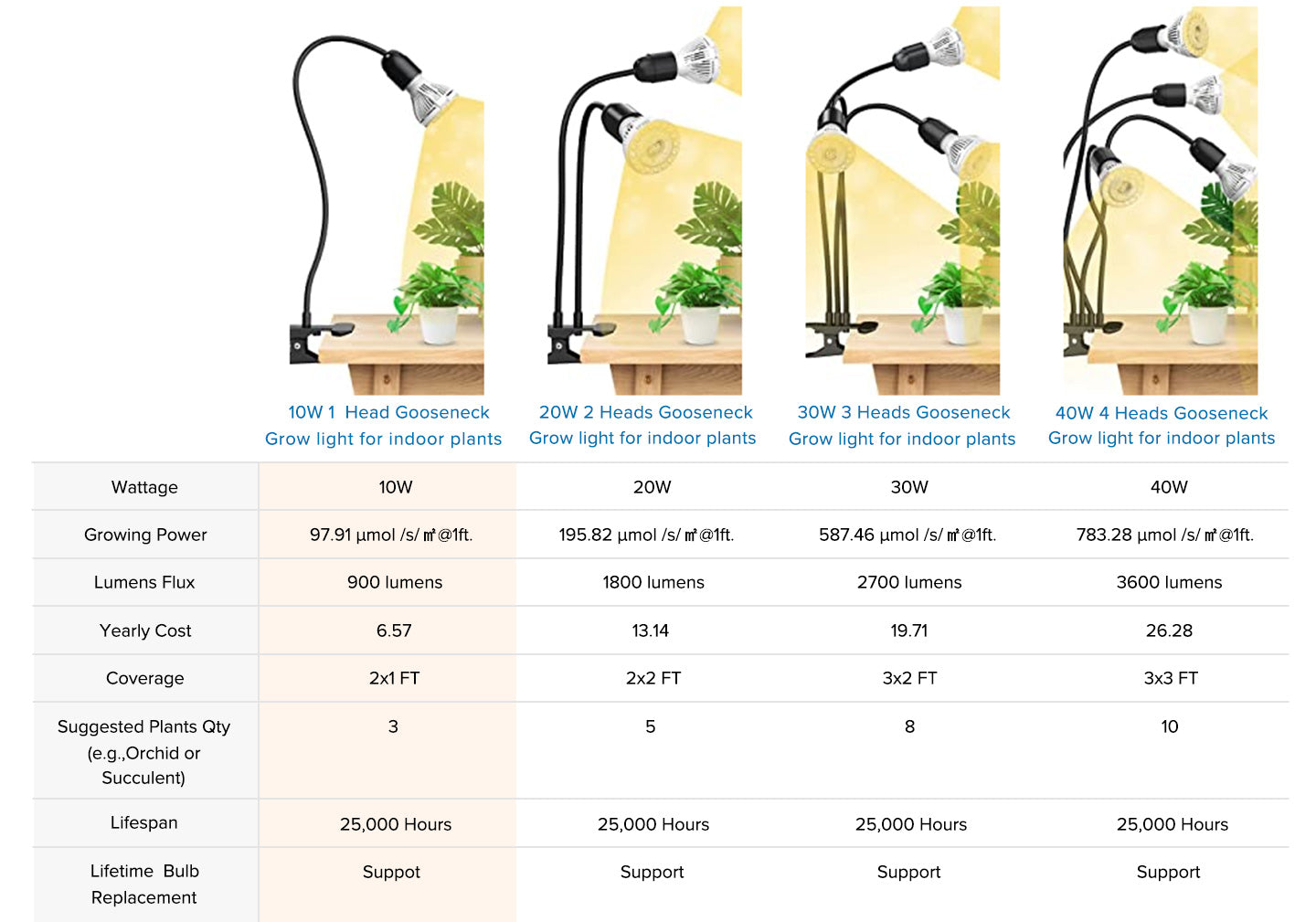 Guide to Choose SANSI Gooseneck Clip-On Grow Lamp
Specifications of 4 models for your reference, you can choose according to your growing needs.
This product is rated 4.8 of 5.0 stars.
It has received 31 reviews.
Amazing 🤩
My plants love it. Now that days are getting more and more shorter, my plants need and love the sansi light. Very easy to adjust where you want the light to shine.
Perfect!
Perfect ! All my plants love this light, and it's so great that you can work easily with the position of them. Top!!
Excellent product
I have two of these adjustable 2-Head Clip-On LED Grow Lights now, and am currently expecting a third one. They are really good, they clip well, the lights are growing plants nicely. I am very happy with them and can't recommend them highly enough
Good for low light plants
Clip on works good. Only powerful enough for a low light plant. I purchased the 4 bulb clip on with the timer. Quick shipping.
Nice looking and effective
I got my first clip-on grow light in white a few weeks back, really loving it and then got another two. I put it on the Ikea kallax and some picture ledge in a corner in the living room, and since then have replaced so many artificial plants with real ones...It is kinda tricky to adjust the angle of the light so that it doesn't blind me every time I passes by or stick out too much visually -- I generally keep it face down or up towards the wall -- but once set up, it'll be worth it! We've had a long stretch of rainy and cloudy days, and the plants with grow lights are happier than the ones right next to the windows...