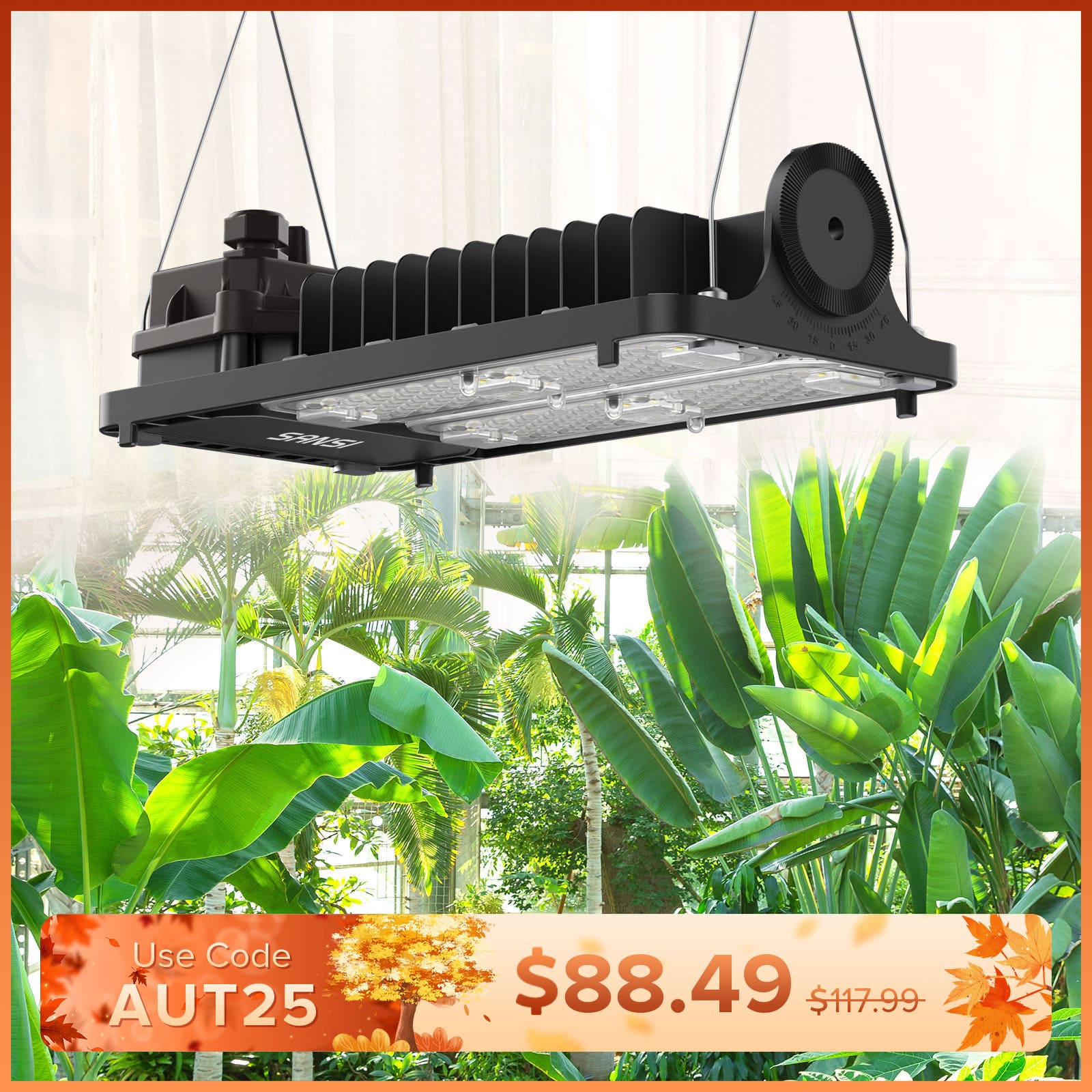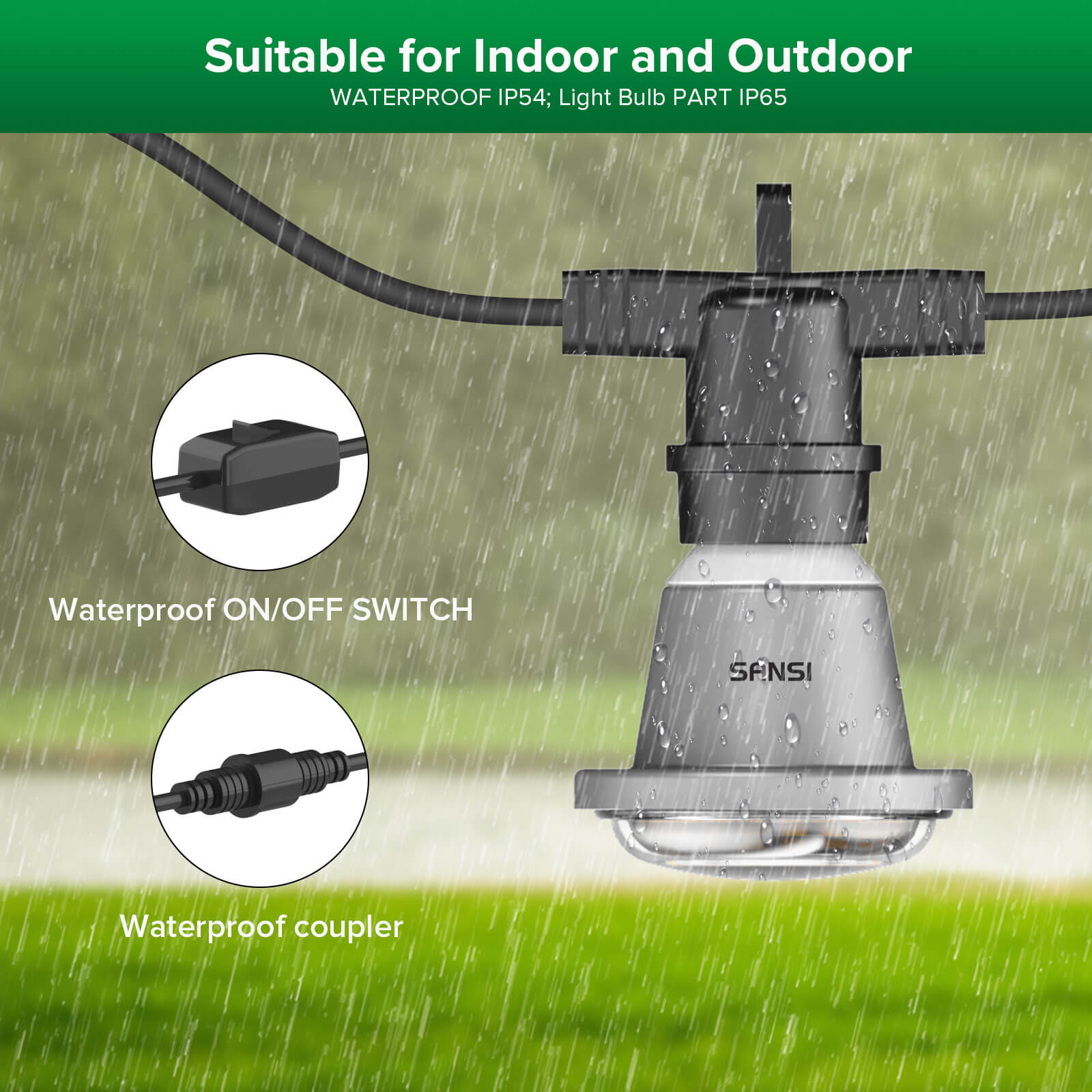 Hanging Grow Light String(US ONLY)
SANSI Hanging Grow Light String for Indoor Outdoor, 6 Led Grow Light Bulbs 72W, IP65 Waterproof Plant Grow Light for Greenhouse Garden, Full Spectrum Grow Light with 22ft Cord for Veg Seedling Flower.
🔥 20% OFF
Code:
XMAS20
copy
About this item

FULL SPECTRUM + 660NM SUPPLEMENTARY LIGHT:Customized red and white full spectrum, realize a more ideal full life cycle full spectrum supplementary light program, covering the entire visible spectrum of 400nm-780nm; And Red light helps to flower and fruit and prolong flowering, Increase production. With MAX PPFD 302 μmol/s/㎡ @ 1ft, give plants more supplementary light.

WATERPROOF LED GROW LIGHT: The hanging grow light is IP54 waterproof, and the light head part is IP65 waterproof. Equipped with waterproof couplers at both ends, it can be used indoors and outdoors. Note that you need to tighten the bulb until there is no base part left on the bulb showing.

EASY to INSTALL: with hooks, you can fix the plant light string anywhere and adjust the position of the light string worry-free. If there is a problem with one of the light bulbs, it will not affect its use.

PATENTED COC TECHNOLOGY: Chip on Ceramic, SANSI's patented technology replaces the traditional Mcpcb aluminum substrate with a non-conductive ceramic heat sink, and directly solders the LED chip on the ceramic heat sink, effectively reducing the system thermal resistance between the LED PN junction and the surface of the heat sink, resulting in faster heat conduction and higher product reliability, makes the SANSI bulb has higher light efficiency.

GUARANTEES: SANSI's patented ceramic technology not only improves light efficiency, but also extends the life of the bulb to 25,000 hours. We offer a five-year warranty, and please feel free to contact us if you have any questions.
How long will it take for my order to arrive?
It takes 2 working days by Express shipping after you place an order and we complete shipment. For Standard shipping, most orders will arrive 3-5 working days after shipment is completed.
We are not liable to any shipping delays, nor loss of any kind caused by unforeseen and uncontrollable circumstances, such as unreachable recipients, invalid addresses, weather conditions that affect delivery, customs clearance delays and so on. In these situations, SANSI will try our best to notify customers of the delay, and if possible, make new delivery/collection arrangements with an estimated delivery date.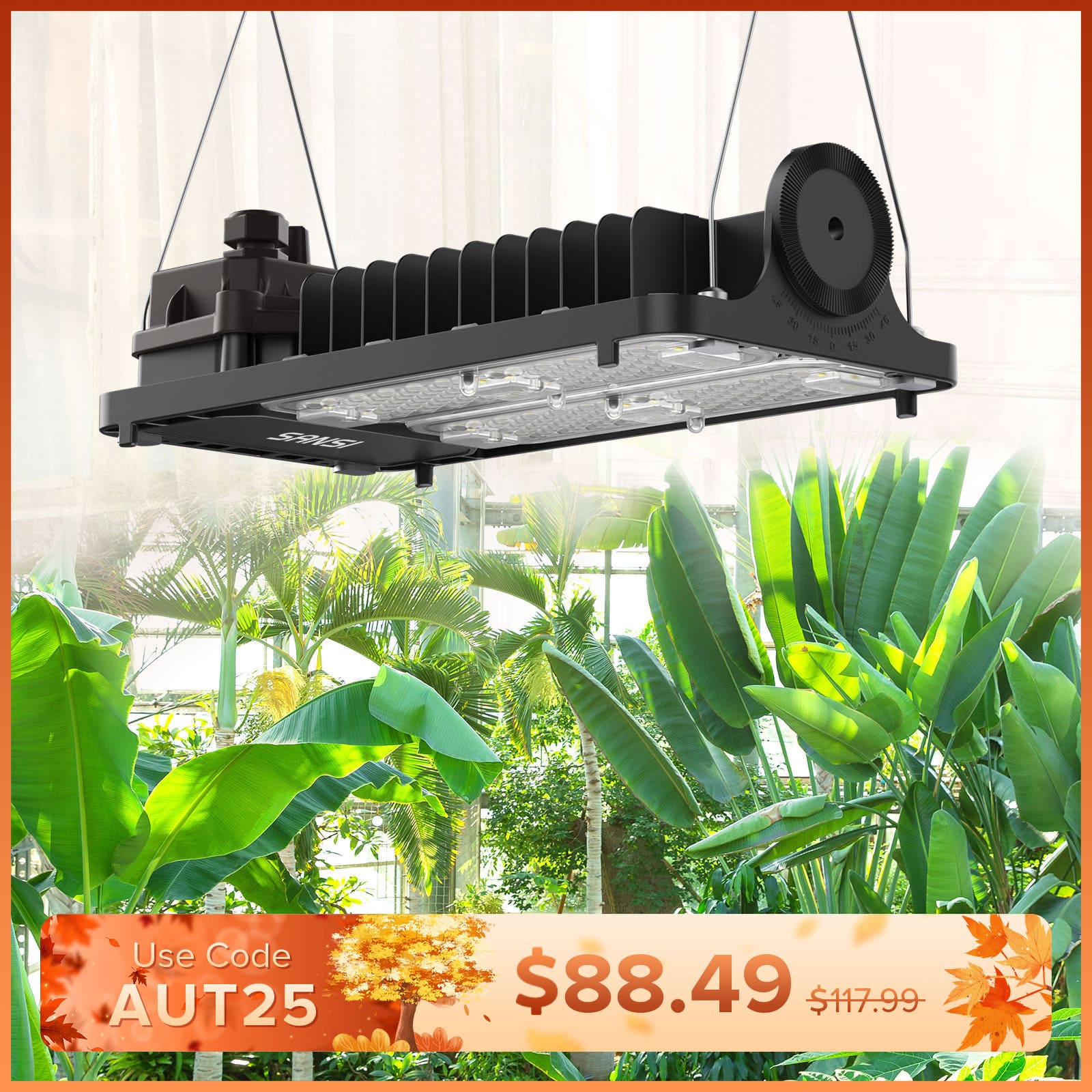 Decorate Your Home
The hanging plant lights do more than just help your plants thrive and bloom. It can also decorate your life.
Increase Agricultural Production
This plant light can be used in agricultural cultivation such as greenhouses to promote the flowering and fruiting, increase the production.
Waterproof LED Grow Light Bulb
Full Spectrum + 660NM Supplementary Light
Each grow light bulb contains 25pcs LED chips,including 17pcs 5000k full spectrum chips and 8pcs red light chips. 400nm-700nm spectrum fuels photosynthesis, which drives plant growth and mass. And the red light helps to flower and fruit and prolong flowering,increase production.