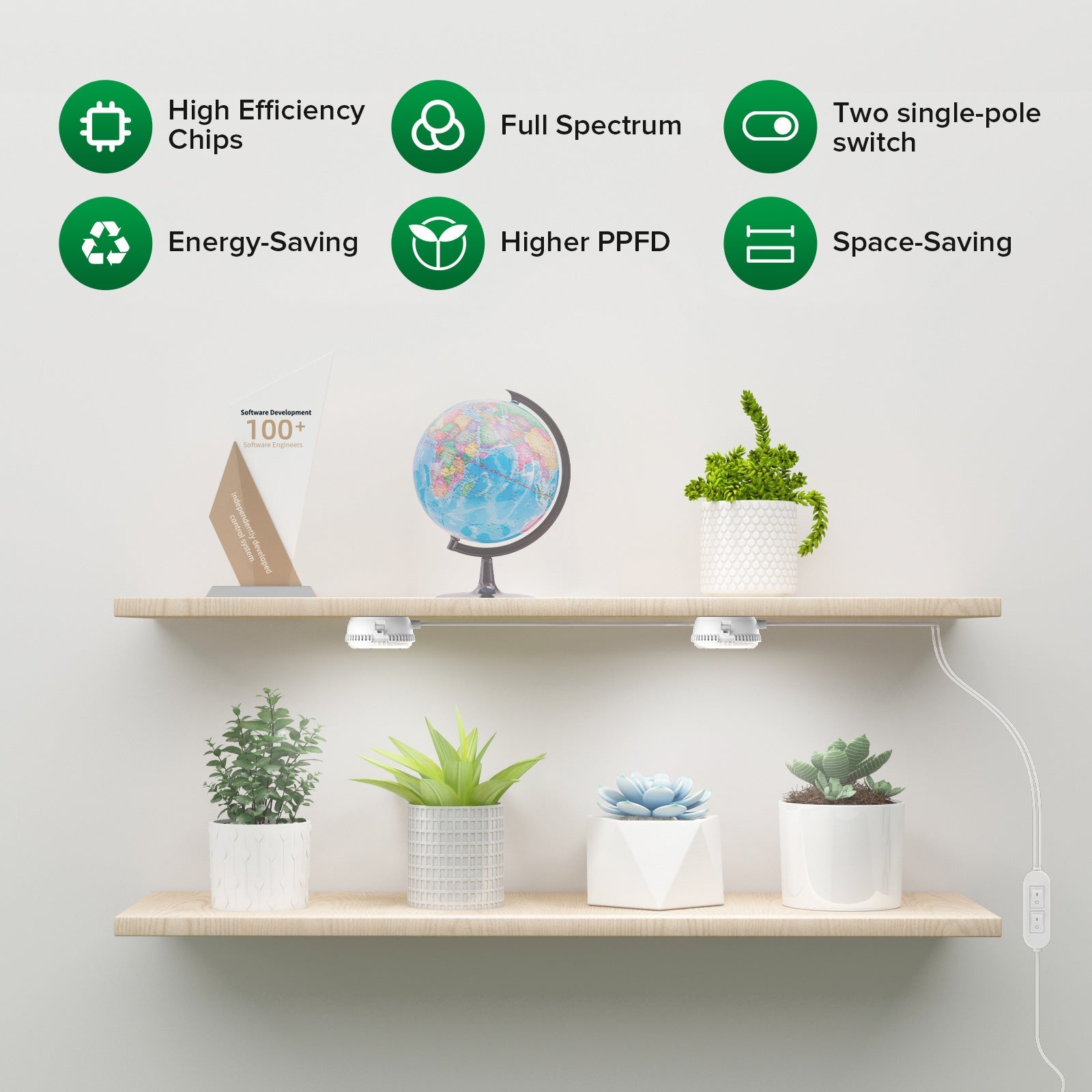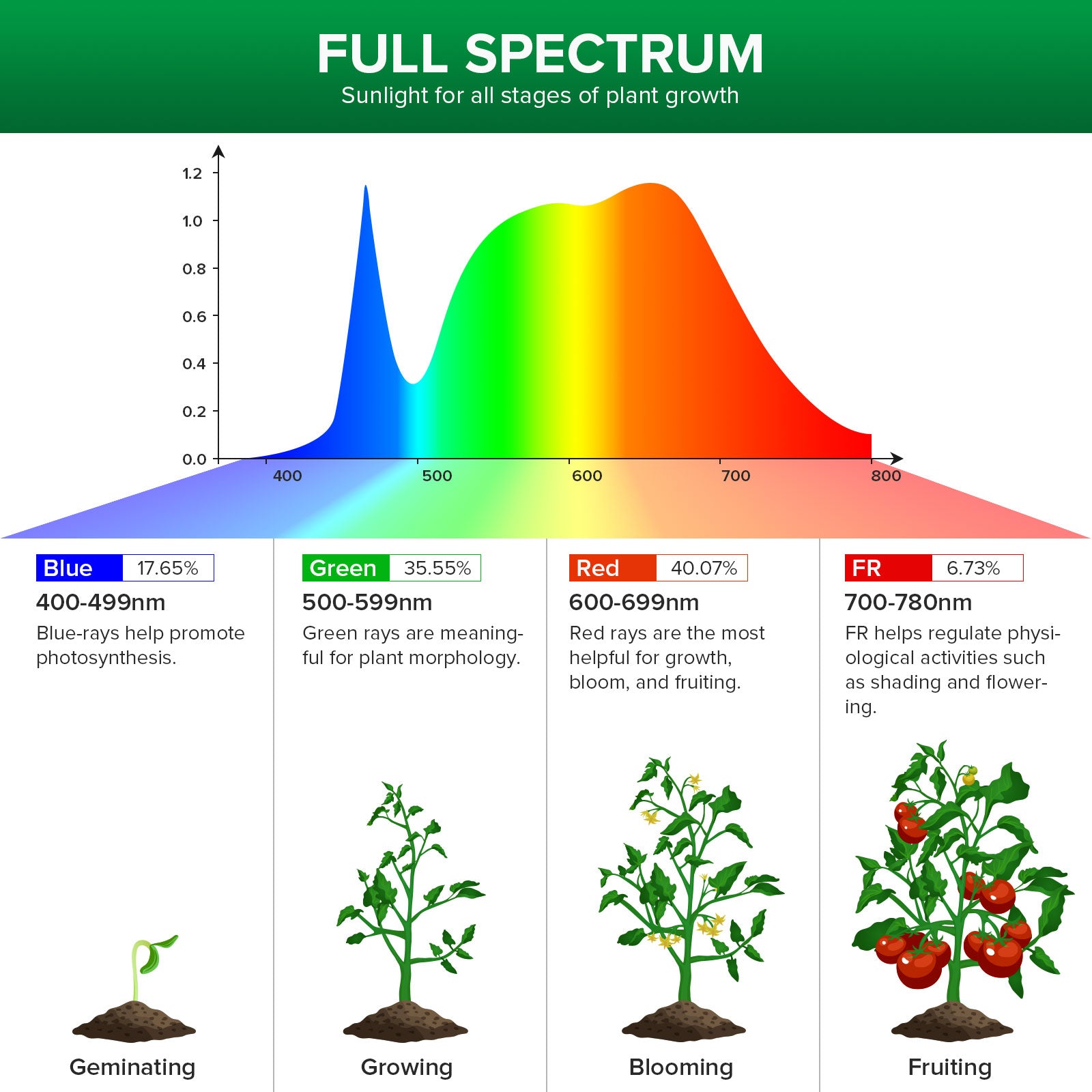 10W Full Spectrum 2-Head Grow Lights With Timer/No Timer(US/EU ONLY)
SANSI LED Puck Grow Light, 10W (150 Watt Equiv) Full Spectrum 2-Head Lamp for Indoor Plants with Ceramic Tech, Hanging Plant Lights with ON/Off Switch for Indoor Plant Shelf Greenhouse Hydroponic.
🔥🔥🔥25% OFF
Code:
XMAS25
copy
About this item

FULL SPECTRUM LED PLANT LIGHT: Imitate the solar spectrum, customize a more ideal full life cycle full spectrum supplementary light program, covering the entire visible spectrum of 400nm-780nm; Providing 4000K daylight, Color rendering index Ra is close to 100, infinitely close to natural light, suitable for every cycle of plant growth, effectively promotes plant growth, and improves crop yield and quality.

PATENTED CERAMIC TECHNOLOGY: Chip on Ceramic, SANSI's patented technology replaces the traditional Mcpcb aluminum substrate with a non-conductive ceramic heat sink, and directly solders the LED chip on the ceramic heat sink, effectively reducing the system thermal resistance between the LED PN junction and the surface of the heat sink, resulting in faster heat conduction and higher product reliability, producing a SANSI bulb with higher light efficiency.

EASY & FLEXIBLE INSTALLATION: The Sansi 2-Head LED plant light is very light in weight and can be flexibly installed for different places. Ideal for indoor use on plant shelves, cabinets, walls, greenhouse, and other places in the home/office space. The power cord is 71 inches long, which is quite enough for indoor use. With included Double-sided Tape and zip ties, you can easily install the led grow light by yourself.

HIGH-EFFICIENCY LED LIGHT: The grow light is only 10 watts (75 Watt Equivalent). Estimated electricity bills are around $7.227 per year (18 hours per day). This is a great gift, perfect for gardeners and plant lovers to look care of plants and vegetables.

UNIQUE DESIGN: It is a 2-headed stickable plant light, small and exquisite design, and does not take up space, 12-month Warranty means you are covered with replacement or refund should any quality-related issues happe
How long will it take for my order to arrive?
It takes 2 working days by Express shipping after you place an order and we complete shipment. For Standard shipping, most orders will arrive 3-5 working days after shipment is completed.
We are not liable to any shipping delays, nor loss of any kind caused by unforeseen and uncontrollable circumstances, such as unreachable recipients, invalid addresses, weather conditions that affect delivery, customs clearance delays and so on. In these situations, SANSI will try our best to notify customers of the delay, and if possible, make new delivery/collection arrangements with an estimated delivery date.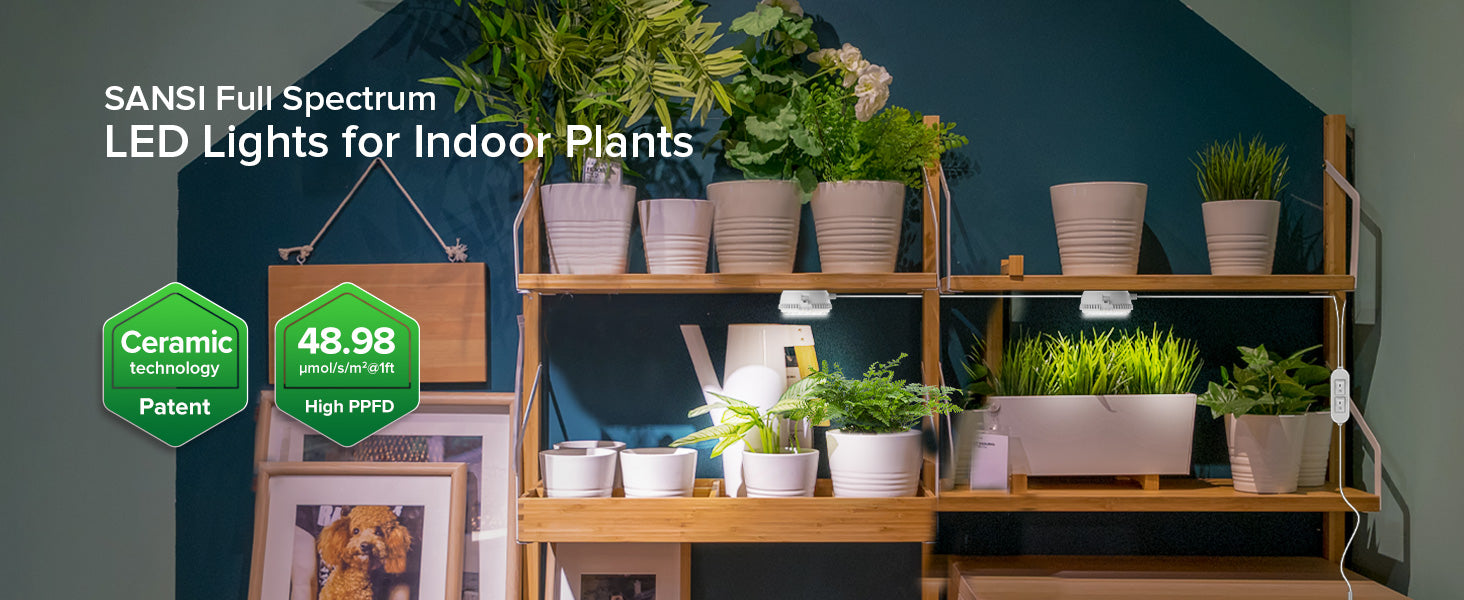 Great grow light
Use to give light to some plants I have in a little cove in our apartment and it works great!
Great Grow Lights 💡💡
I'm happy with this purchase, I used it for the ikea 17" Akerbar mini greenhouse. My plants are happy, I love that I can set it to turn on/off for 12 hours a day. Shipping was quick, thanks Sansi!