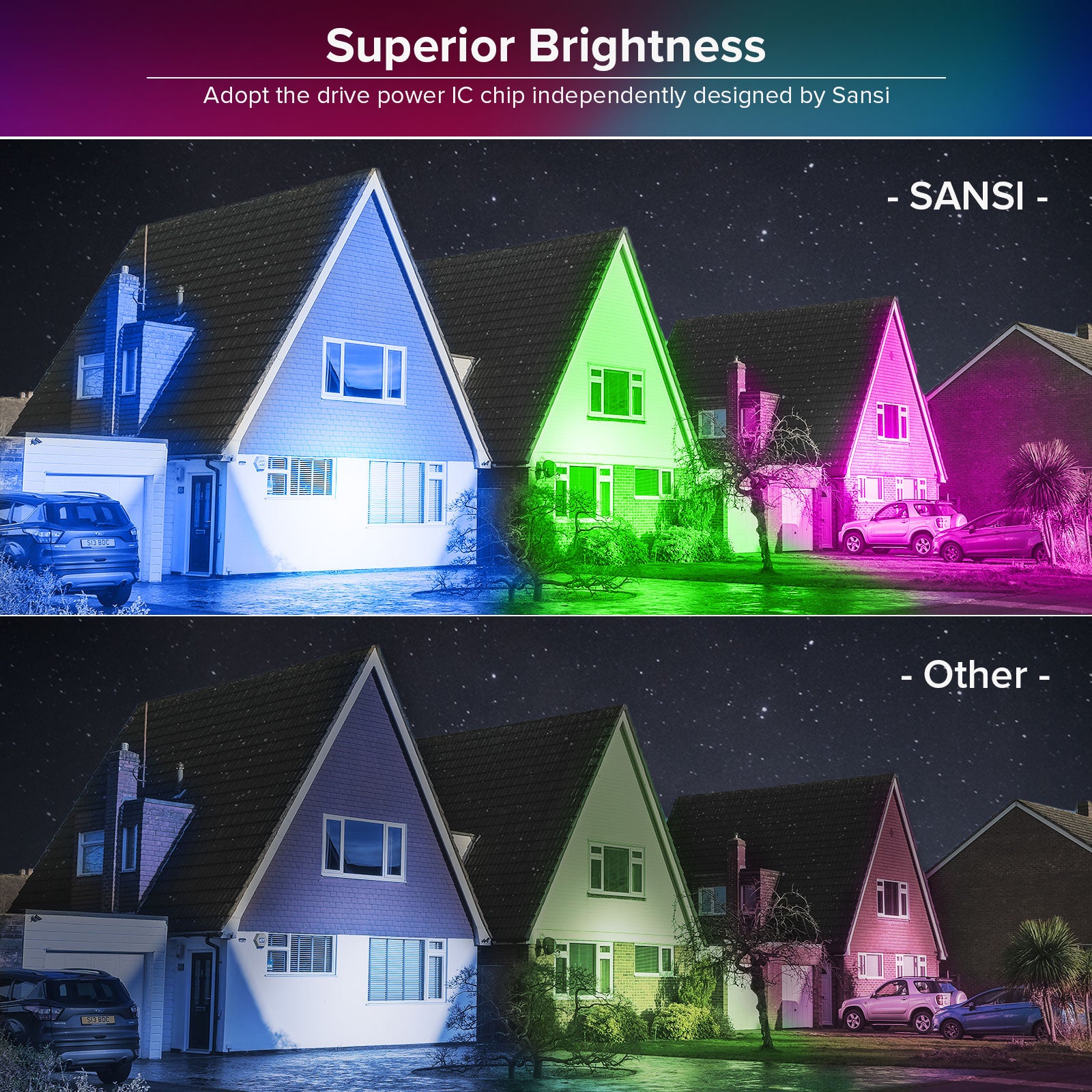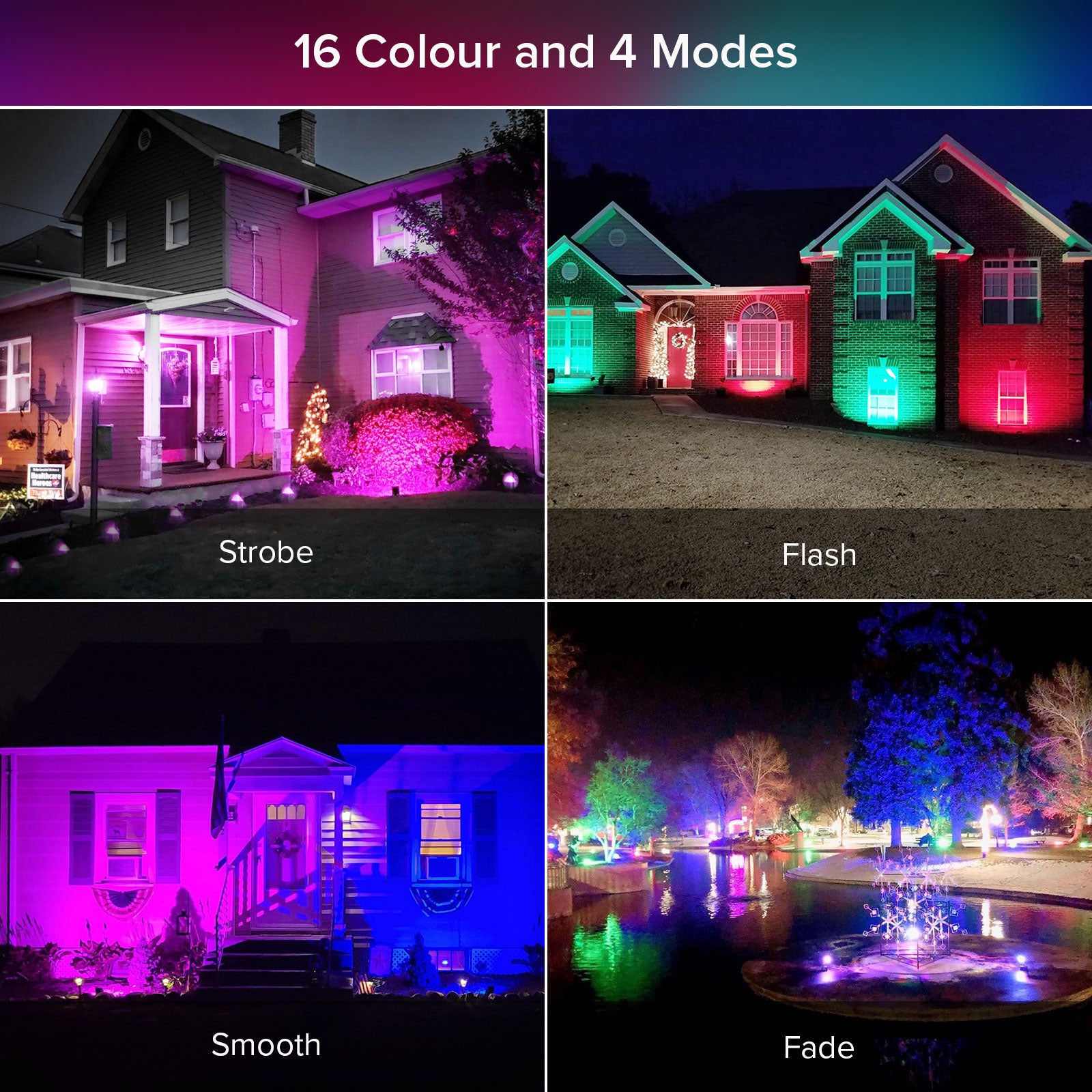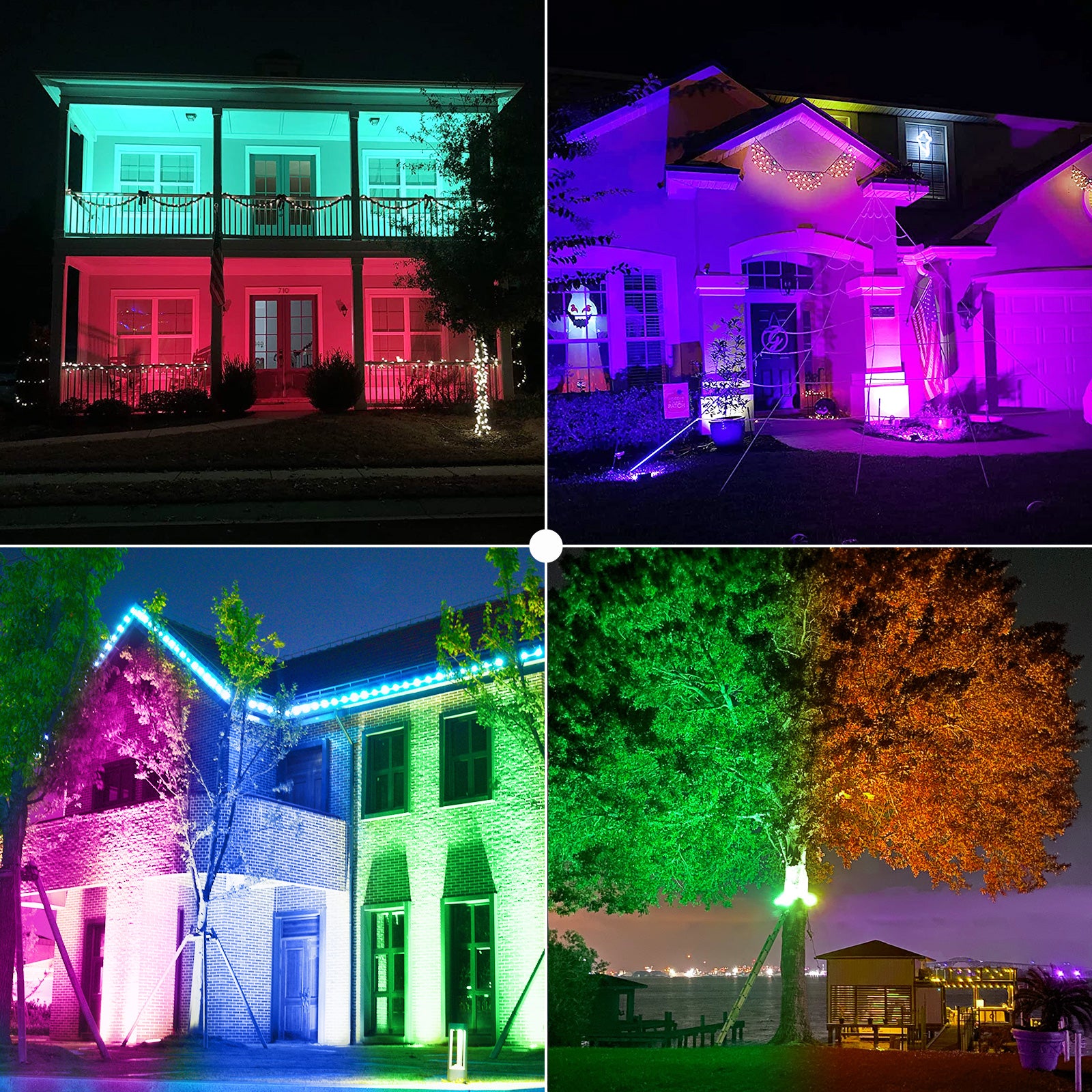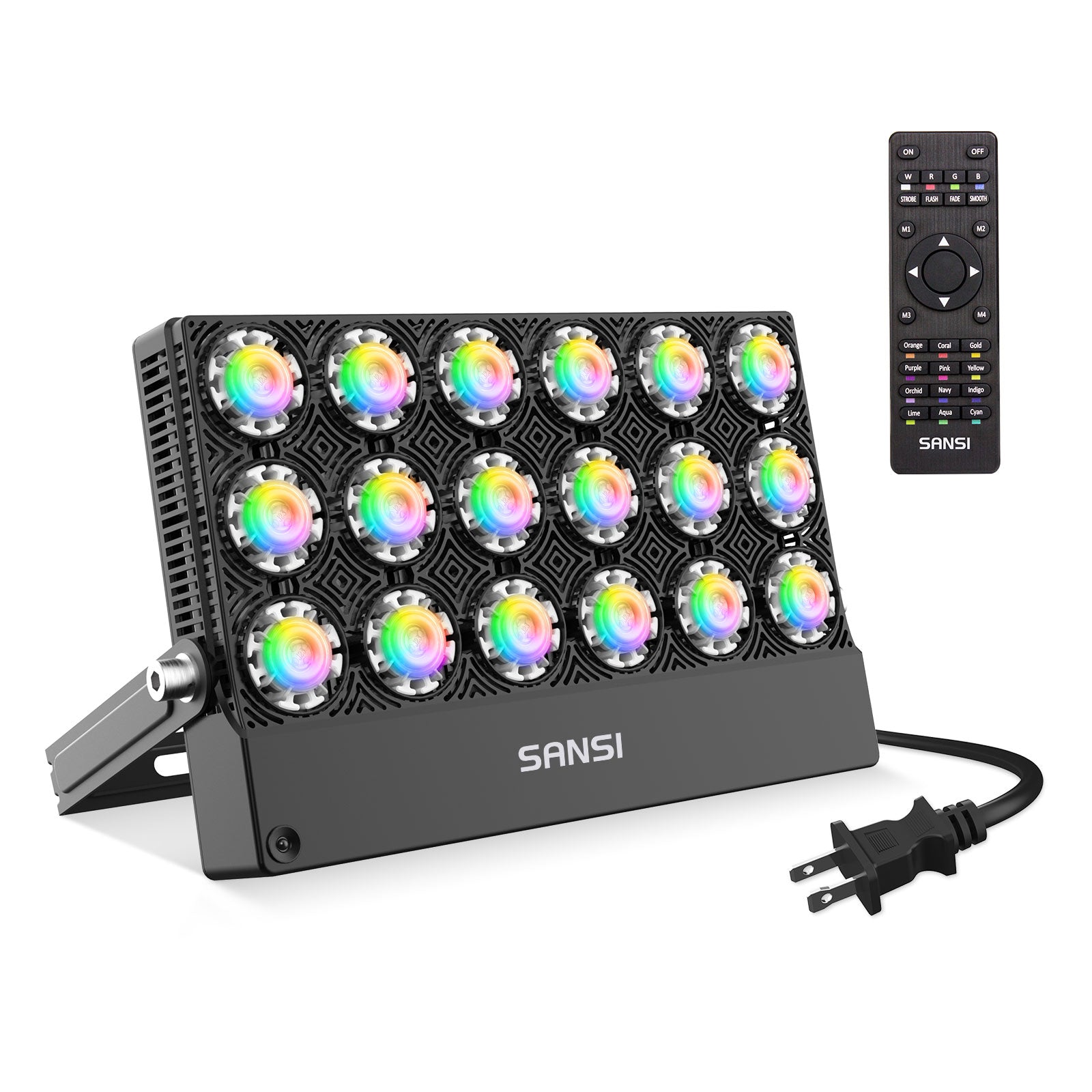 100W RGB LED Flood Light (US, CA ONLY)
100W RGB LED Flood Light with patented Chip on Ceramic (COC) technology and hollow design, through higher effective heat dissipation, improves luminous efficacy and lifespan. Dimmable 16 colors 4 modes for decorating party, stage, garden, etc. with plug. IP65 waterproof floodlight.
🔥 25% OFF
Code:
XMAS25
copy
Features


1. Sensitive remote sensor & memory function: With 32 keys IR remote control to vitalize this 100W RGB floodlight (remote control sensing distance: 33~49 feet). One remote can control several lights. The improved memory function keeps the color and mode you set last time. No need to reset! Enjoy the colorful light decoration on children's birthdays, Christmas celebrations, Halloween, or wedding parties.
2. 16 colors & 4 modes: With a remote control provided, 16 different colors including daylight color lights are available. 5 dimmable settings can meet your brightness needs. It also offers 4 kinds of color-changing patterns, including flash, strobe, fade, and smooth. All the functions can meet all your needs for decorating a party, stage, landscape, and it can also be used for security lighting.
3. IP65 waterproof & 50,000 hours lifespan: This RGB LED floodlight with an IP65 waterproof rating can withstand any rain or storm. Using SANSI's patented Ceramic Heat Dissipation Technology (CHDT) and hollow design, the lifespan of this RGB floodlight is dramatically increased to 50,000 hours. Unlike other floodlights made of metal, SANSI floodlights use high-quality plastic, 100% anti-corrosion, and rust prevention.
4. 360° flexible adjustment: You can change the light's direction by adjusting the screw knobs and stainless steel U bracket of the floodlight. The expansion bolts can help you easily install the light for wall mounting, pedestal mounting, ceiling mounting, etc. Ideal for gardens, patios, weddings, parties, parks, stages, landscapes, buildings, yards, streets, etc.
5. What you get: 1 x 100W LED Flood Light with plug (wire 59 inches), 1 x IR Remote Control, 2 x Expansion Bolts, 1 x User Guide. A 5-year warranty makes your purchase absolutely risk-free. Feel free to contact us with any issues.

Tip: One remote control can control multiple lights at the same time, enjoy your incredible lighting show!

Specification

Item Model Number: C2020-BW-100W-RGB
Wattage: 100W
Voltage: AC 100~240V 50/60Hz
Remote Control Distance: 15m(Max)
Beam Angle: 180°
Ra: 80
CCT: RGB
Product Size: 333mm*224mm* 66mm
IP Rate: IP65
Weight: 4.79 lb

Package Included

1* SANSI LED Flood light
1* IR Remote Control (No battery)
1* User Manual
2* Expansion Bolt
How long will it take for my order to arrive?
It takes 2 working days by Express shipping after you place an order and we complete shipment. For Standard shipping, most orders will arrive 3-5 working days after shipment is completed.
We are not liable to any shipping delays, nor loss of any kind caused by unforeseen and uncontrollable circumstances, such as unreachable recipients, invalid addresses, weather conditions that affect delivery, customs clearance delays and so on. In these situations, SANSI will try our best to notify customers of the delay, and if possible, make new delivery/collection arrangements with an estimated delivery date.
Choose Sansi RGB high-wattage and high-brightness flood lights
All the functions can meet all your needs for decorating a party, stage, landscape.
16 Colors & 4 Modes
16 different colors including 5000K daylight color lights;4 kinds of color changing patterns, including flash, strobe, fade,smooth.
Memory Function
The flood Lights will stay at your last setting, while turn on again.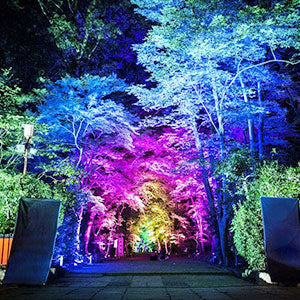 Speed and Brightness Adjustment
You can use the reomte control to adjust the brightness and Speed you like.
About SANSI Led Flood Light 600W Equivalent with Ceramic Technology
The RGB color changing flood light with output 100W, 600W Equivalent; super bright 5000K daylight, Adopt the drive power IC chip independently designed by SANSI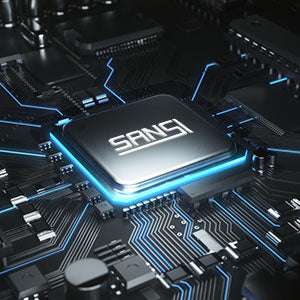 Smart IC
SANSI Independent design
Auto power adjustment
More safety
PC+Ceramics
High light efficiency
High brightness
Energy-Savings
Hollow Structure
Fast heat dissipation
Extend the lifespan
This light was exactly what I wanted for my pool area. I was expecting the light to be larger after looking at the pictures, so please note the dimensions. It's actually about the size of my hand, which ended up being a convenient size.The light is pretty bright and has a wide beam angle. It's a very good outdoor wash light. The color control is pretty basic (which could be a good thing depending on your needs)
Very disappointed, product was shipped broken
I ordered a 3pack LED 100W RGB a few weeks ago. I received the items in good time although one of the units was a different variation from the other 2. It was also unwrapped and appeared to be used, the LED lights in the bottom corner were damaged and not working from the start. I tried calling the California number a few times, but no one answered, the phone just keeps ringing. Think twice before purchasing, now I must deal with warranty return and replace and hope they exchange the unit.
Arrived on time great product
Works great for my water fountain
WOW! This really lights everything up!
Maaaaaaaaaan.....this thing is cool! This one unit lights up the entire back of my two story house AND the sides of my neighbors houses! My house backs up to a road so I thought it would be nice to add some light there for the passing cars during the holidays. Every night we put on a different color, red, blue, green, purple, orange, whatever u want! It has preprogrammed buttons so it can even cycle thru all the colors in a strobe light fashion! U can control how fast or slow it goes and how bright u want the lights. Very cool for any occasion, not just the holidays! Backyard bbq's are going to be a blast now when the sun goes down! The 100 watt light is the way to go I think. I haven't used any of the smaller models that Sansi offers but I would definetely buy another one of these big boys for the front of the house! Power consumption is barely noticeable on the electric bill so no worries there. These LED's from Sansi are great! Great for indoors and outdoors!
IT WORKS
WORKED AS DESCRIBED IN THE LITERATURE!!!
Great customer support!
This is a very good product that is easily setup quickly. I had an issue with one of the lights not functioning well. I contacted customer support, who quickly sent out a replacement unit within 3 days. The display is very bright and colorful. I would definitely purchase again.