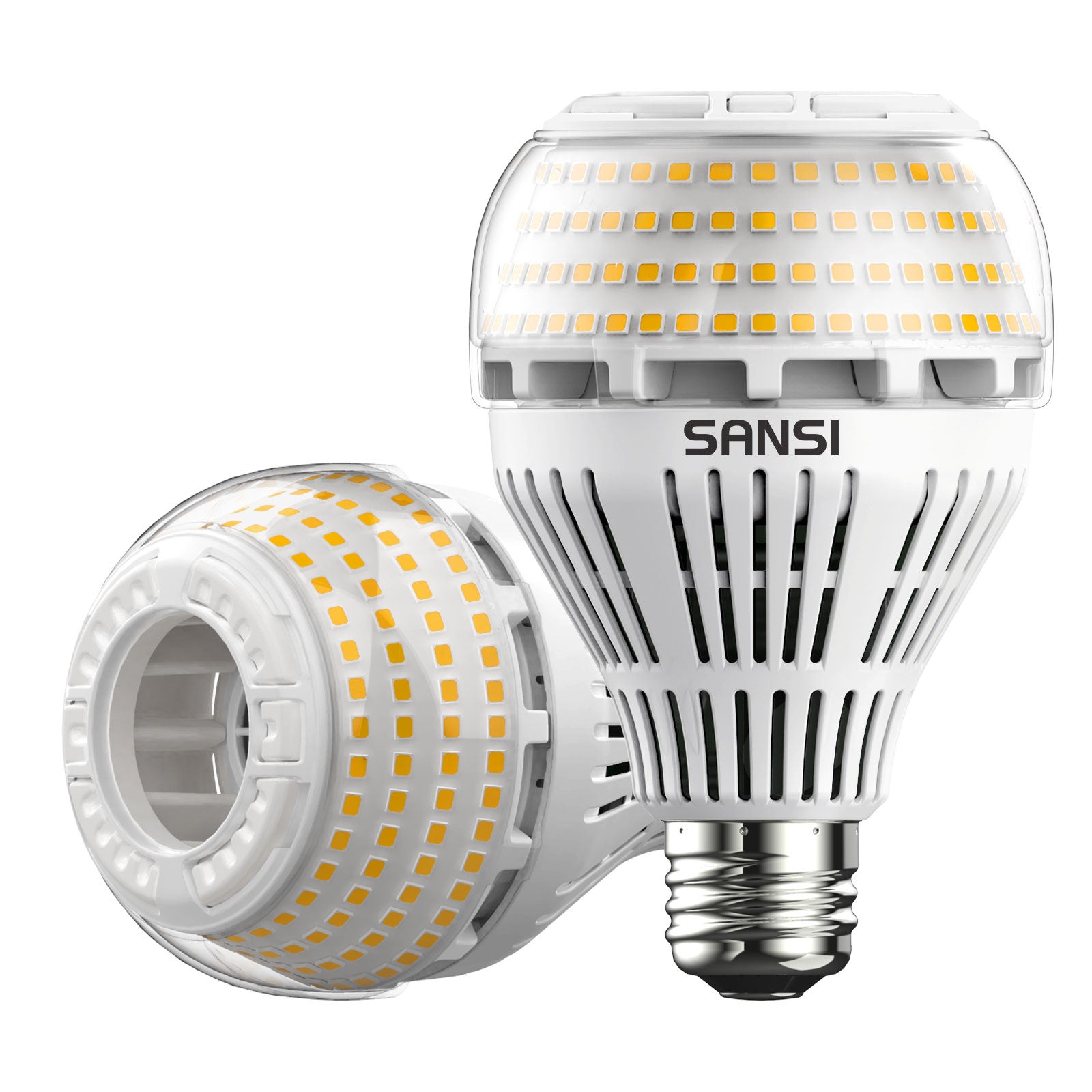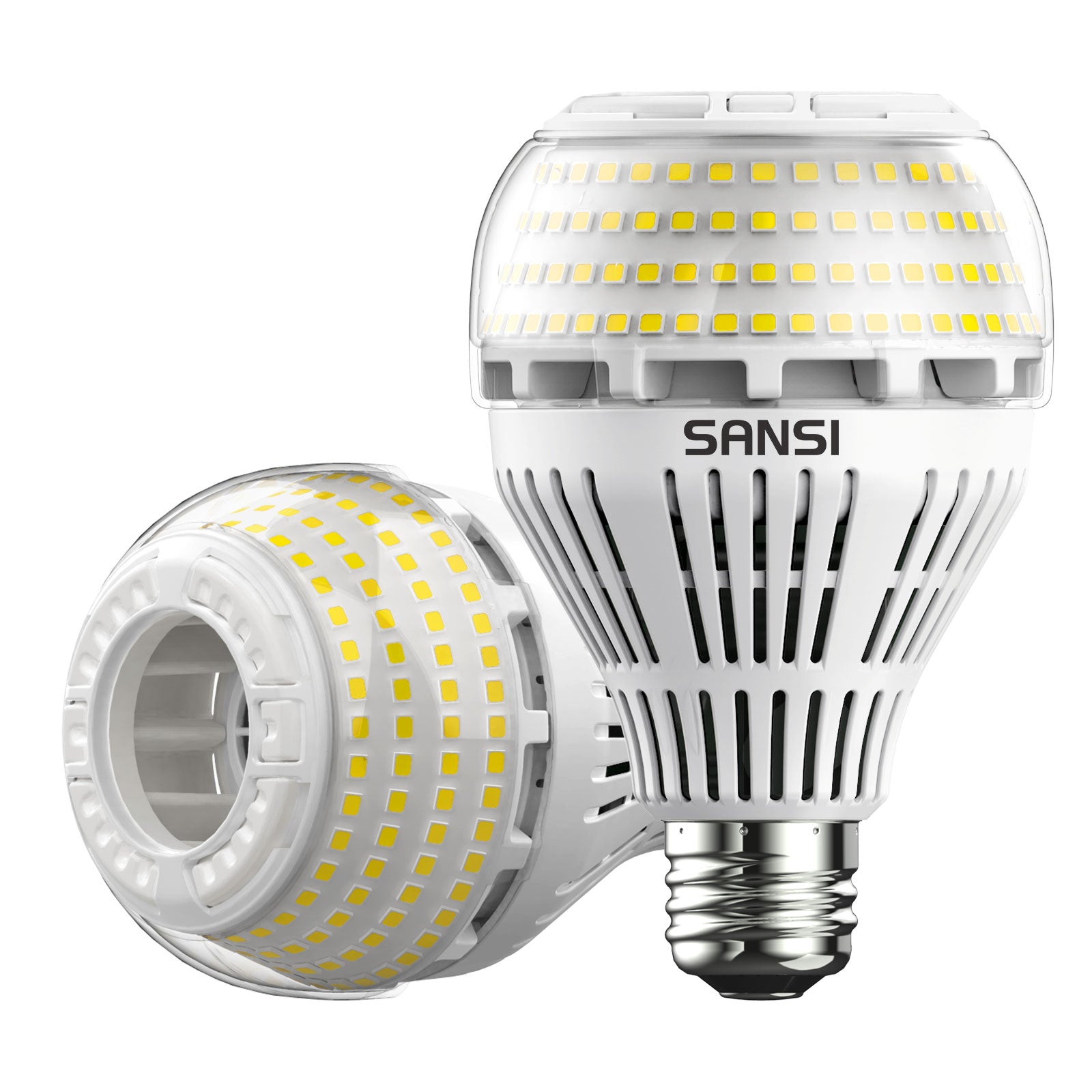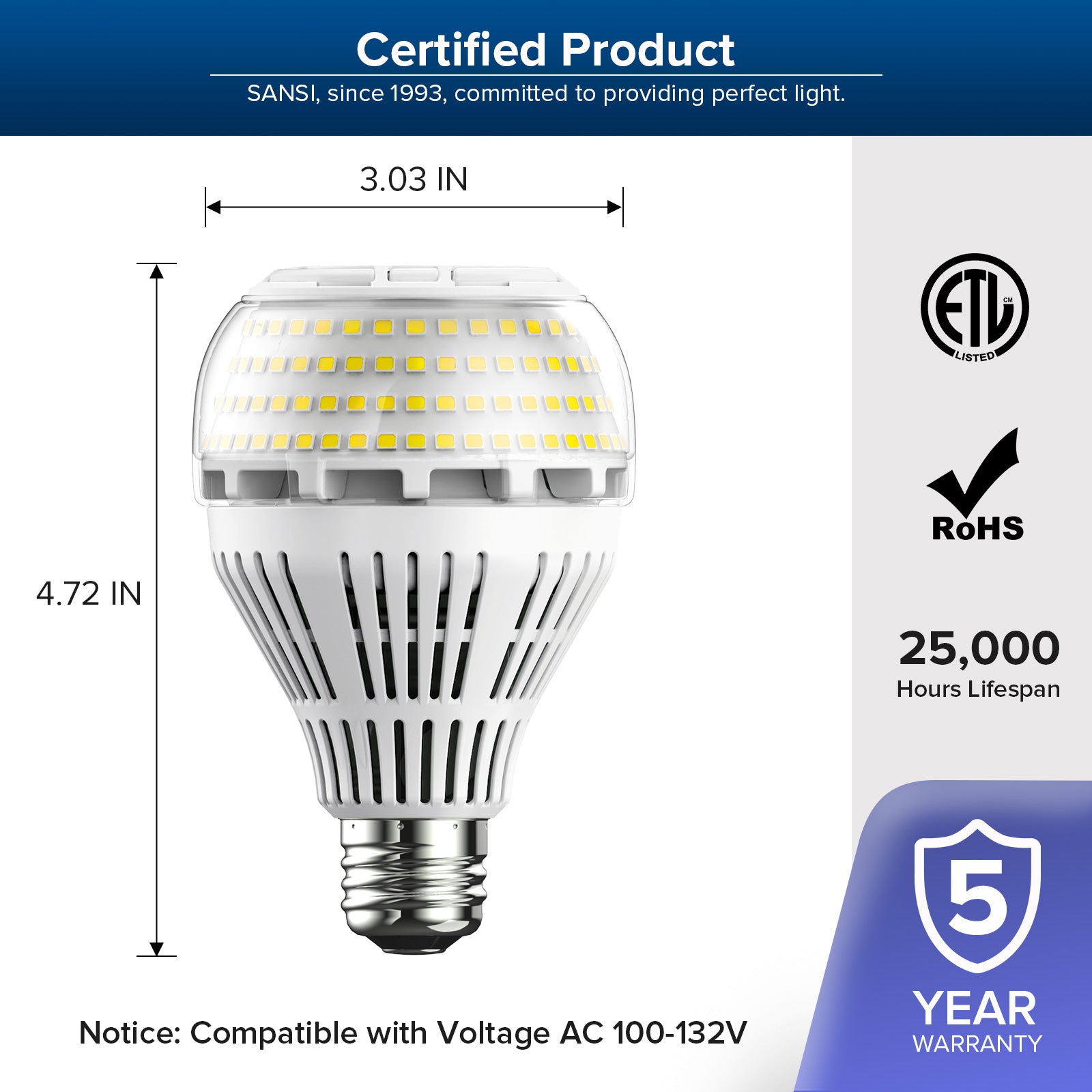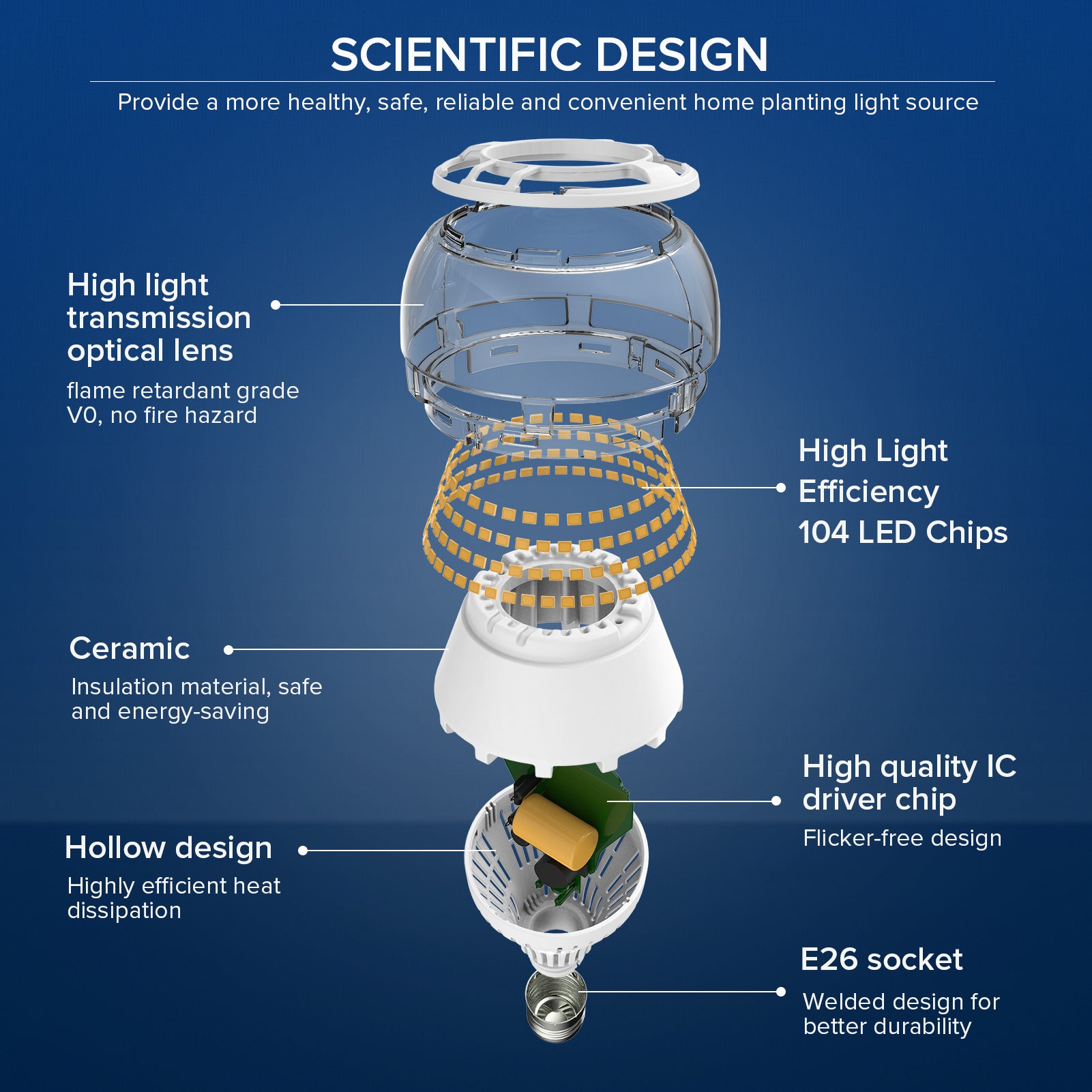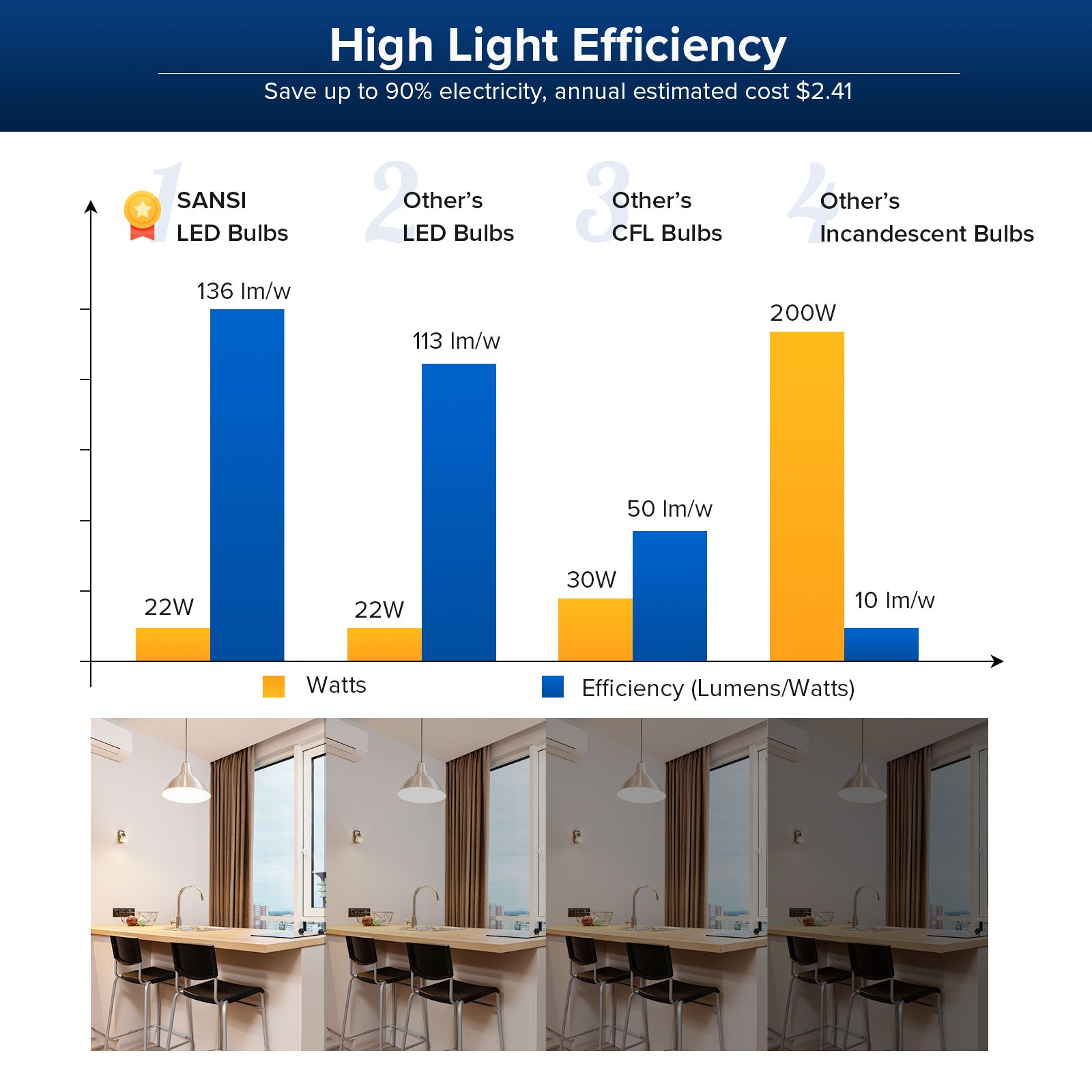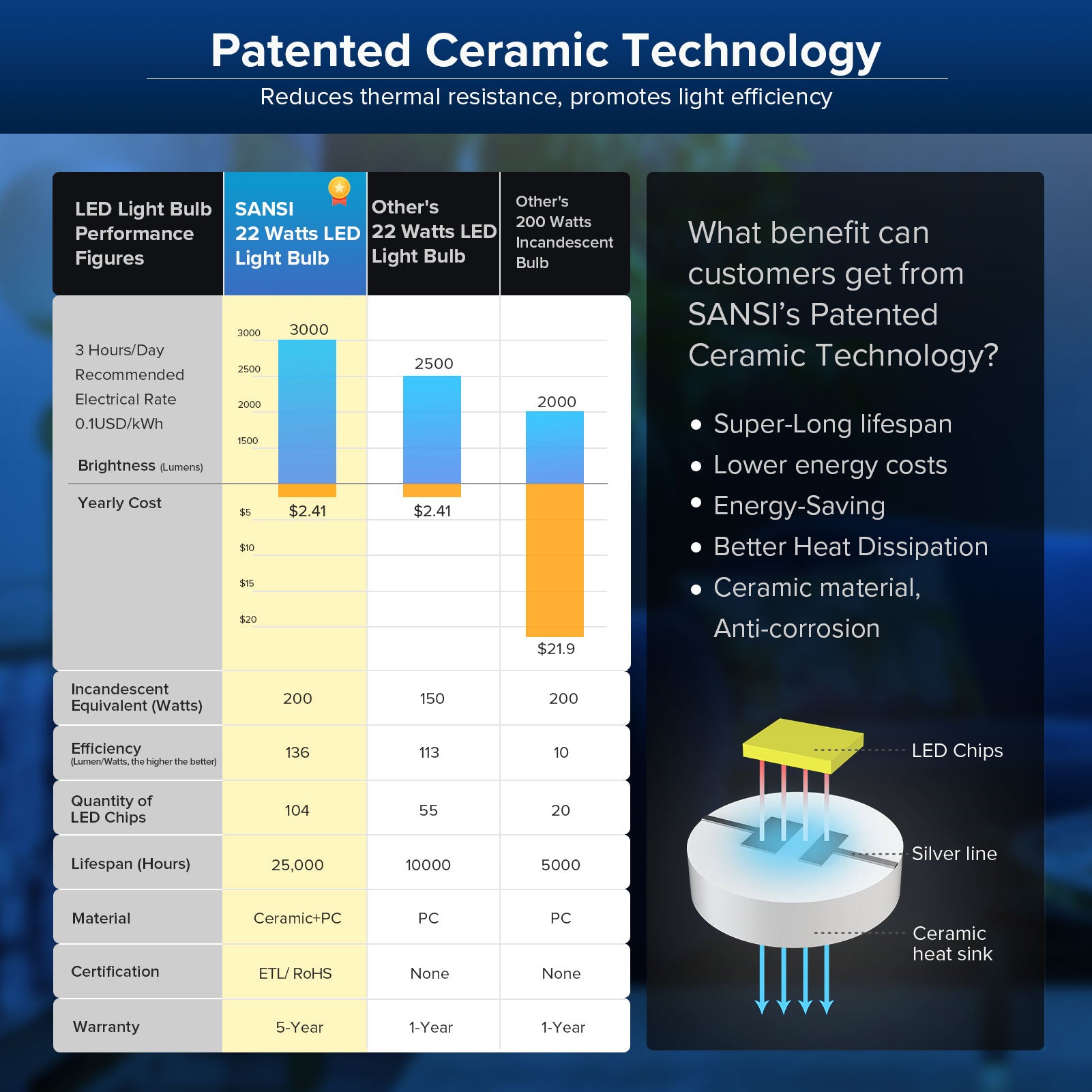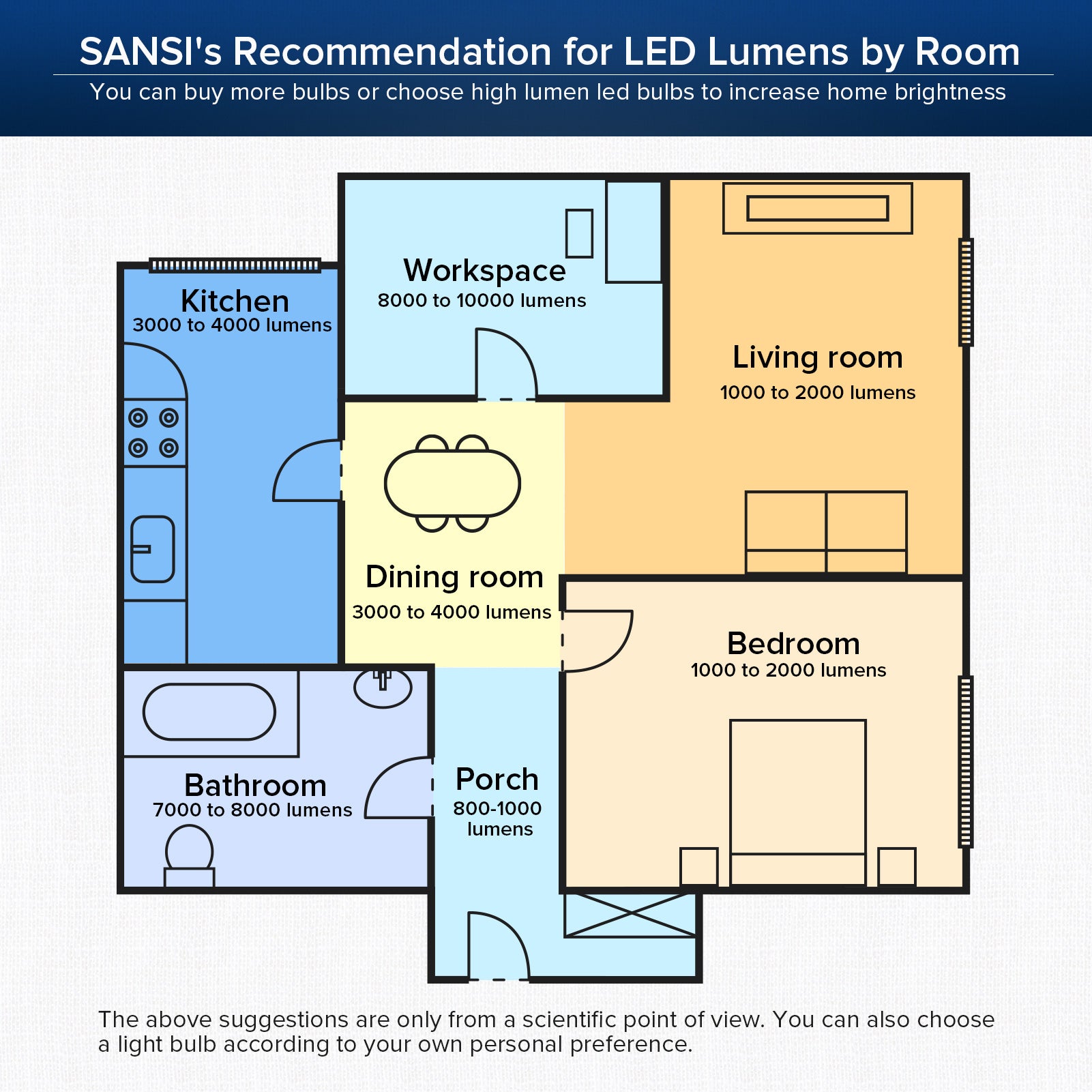 A21 22W LED 3000K/5000K Light Bulb
22W LED Light Bulb (200-250 Watt Equivalent) with patented Chip on Ceramic (COC) technology and hollow design, through higher effective heat dissipation, improves luminous efficacy and lifespan. Super bight (3000 lm) for kitchen, bathroom, garage, warehouse, basement, etc. 3000K soft warm light and 5000K daylight. Non-dimmable.
Flash Sale Limited Offer 👇👇👇
🔥 40% OFF for Packs
Code:
FLASH40
copy
Attention: It is not available in Canada!

Features


1. Money saving & energy efficient: Premium chips produce up to 3000 lm brightness. Saving over 89% on the energy bill by replacing 200-250W with only 22W. A long lifespan of 22.8 years (3 hours/day) reduces the re-lamp frequency.
2. Better light pattern & perfect replacement: A21 shape and standard E26 base (Dimension: 120*77 mm) fit in applications where general incandescent, halogen, corn, or CFL light bulbs are used. Wider beam angle 270° provides an all-around light distribution, just like an incandescent bulb does.
3. Health light: No flicker. Soft lights without harsh glares help to reduce eye strain, increase visual range, and protect eyesight. CRI80+ brings true color temperature experience. Everything is just pleasant in your eyes!
4. Wide applications: Natural warm glow 3000K or 5000K makes it perfect for ceiling light fixtures, pendant fixtures, bare lamp sockets, ceiling fans, living room floor lamps, bedroom table lamps, dining room chandeliers, bathroom vanities, garage doors, basements, or office rooms.
5. Durable and reliable: ETL listed. No lead or mercury. No UV or IR. With our 5-year warranty, you can sure buy with confidence.

Potential major adverse effects of flicker identified in published research and/or Expert Opinion include these five factors: 

Photoepilepsy or flashing-light induced seizure. 

Stroboscopic effect and associated apparent slowing or stoppage of rotating machinery. 

Migraine or severe paroxysmal headache often associated with nausea and visual disturbances. 

Increased repetitive behavior among persons with autism. 

Asthenopia, including eyestrain, fatigue, blurred vision, conventional headache, and decreased performance on sight-related tasks.

Abscrate from IEEE Std 1789-2015

What's the difference between SANSI LED bulbs which adopting SANSI Patented Ceramic Technology with other bulbs?

What benefits can customers get from SANSI Patented Ceramic Technology?

How to Determine How Many Lumens You'll Need to Properly Light Your Space?

Specification

Item Model Number: C21BB-WE26-22W
Wattage: 22W
Voltage: AC 120V 60Hz, 220/240V 50Hz
Replacement Wattage: 200-250W Incandescent Bulb or 45W CFL Bulb
Dimming: Not Dimmable
Beam Angle: 270°
Ra: 80
CCT: 3000K/5000K
Lumens: 3000 lm
Base Type: E26, E27
Product Size: Φ77mm*H120mm
Weight: 1.23 lb

Package Included

2* LED Light Bulbs

Tips

1. Indoor use only.
2. Please do not use it in dimmable fixtures.
3. Please do not use it in totally enclosed fixtures.

How long will it take for my order to arrive?
It takes 2 working days by Express shipping after you place an order and we complete shipment. For Standard shipping, most orders will arrive 3-5 working days after shipment is completed.
We are not liable to any shipping delays, nor loss of any kind caused by unforeseen and uncontrollable circumstances, such as unreachable recipients, invalid addresses, weather conditions that affect delivery, customs clearance delays and so on. In these situations, SANSI will try our best to notify customers of the delay, and if possible, make new delivery/collection arrangements with an estimated delivery date.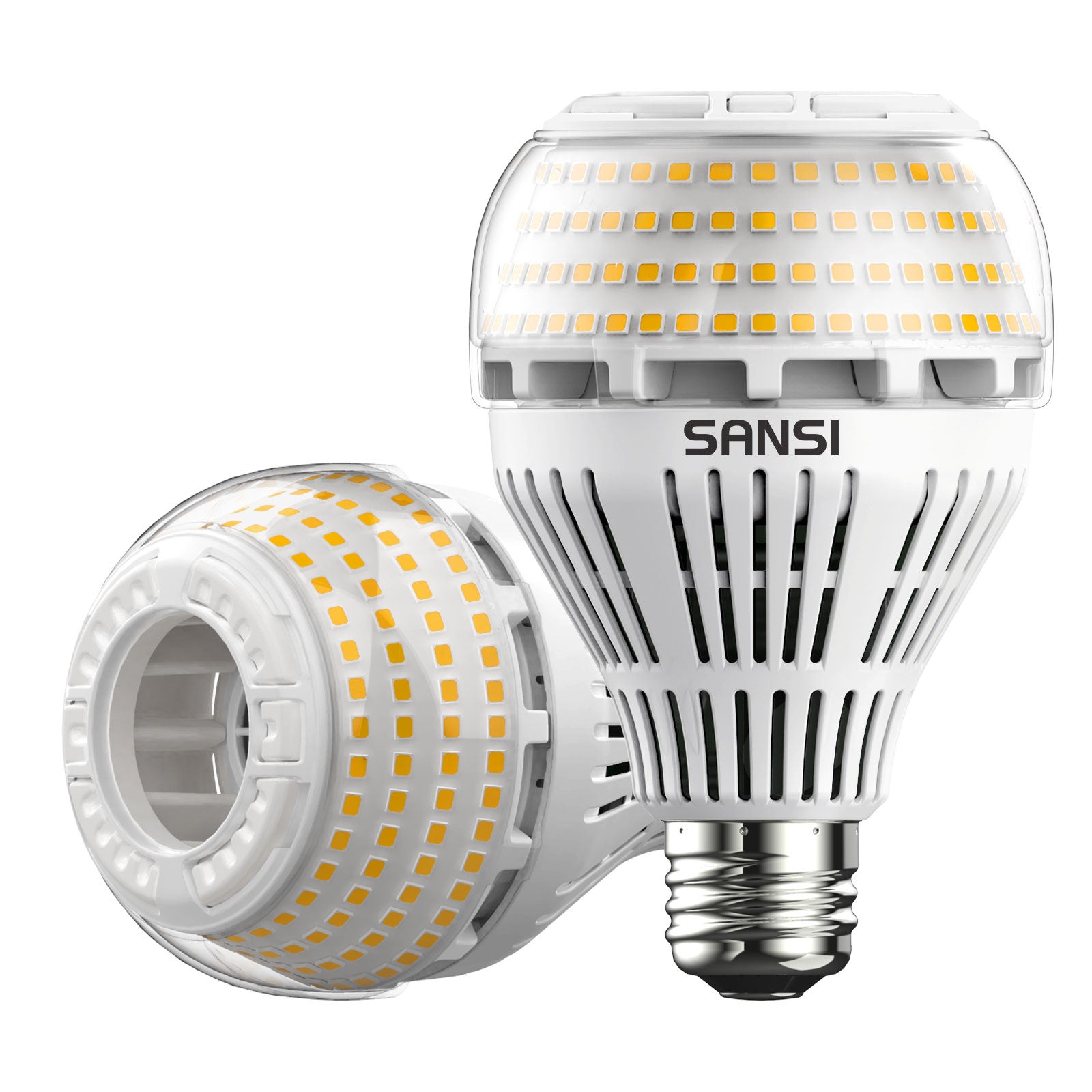 This product is rated 5.0 of 5.0 stars.
It has received 25 reviews.
Brightened up my shop
Only adding 2 bulbs has made my plant shop look like Ive added another skylight, looks like natural daylight coming in not glary fluorescent light. So happy with them I ordered more
Nice BRIGHT WHITE light.
I like the 5000K that is like daylight to make things look clearer. The 200W in this bulb makes everything easier to see.
Total Quality item.
Fantastic buy, completely changes a room from dark to super bright some piece of kit.
Larger than normal bulbs but super bright
Love these bulbs. They came in a pack of two. They're super bright and really light up the room well.
Great Great Product
At long last I have a bright LED bulbs for my home office I have been waiting for bulbs like for a long time I am able to work with less strain on my eyes due to brighter light I highly recommend these Bulbs.