Upgraded Dimmable 70W LED Grow Light (US, EU ONLY)
SANSI LED Grow Light for Indoor Plants, 70W LED Grow Light with Optical Lens for High PPFD (700W Equiv), Energy Saving Full Spectrum Grow Lamp for Seeding and Growing of Flowers and Garden, Upgraded
🔥 Buy one Get one 50% OFF
Code:
AUT50
copy

How long will it take for my order to arrive?
It takes 2 working days by Express shipping after you place an order and we complete shipment. For Standard shipping, most orders will arrive 3-5 working days after shipment is completed.
We are not liable to any shipping delays, nor loss of any kind caused by unforeseen and uncontrollable circumstances, such as unreachable recipients, invalid addresses, weather conditions that affect delivery, customs clearance delays and so on. In these situations, SANSI will try our best to notify customers of the delay, and if possible, make new delivery/collection arrangements with an estimated delivery date.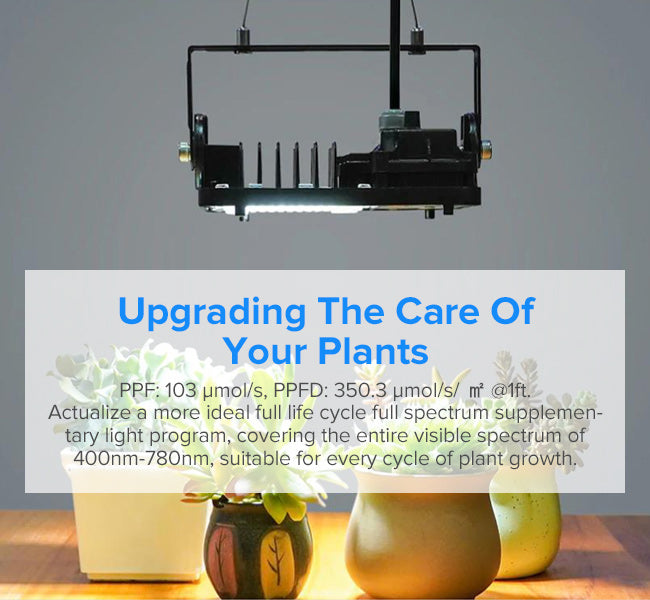 Find More Excellent Features
Create a better indoor growing experience for you! Why Not Have a Try?
Getting Enough Light
Through the secondary optical design, make plants receive more supplementary light, and improved light quality.
Faster Heat Dissipation
The working heat of the lighting device is quickly transferred to the air through natural convection, and the heat dissipation is faster and the service life is prolonged.
Dimmable Function
You can adjust the brightness freely just as your plants need for all growth stages and different application.
What did I upgrade compared to the original model?
- The spectrum of the original and the upgraded model is the same, but the PPDF of the new 70W is higher than the original one, which is 350.3 μmol/s/㎡@1ft compared to 290 μmol/s/㎡ @ 1ft.

- The beam angle of the new model is 90°, larger than the 60° of the original one.

- The original model uses pure ceramic pixels to dissipate heat. The new model uses ceramic + aluminum auxiliary heat dissipation structure, which makes higher efficiency to dissipate heat of the light.

- The new 70W light is dimmable with its own dimmer, but the original one does not have the dimming function.
Chip on Ceramic (COC) Technology
SANSI's patented COC technology directly solder the LED chip on the ceramic heat sink, effectively reducing the system thermal resistance between the LED PN junction and the surface of the heat sink, resulting in faster heat conduction and higher product reliability.

This product is rated 5.0 of 5.0 stars.
It has received 4 reviews.
Great lighting solution!
Having an apartment with limited window space, this is a fantastic solution that is easy to hang and adjust to the perfect height. Very happy with it.
Erster Eindruck sehr positiv
Die Lampe macht einen guten Eindruck. Alles ordentlich verarbeitet und gut verpackt. Die erste Inbetriebnahme überzeugte durch sehr helles Tageslicht ?hnliches Licht. Die Lichtst?rke in etwa 60cm Abstand betrāgt ca .22000lux und ist so mehr als ausreichend für mein Vorhaben Paprika, Tomate und Co. vorzuziehen. Ob die Lampe h?lt was sie verspricht kann ich noch nicht sagen da die Samen noch nicht keimen. Aber werde hier noch ein Fazit im Frühjahr schreiben wie die Pflanzen gewachsen sind.
Plants really like, could wish more rectangular led emitter setup
Nice and bright. Led emitters are in a fairly tight square pattern. If more rectangular and spread out like the older version, would work better for my little rectangular greenhouse.
Used some little cargo straps to hang. Let's me hang higher than the supplied hardware and still have height adjustment capability.
Used one of the generic 4 tier portable greenhouses. But put shelf on top tier and skipped the next tier, giving me about 24 total vertical inches to play with. At moment the light is about 14 inches above top of my tomatoes.
Tomato plant pics are just 6 days apart. Obviously they love this light. So much so that they will be ready almost a month early for planting, compared to my prior years.
Since I am using a 4 tier greenhouse, I may get another light and do the same setup on the bottom.... Basically turning into 2 tall shelves, each lit.
Excellent choice for the $$