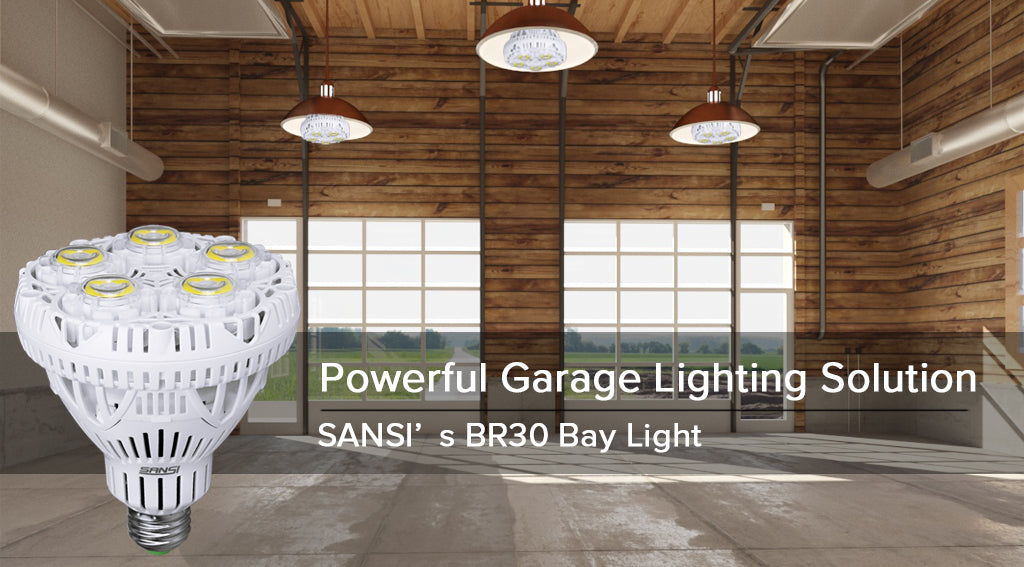 A lot of homes now have single or double garages. Some people use their garage for storage, others use them as workshops and some of us just use them to park our cars. However, we all share one common theme. We all need good lighting in our garages. I've been to a few friend's homes previously who had garages filled with things but improper lighting. This is not only inconvenient it's a huge safety hazard. Your garage needs sufficient lighting to make it accessible, safer and easier for performing tasks.   
Purchasing Guide 
The truth is there are plenty of lights available to buy for your garage. They come in various sizes, weight, color temperatures and wattages. All of these options make it harder to buy the right light for your garage, especially if you don't know exactly what your garage needs. First of all, you're going to have to take a look to see what kind of lighting your garage need. Your garage will determine the type of light it needs. However, there's usually a checklist of things to look for when purchasing any kind of LED light. 
The Brightness 
This is and the wattage is possibly the first thing you notice when you're looking for an LED light. Before light's brightness was measured by their Wattage, however, with new LED lights, their lumens are what show their brightness! Depending on how much brightness you want and how big your garage is the lumens you're looking for could be between anywhere from 3500lm-5500lm. 5500lm is more than enough lumens to light up almost any garage! 
Lifespan 
LED lights are well known for 3 main things efficiency, brightness, and lifespan. The lifespan of the light is the critical reason why you would select a certain LED light. It is important to remember that heat dissipation efficiency and the materials used within a light are contributing factors to whether an LED light's life is cut short or not. Due to the initial cost of LED lights, you must find one that will last you a substantial amount of time! 
Energy Efficiency 
LED's can save you up to 88% on your electricity bills! Not only are LED super bright they also save you money! Energy efficiency and saving money on lighting bills can be really important especially if you're somebody who spends a lot of time in their garage! 
Easy Installation 
This is one of the least considered factors when people go to purchase a light. However, an easy installation can save you a lot of time and effort. You need a light with clear simple instructions and a simple base to fit into any normal home fixture. 
The Size of the LED Light
The size of the light you require would be down to the layout of your garage. Personally I prefer a very bright light that is not too big. My garage doesn't need a hanging light that's overbearing. As long as the light is super bright and has the right color temperature I don't need anything more. For those of you that do need something that will have a wide coverage angle, a hanging light might be better for you. 
Color Temperature 
The color temperature of light along the Kelvin scale will go from warm to cool. Essentially red to white to blue, depending on the temperature you have chosen. For a garage, you wouldn't want the same warm lighting as your home. You would want a color temperature somewhere close to or brighter than natural daylight. So a temperature of around 5000K. 
What LED Light Do I Have in My Garage?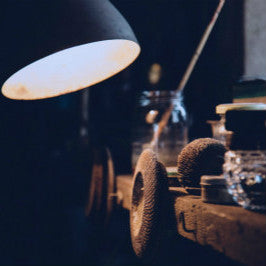 For my double garage, I decided to use 2 SANSI BR30 high bay light bulbs. I chose LED high bay light bulbs for 2 main reasons, they're made for high ceilings and they're super bright. With a 3500lm and 5000K daylight beam, these high bay lights will really brighten up your garage. 
What struck me the most about these lights was their design. They're just like large light bulbs, which for me is great! I know a lot of people like hanging or shop lights for their garages but I just feel with two of these bay lights they brought enough light to light up the whole room while not casting large shadows all over my garage.These bulbs are E26 base and simple to install, which is great, especially considering garage lighting is usually installed high the easy installation reduces a significant amount of the safety risks. Their easy installation combined with their long lifespan makes these lights practical for my garage!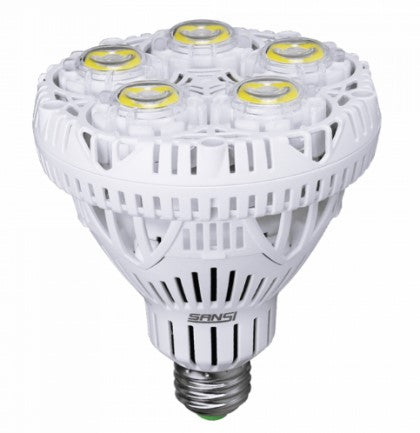 Now to their design. To me, they look like scaled out LED light bulbs. By this I mean despite the BR30's wider coverage and superior brightness is made for garages, they have kept the shape of a normal LED bulb. Their size is not overbearing and they bring a nice simple look to my garage. I'm really pleased with these bulbs and their performance is unparalleled! They're definitely worth the investment!  
If you'd like to light up your garage with these unique bulbs, please click here.