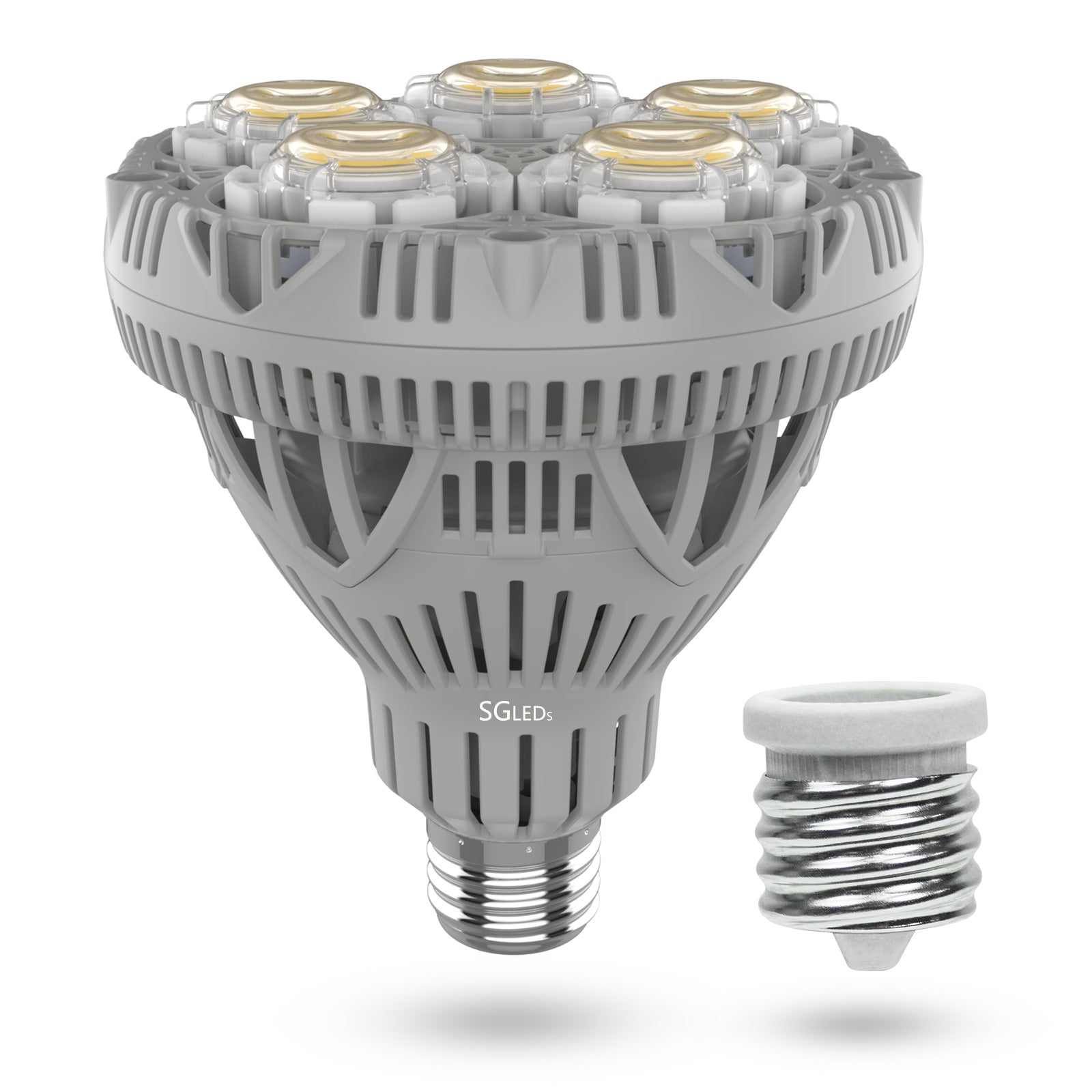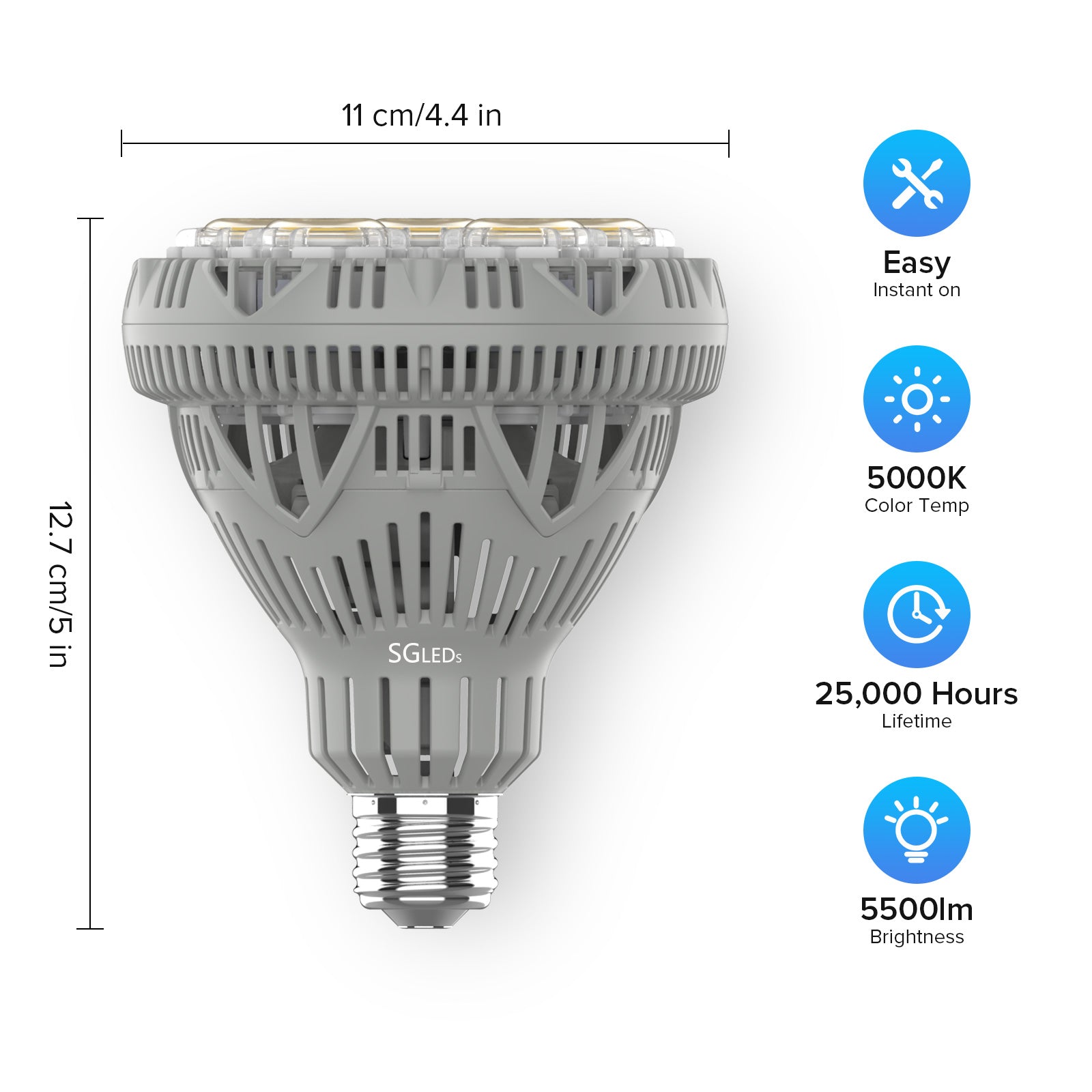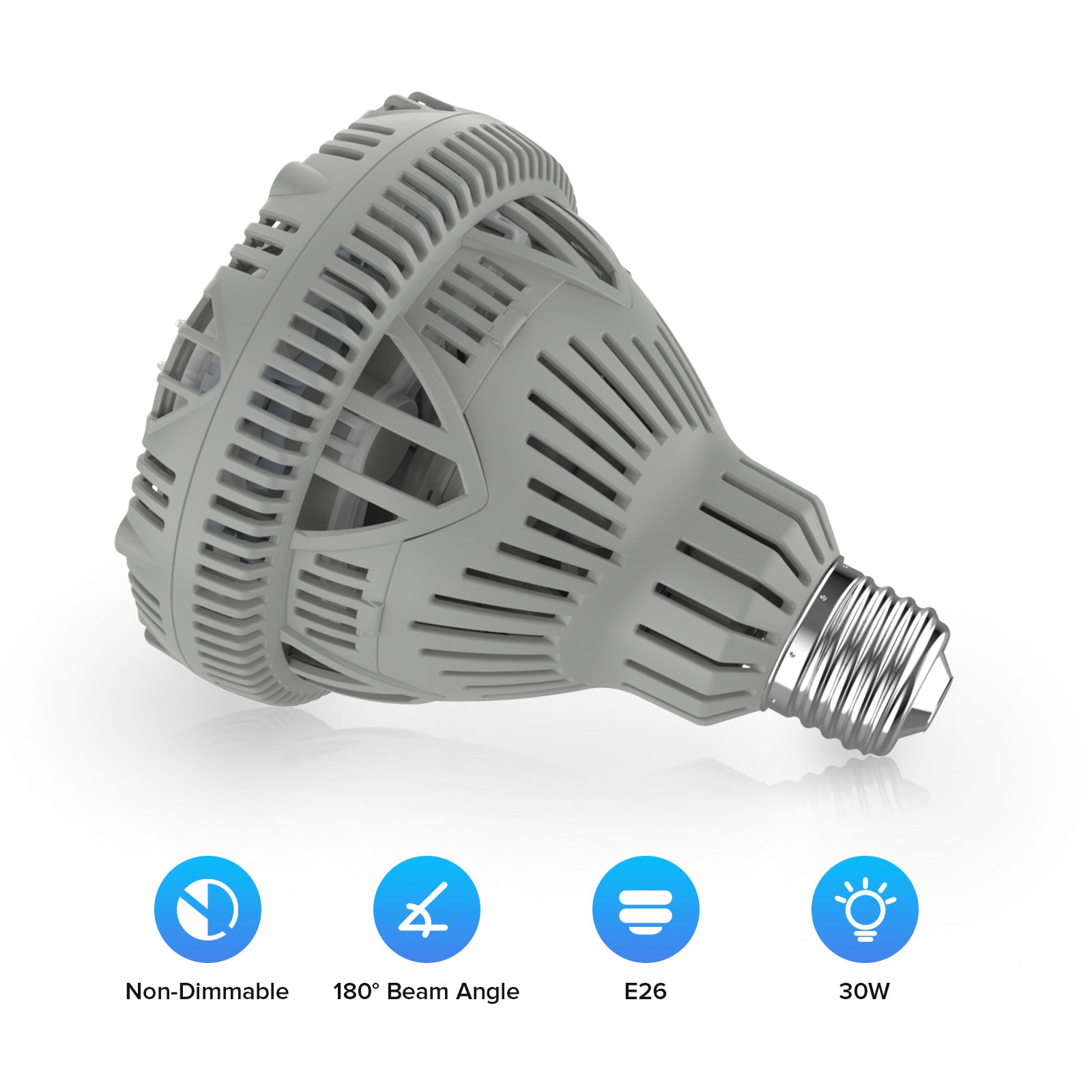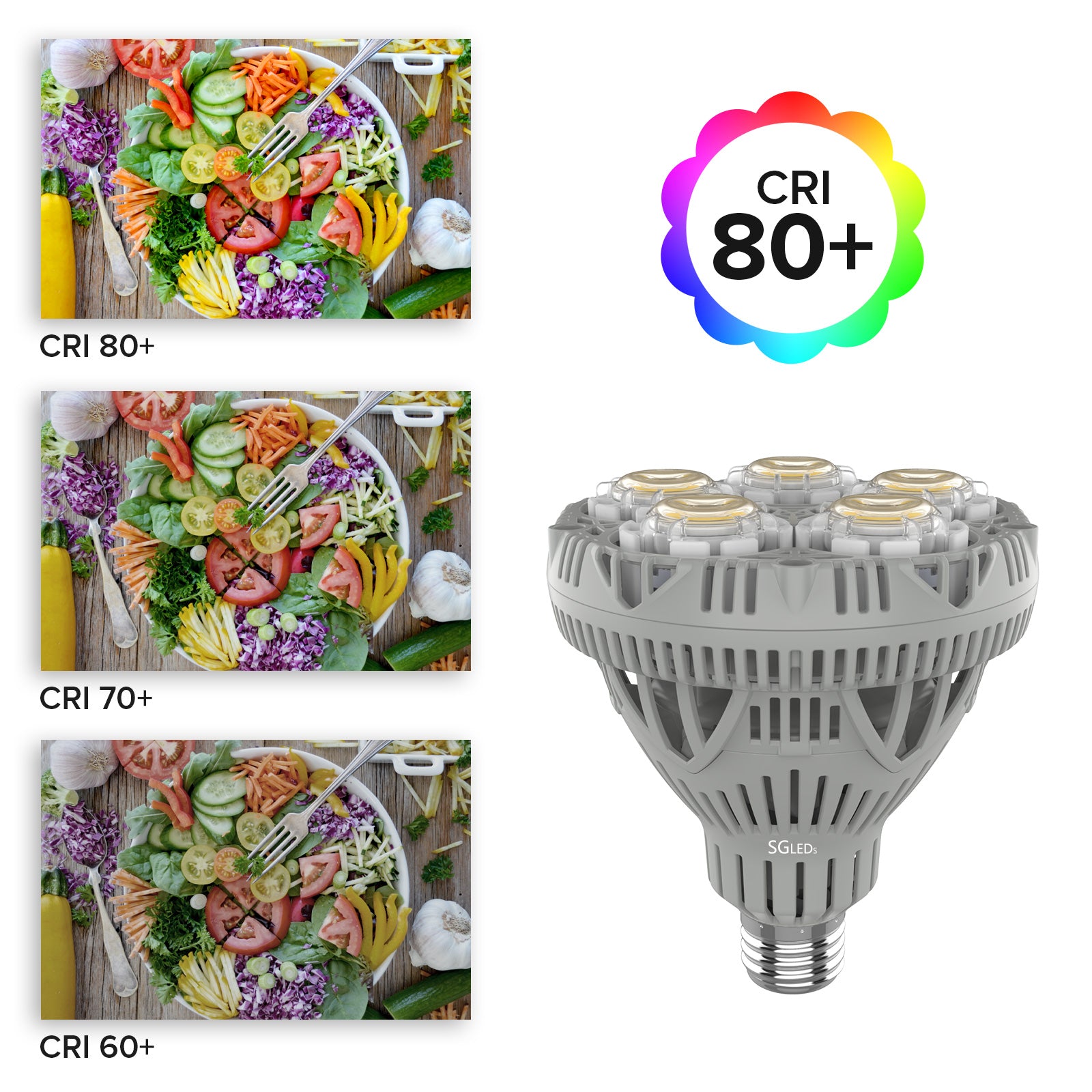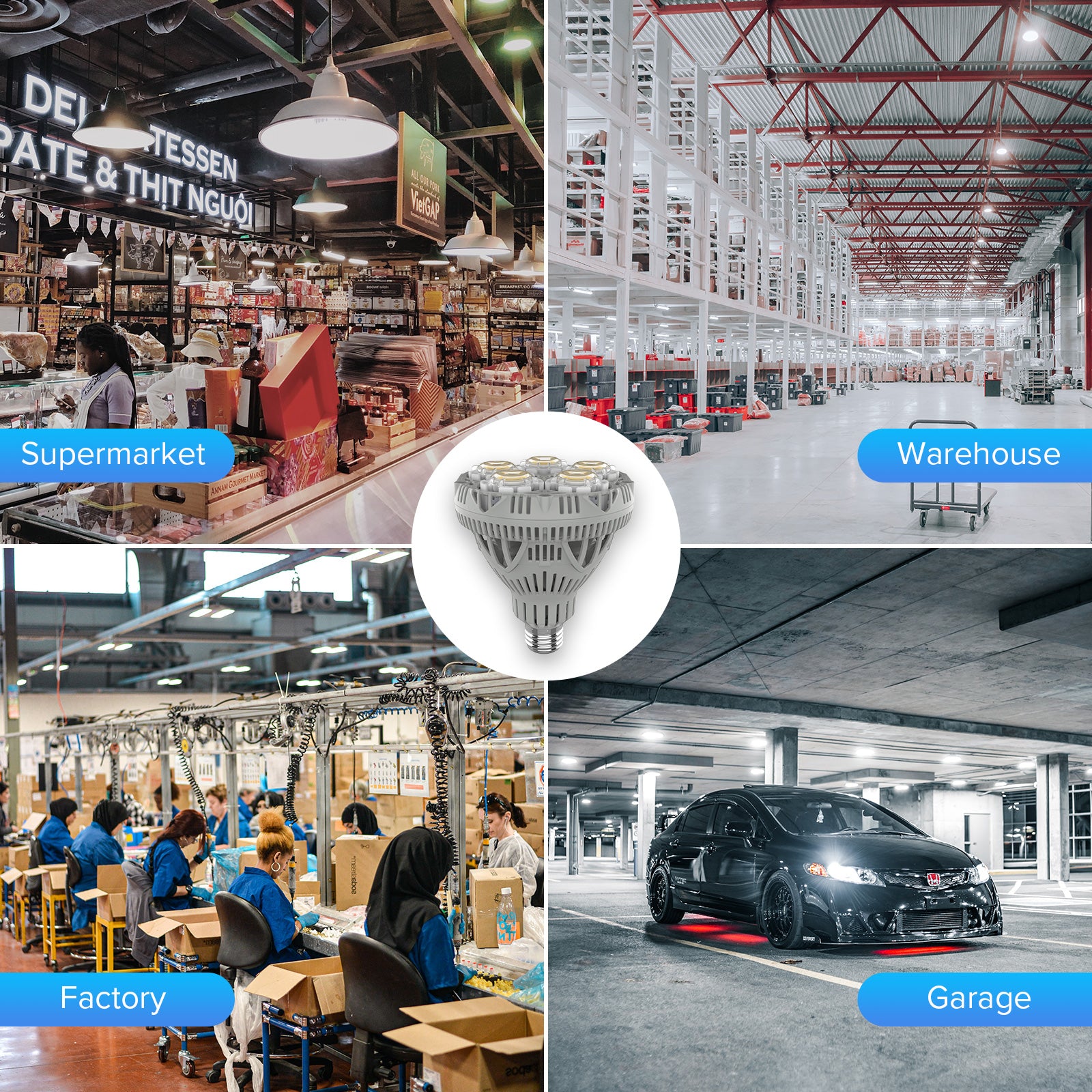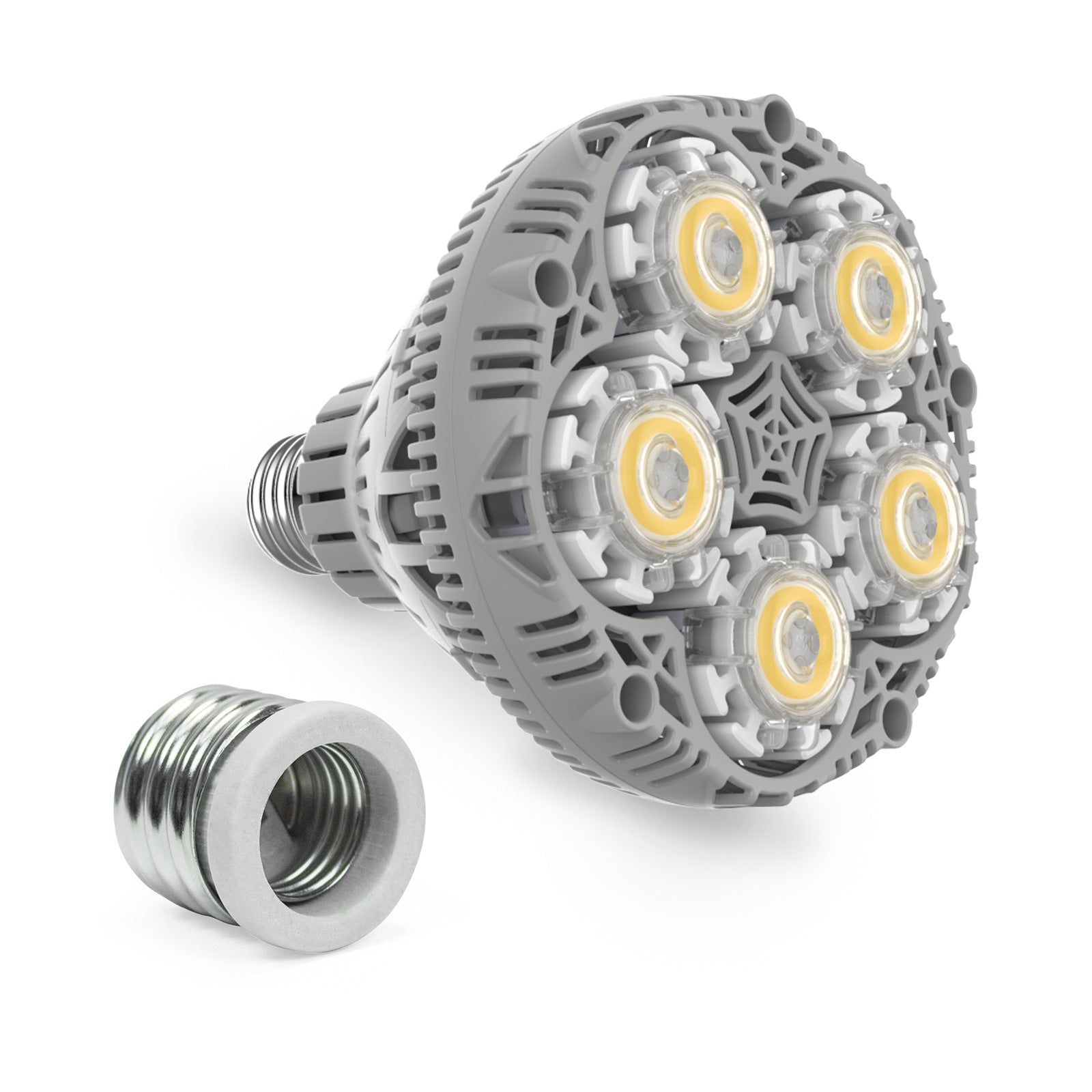 SG BR30 30W Garage Led Light Bulb
SGLEDs High Watt 250-300 Watt Equivalent LED Bulbs 30W Led Light Bulb 4000 Lumens Daylight White 5000K LED Bulbs for Garage,Warehouse,Workshop
Features

💡Super Bright & Energy Saving: Powered by SGLEDs LED lamp bead as the security light source, enables it to produce up to 4000 LM at low-power of 30W; With professional optical designed filter lens, it provides better illumination(soft light, anti-glare) than normal chips; Save more than 85% electricity bill compared with equivalent traditional halogen bulbs 200-250W.

💡180°beam angle:The beam angle affects the shape of the light produced. SGLEDS BR bulbs are wide flood lights with their 180-degree beam angle(Compare to other 110-degree beam). That means they case a wide pool of light. This makes it suitable for wall washes, as multiple downlights to create general room illumination or ambient light in a large room, and for use in recessed cans to light up a kitchen, stairwell, hallway, entryway, office conference room, or living room

💡Ceramic LEDs vs. Aluminum LEDs: Compared with other light bulbs (all competitors use aluminum LEDs), ceramic dissipates heat more efficiently than aluminum because it is non-conducive. This allows our LED chips to be mounted directly to ceramic; making each chip free of fans, housing, adhesive, and PC boards. Ceramic modules have fewer parts than conventional LEDs, and therefore conduct less heat,generate more savings and have a longer lifetime up to 25,000 hours than halogen bulbs.

💡BR30 LED Bulb:durable BR30 LED Bulb eatures an E26 base, also known as a medium base or One Inch Edison Screw. This bulb is perfect for cans, lamps, and other common household fixtures.BR30 LED light bulb is an indoor/ outdoor flood light bulb with a perfect BR30 shape to fit your indoor/covered outdoor recessed cans in 5/6 inch

💡HCD Design:No lead or mercury, No UV or IR, No flickering and No buzzing. This is a non-dimmable LED bulb covered with a 5-year warranty(Compare to other 3-year warranty and 1-year warranty), feel free to email us with any quality issues

Specification

Item Model Number: ‎‎SG-C21BB-3E26-30W-50-0
Wattage: 30W
Voltage: AC 120V
Replacement Wattage: 250W-300W Incandescent
Shape: BR30
CCT: 5000K
Lumens: 4000 lm
Bulb features: Not Dimmable
Product Size: H5.1 inches*L4.3 inches*W4.3 inches
Weight: 14.5 ounces
How long will it take for my order to arrive?
It takes 2 working days by Express shipping after you place an order and we complete shipment. For Standard shipping, most orders will arrive 3-5 working days after shipment is completed.
We are not liable to any shipping delays, nor loss of any kind caused by unforeseen and uncontrollable circumstances, such as unreachable recipients, invalid addresses, weather conditions that affect delivery, customs clearance delays and so on. In these situations, SANSI will try our best to notify customers of the delay, and if possible, make new delivery/collection arrangements with an estimated delivery date.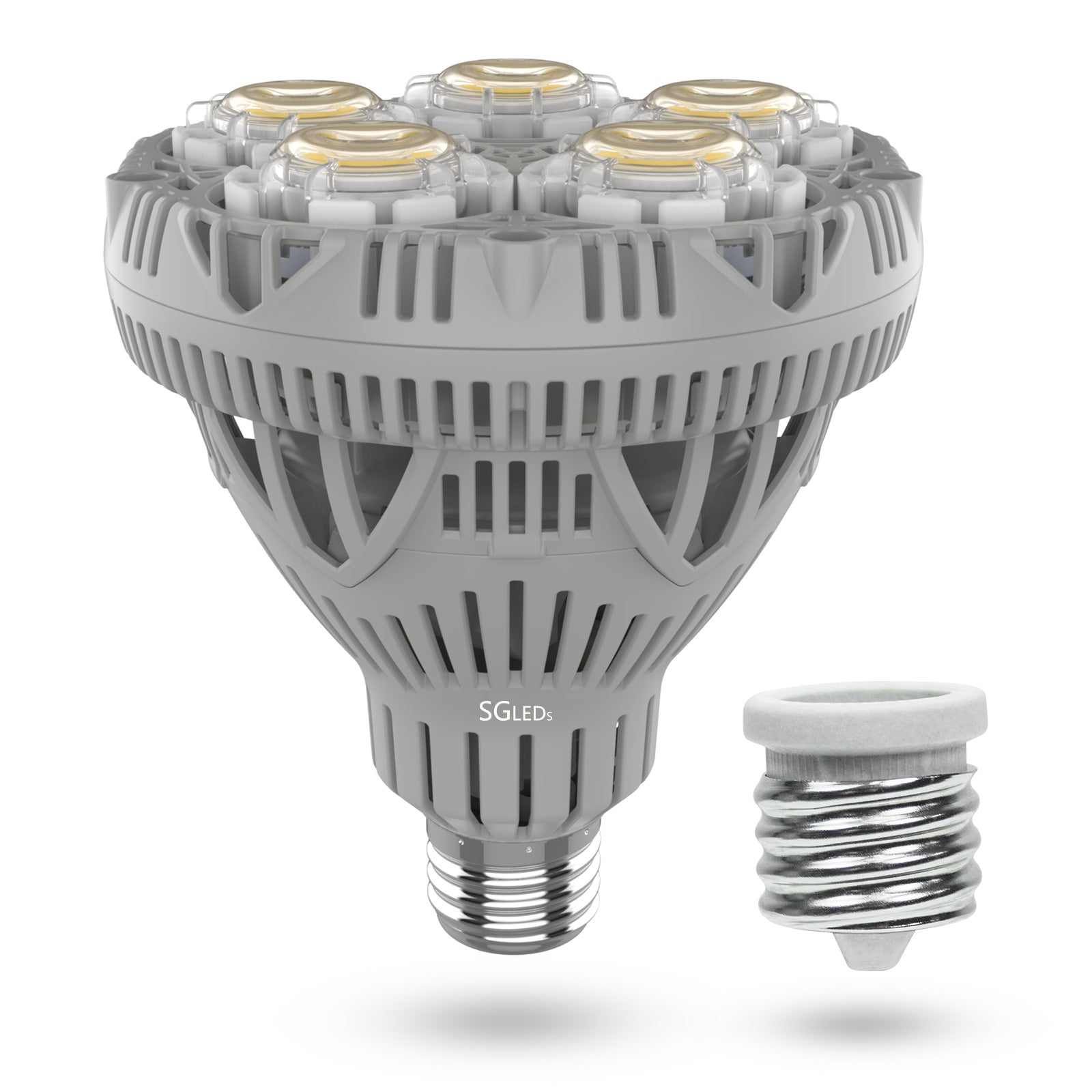 This product is rated 4.9 of 5.0 stars.
It has received 8 reviews.
Light Blubs
The Light blubs are Great but it did take a while to get them. It never was that way Before I'd order them and I would have them with in a week now I need to call. Don't know what happened but, Now the delivery part is subpar.
Lit up my life, and garage
I was needing a light for my workshop area in the basement, and this looked just like what I needed. Turns out I was right! This light is super bright and I'm sure it will last a long time. I know from past experience that I can trust Sansi to stand behind their product. Any problems and I know help is just an email away. Try it, you'll love it too.
Very bright
I love this product. Very bright
Extremely bright.
So I opened this new bulb the first day to test its brightness right away and was blown away. I took a picture because it lit my entire room compared to my previous bulb.. look at my picture, I think I added it to this post.
But great light if you need something bright bright.
The photo on the left is the bulb but I think you can tell.
So far so good
Made a big difference in our car port. It is really bright and covers our two car port wonderfully.