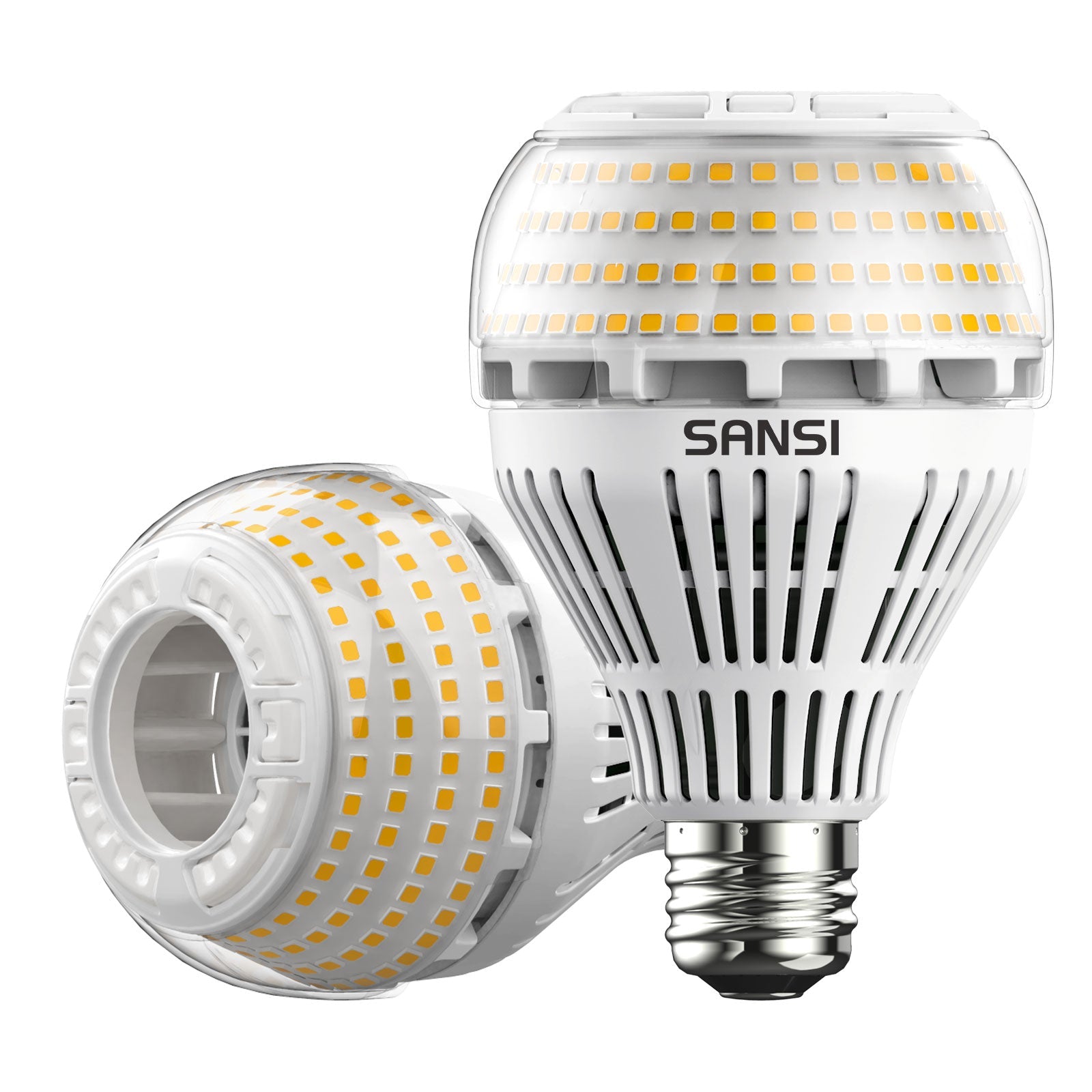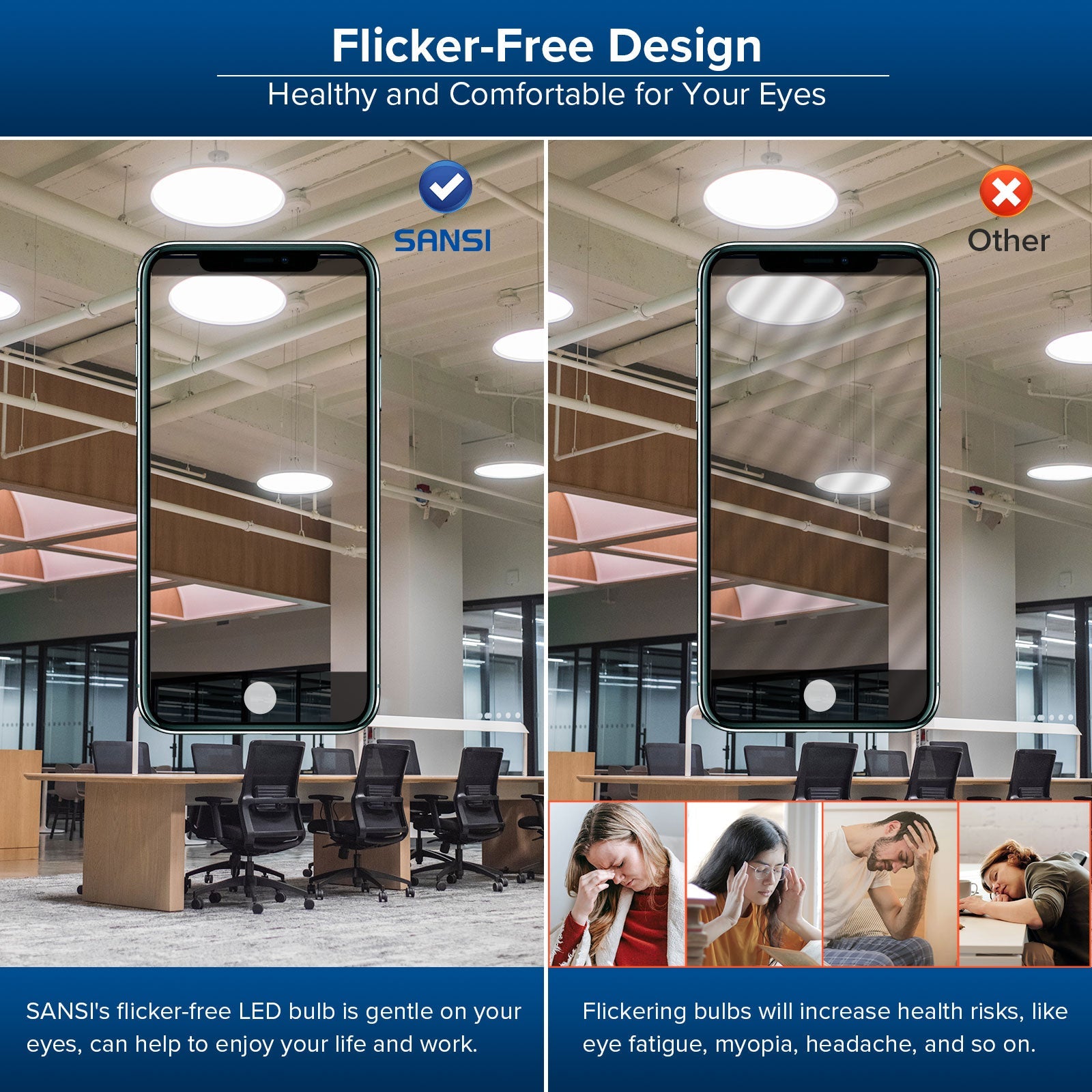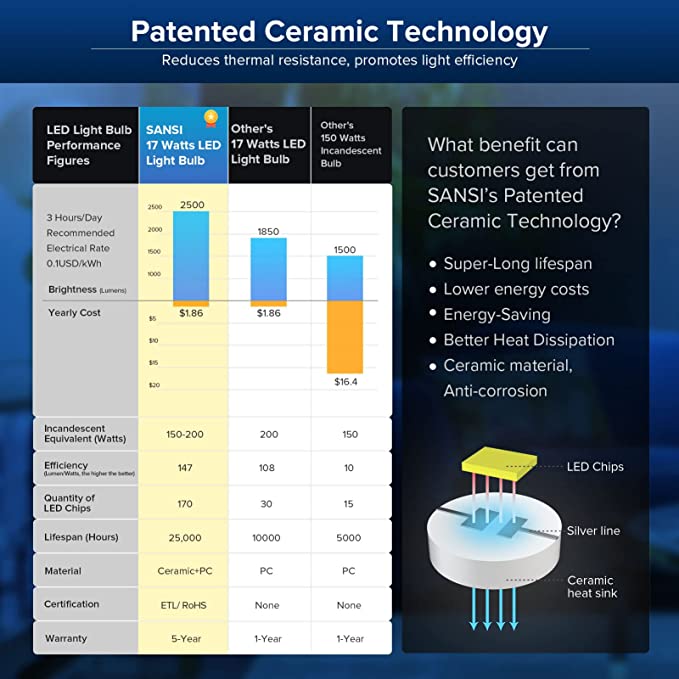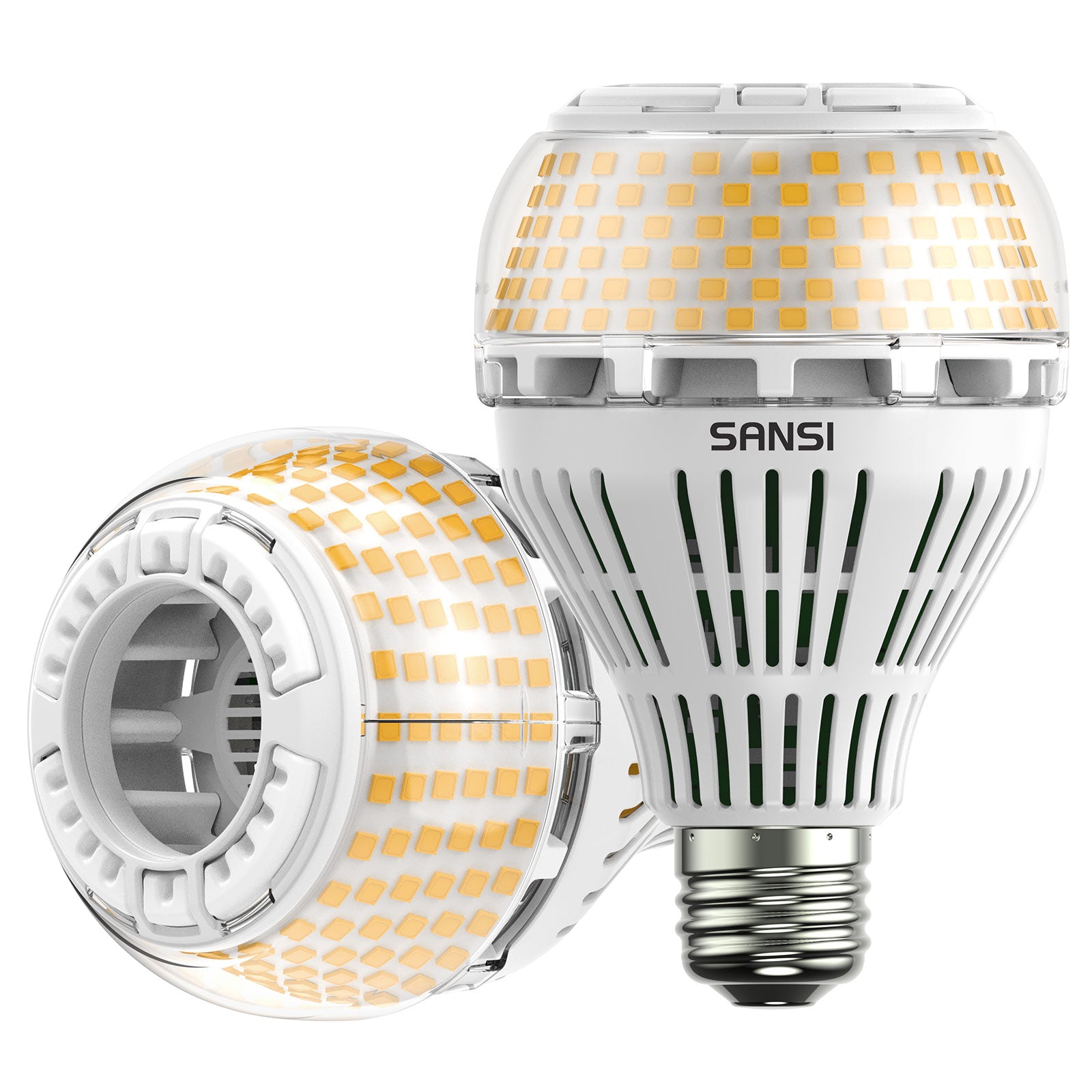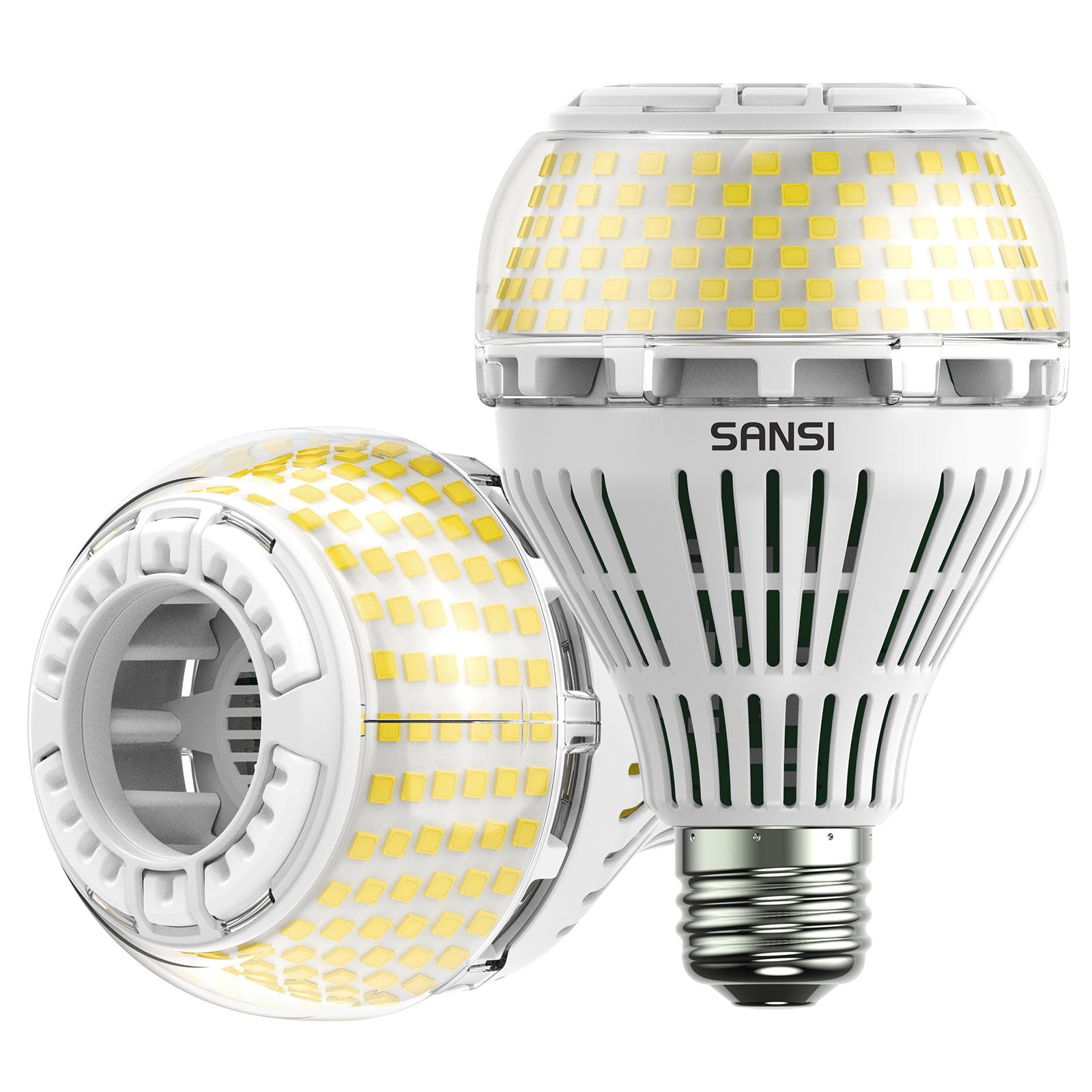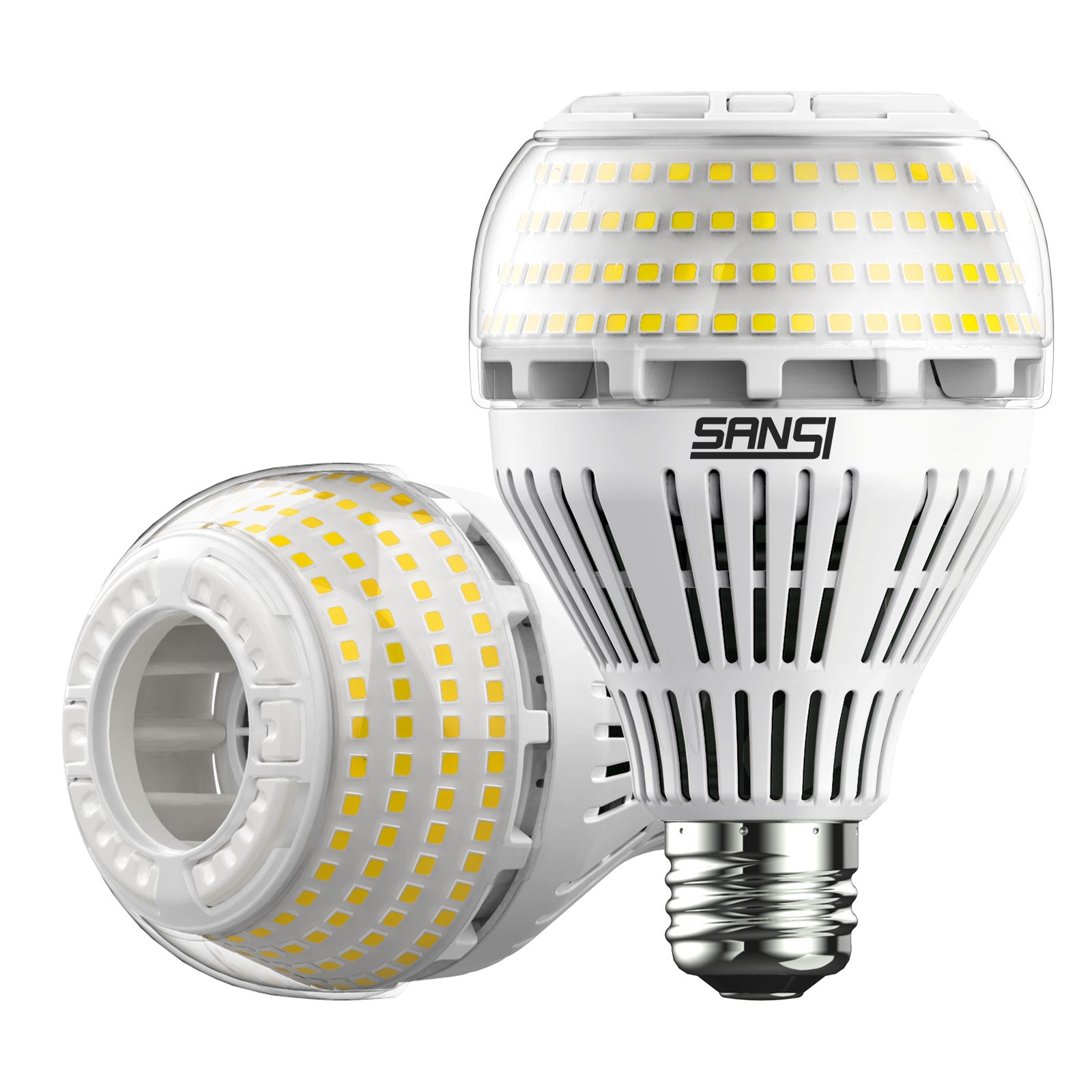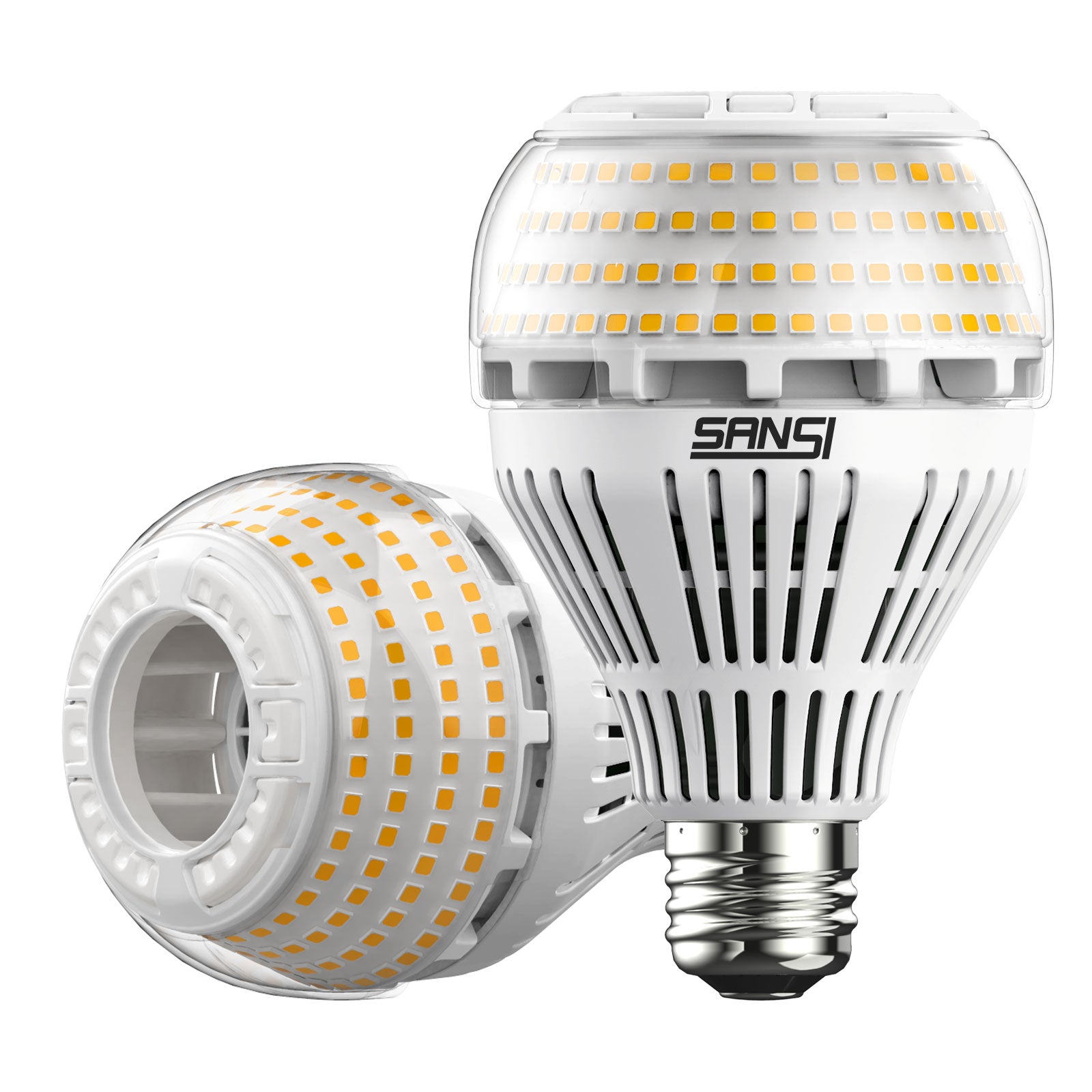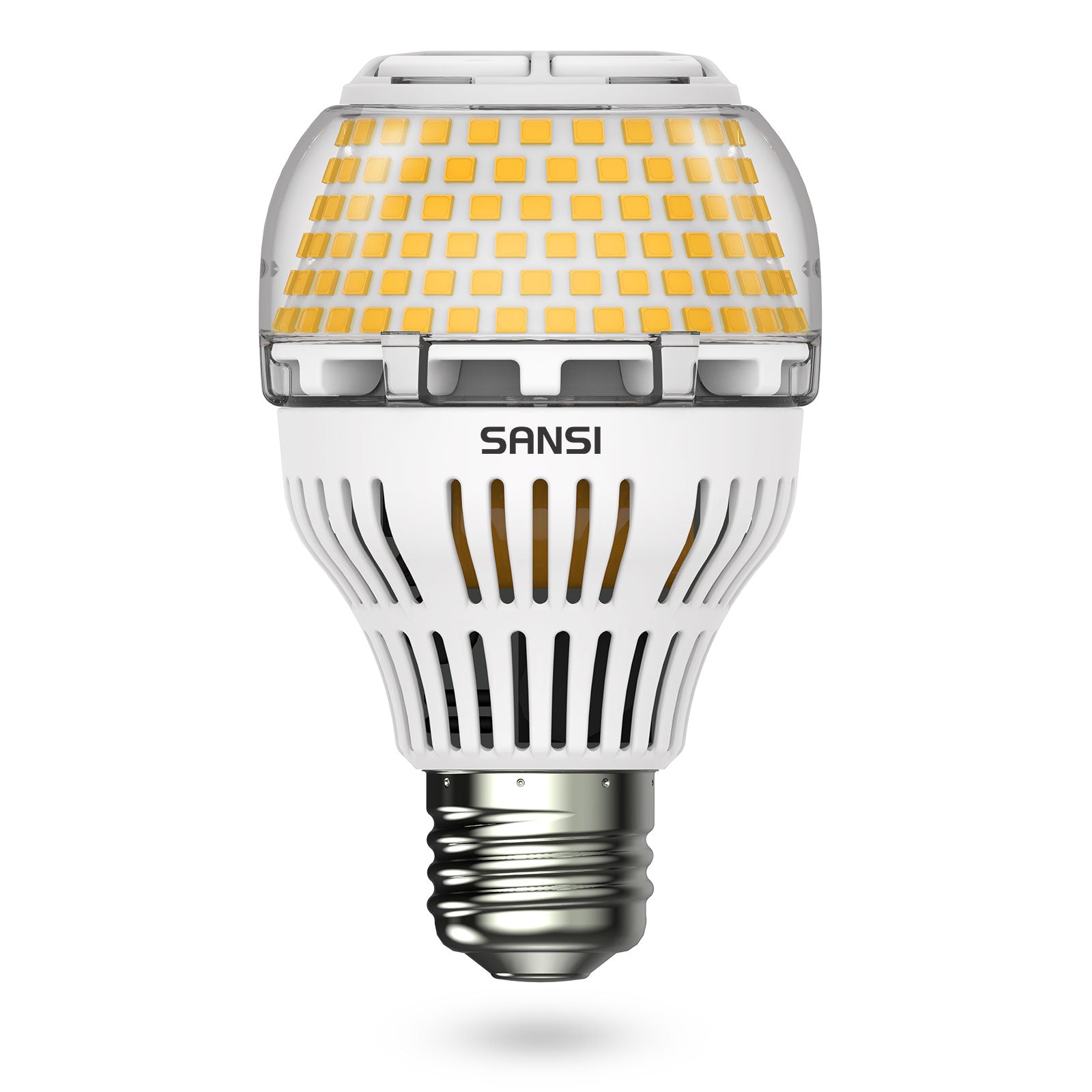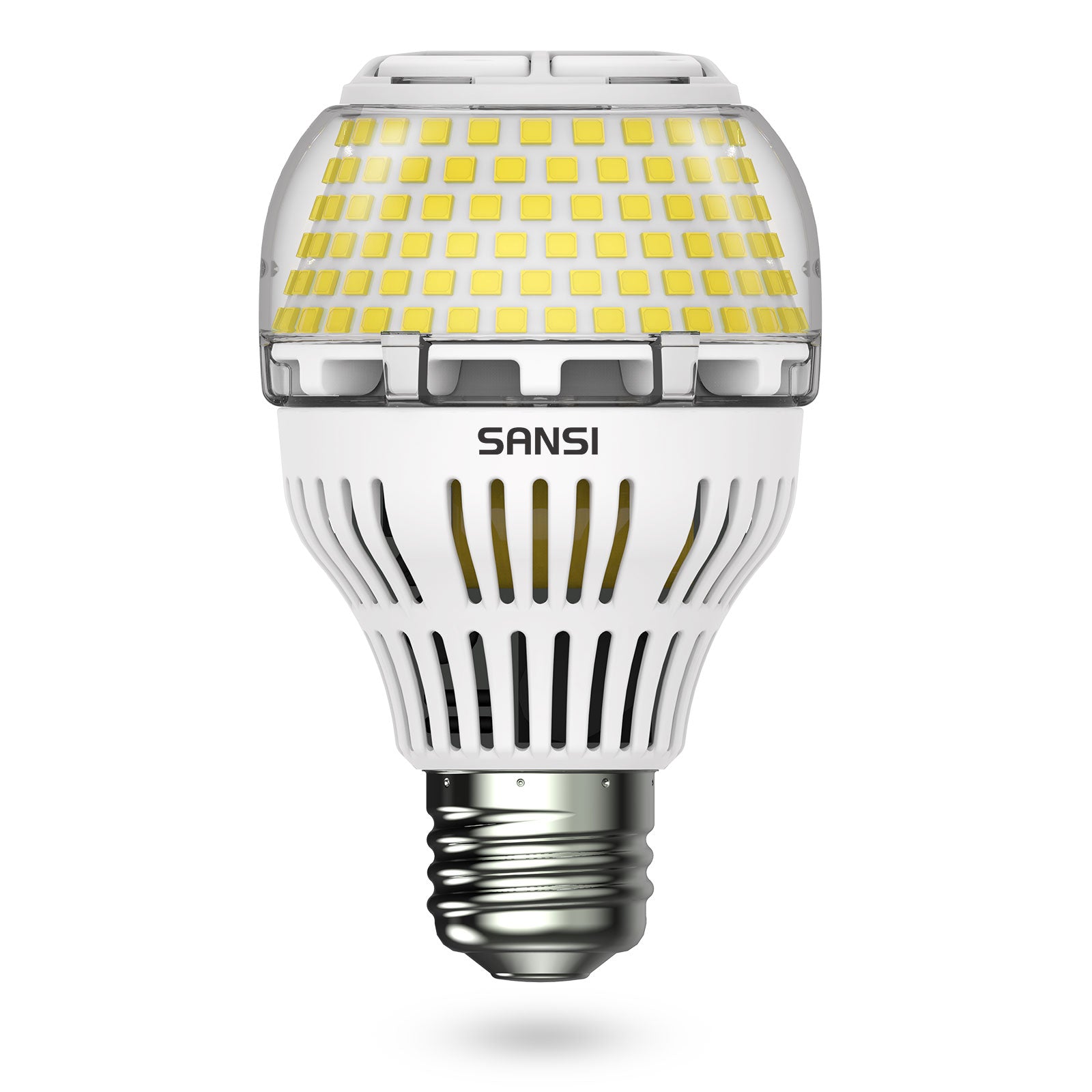 17W/27W/22W/30W LED Light Bulb
17W/27W/22W/30W LED Light Bulb with patented Chip on Ceramic (COC) technology and hollow design, through higher effective hear dissipation, improves luminous efficacy and lifespan. Super bight for kitchen, bathroom, garage, warehouse, basement, etc. 3000K soft warm light and 5000K daylight.
Anniversary Sale Limited Offer 👇👇👇
🔥 60% OFF
Code:
FLASH60
copy
Features

1. Super bright & healthy light:  270°wide beam angle provide an all-around light distribution. 
2. Money saving & energy efficient
3. Wide applications: A21/A19 shape and standard E26 base fit in applications where general incandescent, halogen, corn or CFL light bulbs are used. Perfect for home, kitchen, garage, warehouse, basement, mall, barn, office, school etc.
4. High quality with SANSI's patent: Rugged hollow housing design, imported premium LED chips and patented ceramic heat dissipation technology (CHDT) ensure excellent heat dissipation and long-lasting performance.
5. Durable and reliable: No lead or mercury. No UV or IR. Meets international safety standards. A 5-year warranty means you are covered with replacement or refund should any quality-related problems happen.
How long will it take for my order to arrive?
It takes 2 working days by Express shipping after you place an order and we complete shipment. For Standard shipping, most orders will arrive 3-5 working days after shipment is completed.
We are not liable to any shipping delays, nor loss of any kind caused by unforeseen and uncontrollable circumstances, such as unreachable recipients, invalid addresses, weather conditions that affect delivery, customs clearance delays and so on. In these situations, SANSI will try our best to notify customers of the delay, and if possible, make new delivery/collection arrangements with an estimated delivery date.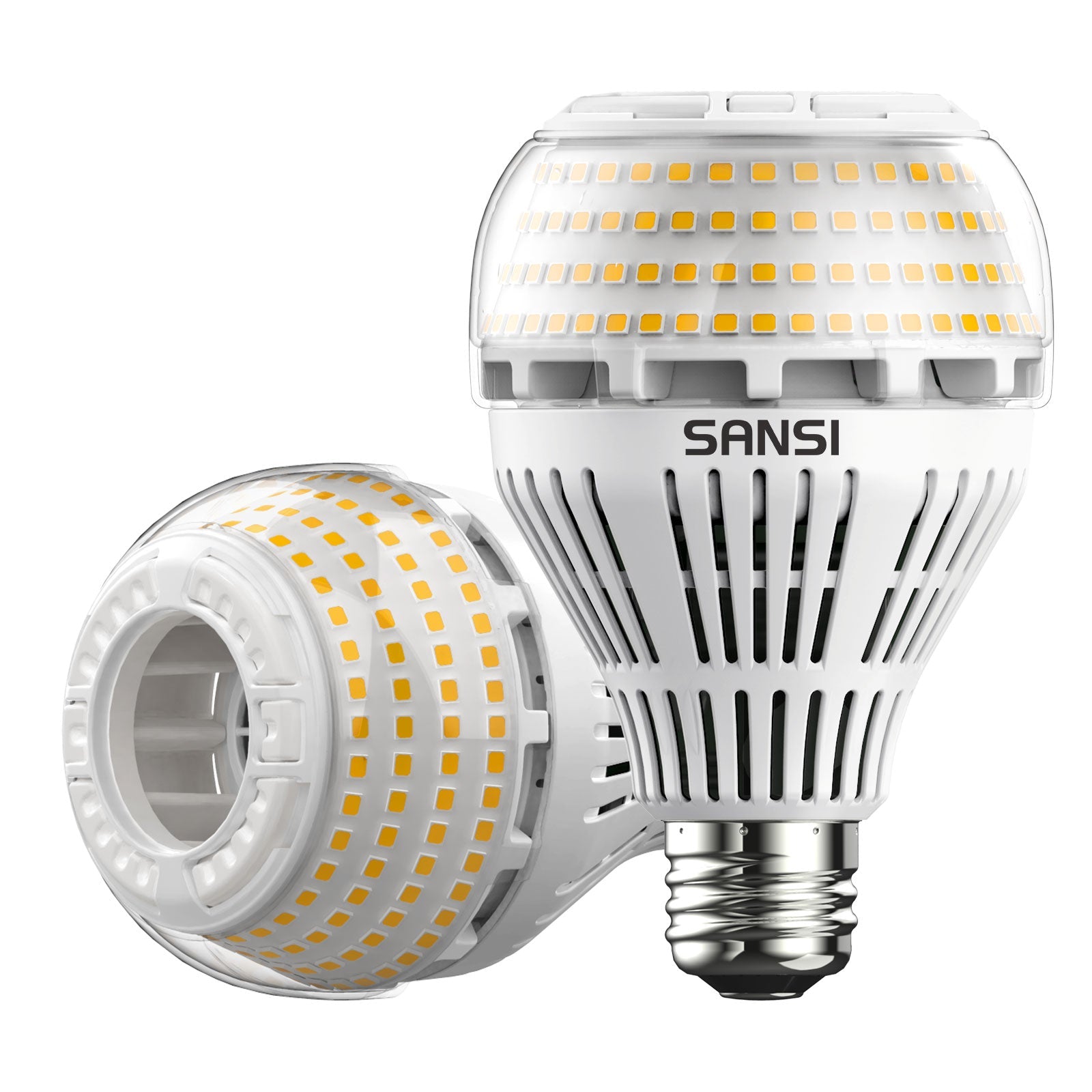 Excellent Performance For Your Choice
SANSI LED light bulb will provides you with a comfortable and soft light for a cosy atmosphere
Suitable For Multiple Applications
SANSI LED light bulb can be applied in multiple scenes of life or work, such as living room, bedroom, kitchen, office, meeting room, dining room, etc.
Harmless Light For Your Eyes
The light of SANSI LED bulb is harmless to eyes. No lead or mercury, no UV or IR radiation. It provides natural, pleasant light for the highest demands.
Safe & Reliable
The flame retardant grade of the bulb reaches grade V0. The reinforced insulation structure means no risk of electric shock. The whole shell material reaches the WF2 anti-corrosion grade. The hollow design is good for heat dissipation.
Dimmable LED Bulbs
Two kinds of color temperature: 3000K, 5000K for your choice. Smooth dimming from 0%-100% with compatible dimmers.
Heading
Recommended Compatible Dimmers
To ensure a better dimming experience, the following compatible dimmers are recommended:

LUTRON
DVCL-153P-WH, MACL-153M-WH, TGCL-153PH-WH, DVWCL-153PH-WH, SCL-153P-WH
MAW600H-WH, S-600P-WH, DVW600PH-WH, TG-600PH-IV, TT-300H-WH, TT-300NLH-WH, TTCL-100H-WH

LEVITON
IPL06-10Z, 6674-P0W, 6602-IW, TBL03-10E

Notice: This 250 watts LED bulb only works with a TRIAC dimmer. Zigbee and digital dimmers are incompatible for they may cause flicker or slight buzz when using.
Chip on Ceramic (COC) Technology
SANSI's patented COC technology directly solder the LED chip on the ceramic heat sink, effectively reducing the system thermal resistance between the LED PN junction and the surface of the heat sink, resulting in faster heat conduction and higher product reliability.

Use this text to share information about your brand with your customers. Describe a product, share announcements, or welcome customers to your store.
We're in the daylight here. Look at that thing is freaking bright. They're one of the brightest LED bulbs I think.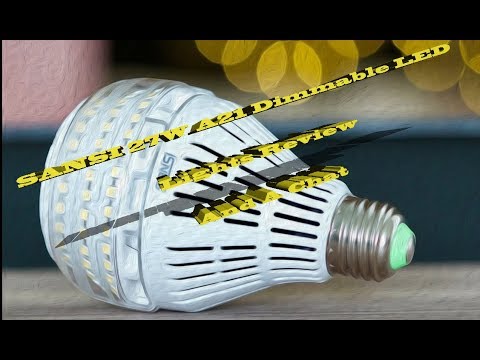 This product is rated 5.0 of 5.0 stars.
It has received 28 reviews.
Lots of light in a small bulb
This is a very solid-feeling, nicely-sized LED bulb that appears to be very high quality. I have been slowly changing out standard and CFL bulbs for LED models over the past 6 months. Until recently I have not found any that can be used in tightly enclosed fixtures. Even in non-tightly-enclosed fixtures, many of the LED bulbs I have purchased have been larger than their old-school equivalent, so I have been unable to use LED bulbs. My biggest issue has been ceiling fans with lights. These bulbs are equivalent to 250w standard bulbs (4000 Lumens), but they are much smaller than the standard 60w bulbs. They are closer in size to the 25watt bulbs you put inside refrigerators. so they easily fit in the ceiling fan lights. I like that they are 5K color temperature (very white).
In the past I have had issue with life-time of some LED bulbs when they are in smaller fixtures. I assume that has to do with heat, and when there are multiple bulbs in a small fixture, or a single bulb in a tight fixture, I assume that impacts the number of hours that the bulb will last. I have not had these long enough to verify that they last as long as I expect from LED bulbs, but I will follow here if I find they burn out early. For now, I accept they are designed exactly for this use case, and expect them to work well. They are not dimmable, but for the places I need them, thats not an issue. I'm very happy with this purchase.
For full transparency, I was offered a discount for buying this product early. I bought them because I need them, not because of the discount, and my review is based only on my experience with them, and the product as I received it, not on the discount.
Nice light!
Cheaper and bright, highly recommend
Very bright for the money
I need bulbs that don't have a flicker for a camera these bulbs are great.
Brighter than the sun
My girlfriend loves them for illuminating the living room and her craft table.
Soo bright
It's better than my old Led light bulb! I will reorder, SANSI is a brand can be trust