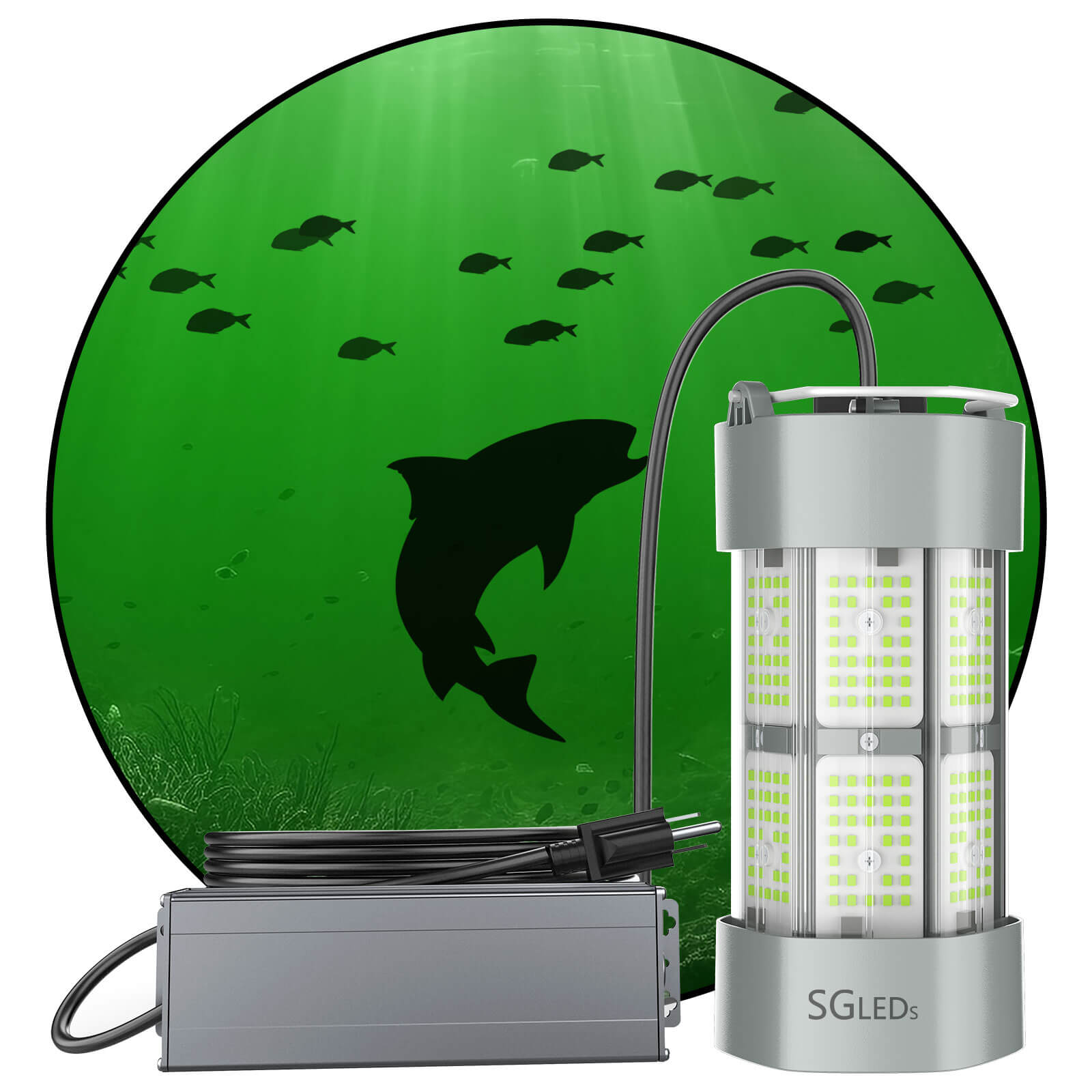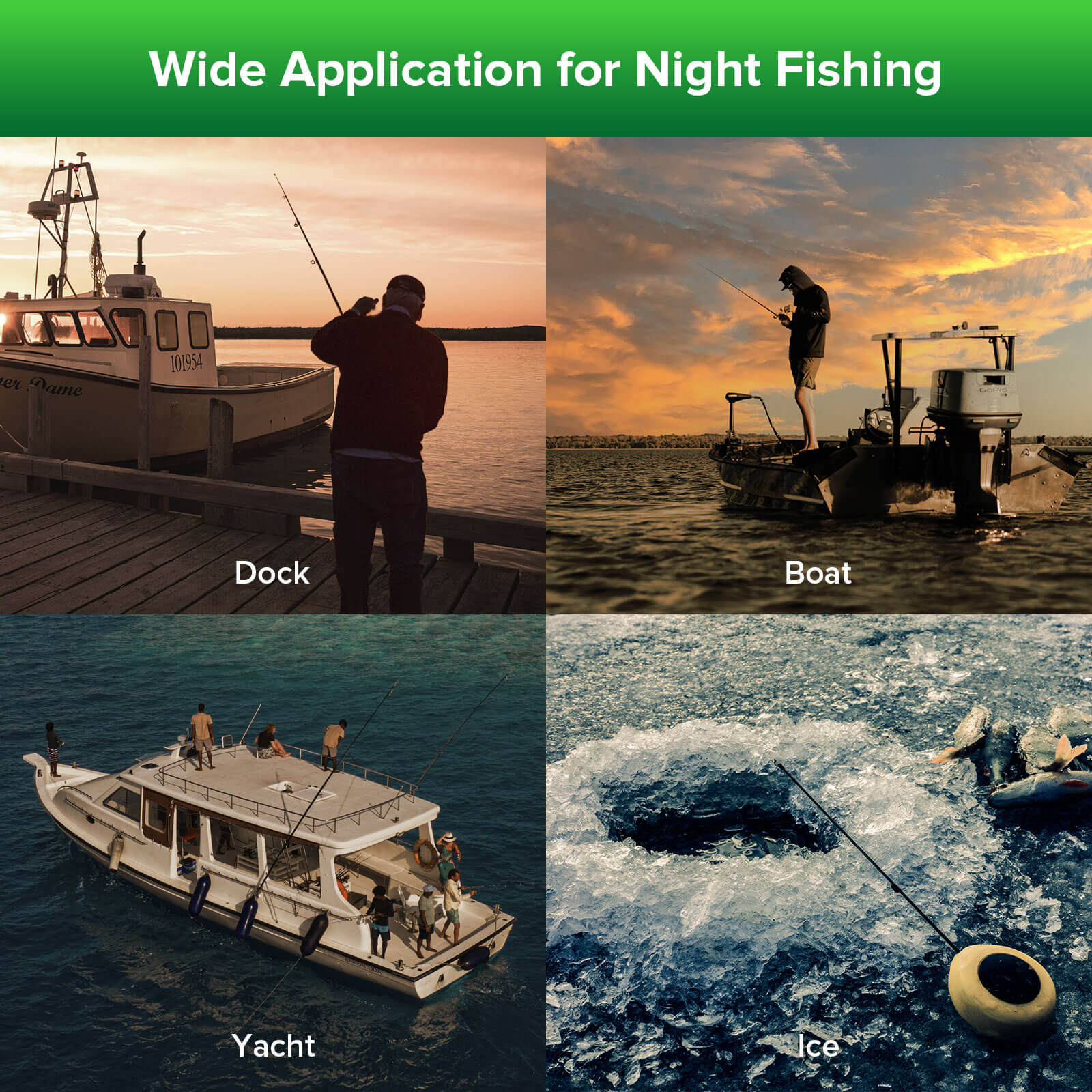 Underwater Fishing Light, Fish Attractor
Green Underwater Fishing Light, 120V, 100W 15000lm, Green Night Fishing Finder, Glowing Fish Attractor, Light Attractants for Docks, Boats or Kayaks, IP68 Rated for Fresh & Salt Water
Features


1. SUPER BRIGHT: The fishing light has 240 LEDs, 100W, 15000 lumens brightness. LEDs arrayed in an 6-sided design to provide a full 360° of light output. More attractive to fish.
2. SMALL in SIZE: 110*110*235mm. With smaller contact area with water and hollow structure, the light easier to fall.
3. ANTI-CORROSION: Use the special materials of PVC and ceramic, there's no need to worry about seawater corrosion. The light can be used in freshwater or saltwater. With ceramic materials, it has superior heat dissipation. 25,000 work life-span.
3. IP68 WATERPROOF: Built-in waterproof gasket and screw locking. The waterproof level has reached the highest level IP68. It can work at a depth 15 meters underwater without worrying about fogging or water ingress.
4. WIDE APPLICATION: Suitable for dock, boat, yacht, ice and etc. Used to attract saury, far eastern sardine, sprat, red-backed trevally, mackerel, mackerel, spot, Pacific squid, swallow ray, kingfish, melding, Japanese prawns, crab, Japanese, silver han , Jawfish, Japanese single fish, three line fish, tuna and bonito etc.
5. CONVENIENT: It has adaptive overtemperature protection, no need to turn off the power when not in use.
6. GUARANTEES: Quality and safety verified, 2 years warranty.

Specification

Item Model Number: C23YC001-V0100A29
Wattage: 100W
Voltage: AC 120V, 60Hz
Led qty: 240 pcs
Light Color: Green
Wave Length: 530nm
Cable Length: 15m
Working Temperature: 4°F-122°F
IP Rate: IP68
Luminous Efficacy: 120lm/w
Dimensions: 110*110*235mm
Net weight: 8.97lb
How long will it take for my order to arrive?
It takes 2 working days by Express shipping after you place an order and we complete shipment. For Standard shipping, most orders will arrive 3-5 working days after shipment is completed.
We are not liable to any shipping delays, nor loss of any kind caused by unforeseen and uncontrollable circumstances, such as unreachable recipients, invalid addresses, weather conditions that affect delivery, customs clearance delays and so on. In these situations, SANSI will try our best to notify customers of the delay, and if possible, make new delivery/collection arrangements with an estimated delivery date.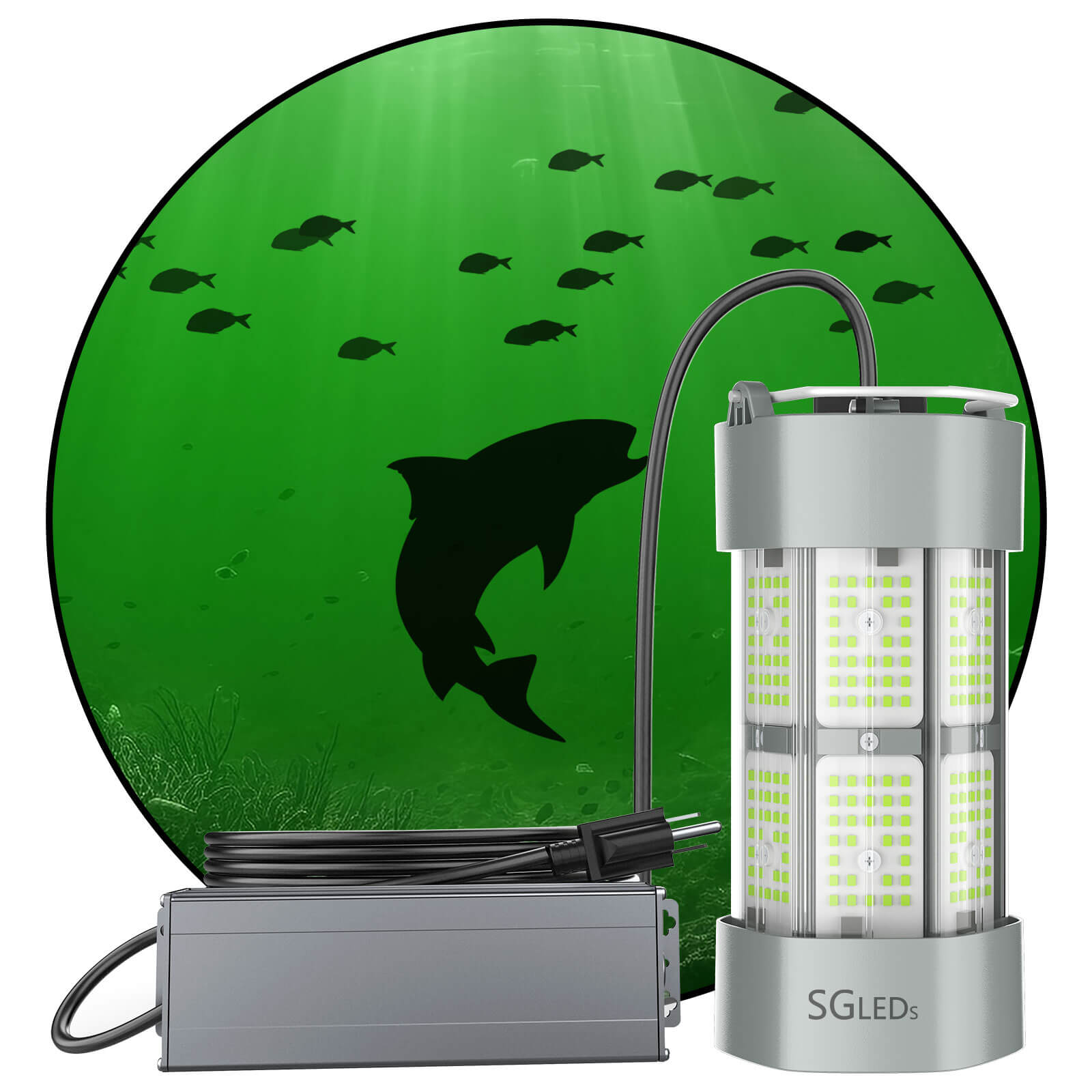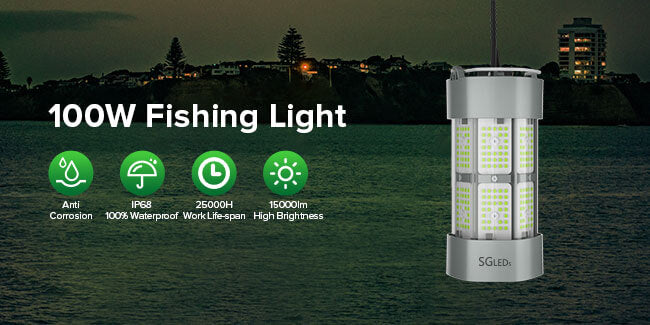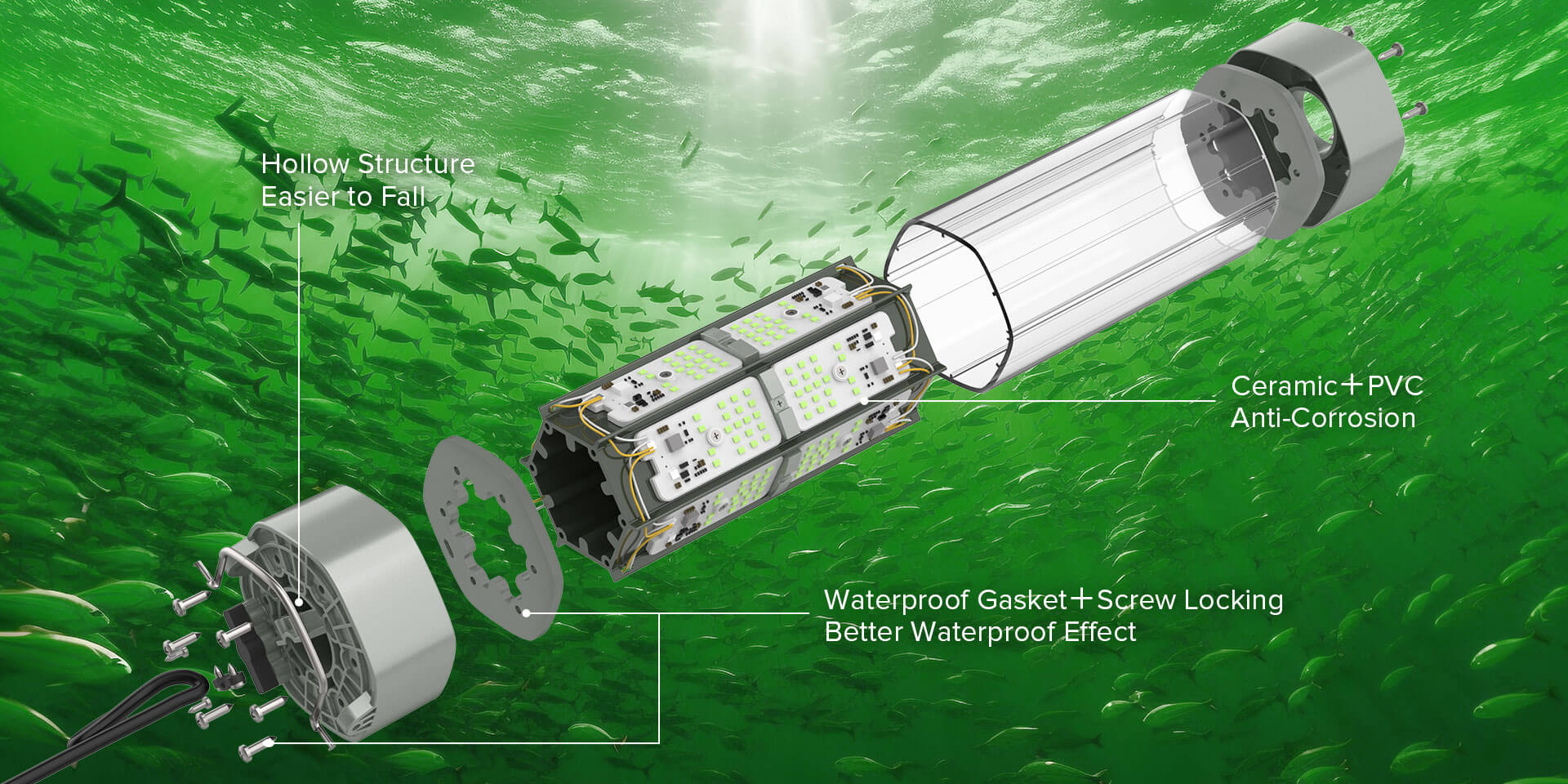 SANSI 530nm Green Fishing Light
Different fish in different water depths, its effective spectral wavelength is different. When the fishing water depth is 0-20 meters, the wavelength between 500nm and 550nm is more attractive to fish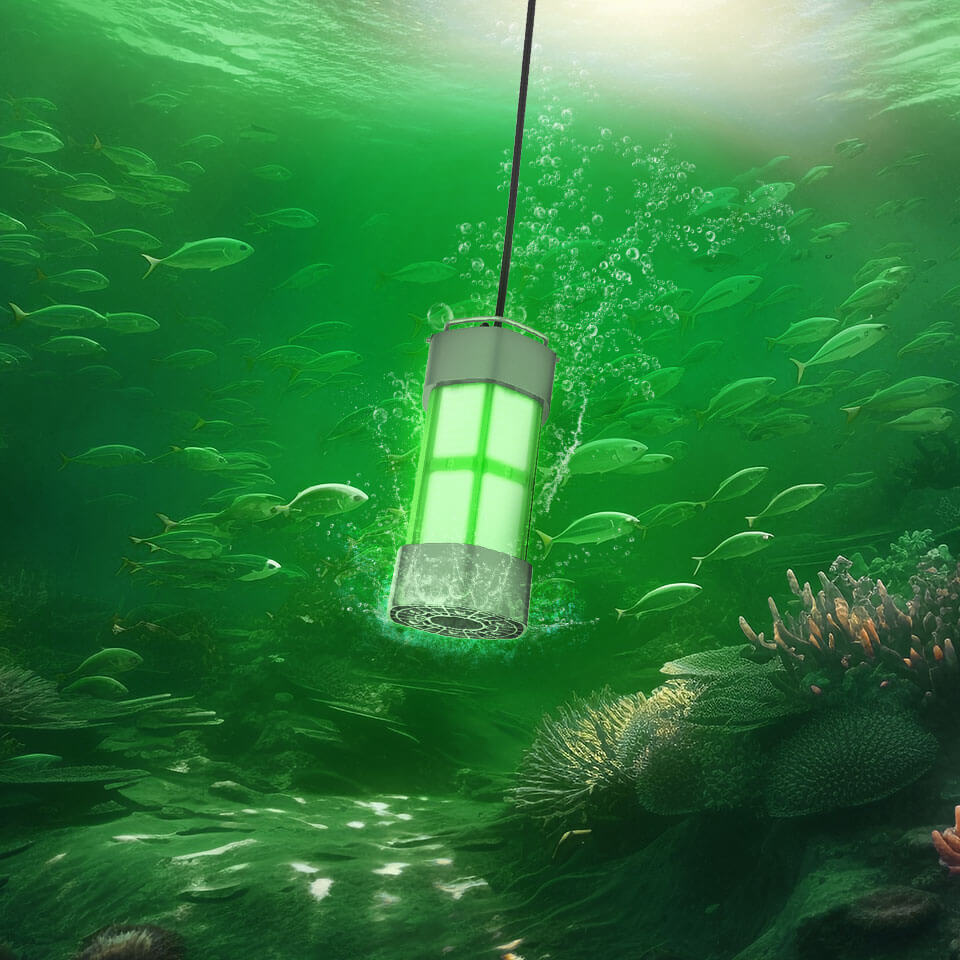 Why choose SANSI
No More Fear of Seawater Corrosion: Utilizing the PVC and ceramic on the lamp body, there's no need to worry about seawater corrosion permanently!
Unparalleled Heat Dissipation Capacity: Built in Ceramic materials, higher heat dissipation. There is also no need turn off when not use temperarily.
No extra counterweight needed: Just drop them into the water and they will sink without additional counterweight.
Higher Efficiency: No resistors like others, up to 95% power efficiency.

How Does the Fishing Light Work?
After a short time in the water, the greet light causes a chain reaction - it initially attracts masses of phytoplankton that cloud the water. These little organisms then attract the common baitfish to the light, eventually, those predatory fish will follow and feed.