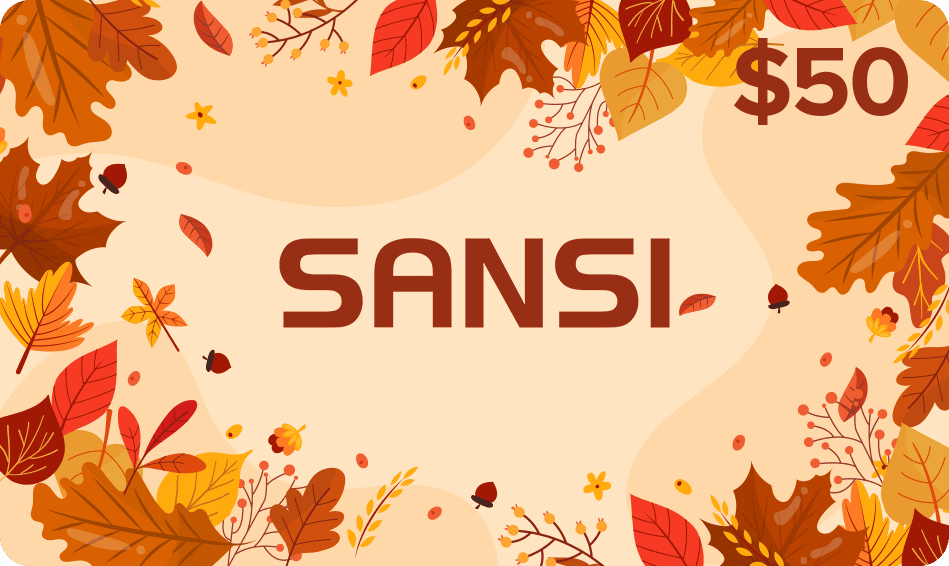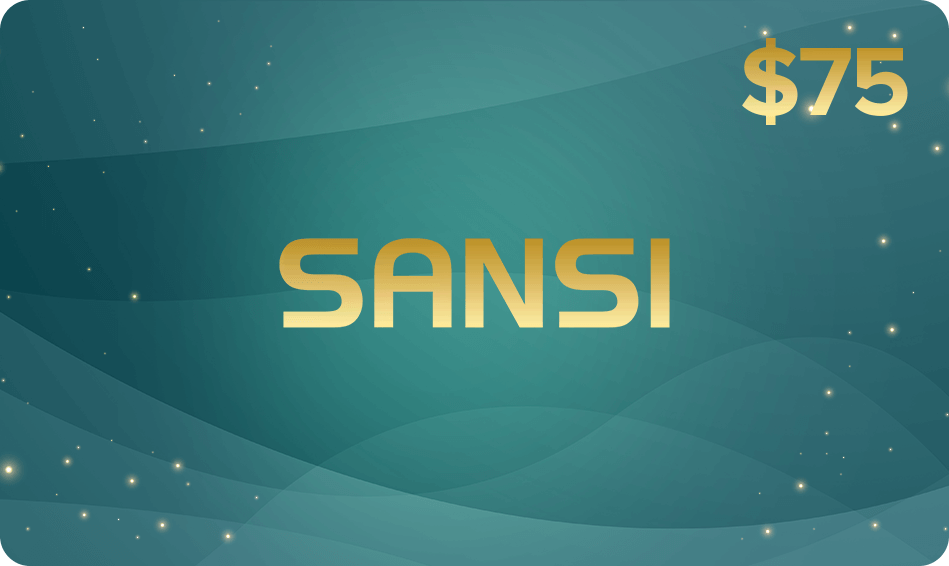 Christmas eGift Card
Shipping for who you love. Give them the gift of choice with a SANSI Gift Card. Gift cards are delivered by email and contain instructions to redeem them at checkout. Our gift cards have no additional processing fees.
How To Use:


1. Purchase your desire eGift Card
2. Recieve your unique eGift Card code via email
3. Apply the eGift Card code when you check out
4. Submit the order and wait for your products.
5. If you want to buy a gift card for someone else, just forward the gift card email to the recipient.

Specifications:

Delivery Method: Digital Code Send by Email
Lasts Up To: Does Not Expire
Rechargeable: No
Active Timeframe: Does Not Expire
Places Of Redemption: sansiled.com

What else you need to know:


Gift Cards are not returnable after purchase (except as required by law). Gift Cards are subject to Terms and Conditions.
A gift card holds a balance, which can be spent over more than one order. 
Gift card balances are applied to the total value of an order, which can include taxes and shipping.
When making a purchase in our store, you can redeem the value of a gift card by entering its unique code* at checkout.

 


*This code isn't case sensitive.
When you redeem a gift card, the checkout displays one of the following options:
If the balance available on the gift card is greater than or equal to the order total, then you can click Complete order.
If the balance available on the gift card is less than the order total, you are prompted to choose a second payment method for the balance before placing the order.
If you want to buy a gift card for someone else, then you need to forward the gift card email to the recipient.

Terms And Conditions:

By using this eGift Card, you accept the following terms and conditions:

1. SANSI eGift Card 
Spring eGift Cards are only for products sold on our website at www.sansiled.com. No fees of any kind will be charged against the unused balance of SANSI Spring eGift Card

2. Redemption
Redemption of SANSI eGift Cards is only applicable on our website www.sansiled.com. It cannot be redeemed in other channels. The unredeemed value will not be converted to cash.

3. Refunds
No refunds are permitted with respect to cards.

4. Lost or stolen eGift Card 
If you suspect that someone has copied or stolen your SANSI eGift Cards, contact Customer Service immediately. SANSI eGift Cards will not be replaced if lost or stolen without the purchaser's confirmation email as proof of purchase. SANSI eGift Cards have cash value and should be safeguarded accordingly.
SANSI will not be liable for redeemed SANSI eGift Cards if they have been stolen. Please do not display your SANSI eGift Cards code online.

5. Limitations
You may not use a SANSI eGift Cards to purchase other SANSI E-Gift Cards/Gift Cards.
SANSI eGift Cards cannot be reloaded, resold, transferred for value, or redeemed for cash, except to the extent required by law. SANSI eGift Cards are void if they are reloaded, resold, transferred for value, or redeemed for cash. Unused SANSI eGift Cards may not be transferred.

6. Our Policies
Any claim or dispute between you and SANSI that arises in whole or in part from the Sites or the Interactive Services shall be decided exclusively by a court of competent jurisdiction located in the US. If any provision of these Terms of Use is deemed invalid by a court of competent jurisdiction, the invalidity of such provision shall not affect the validity of the remaining provisions of these Terms of Use, which shall remain in full force and effect. No waiver of any term of these Terms of Use shall be deemed a further or continuing waiver of such term or any other term, and SANSI's failure to assert any right or provision under these terms of use shall not constitute a waiver of such right or provision. It is the express wish of the parties that these terms of use and all related documents be drawn up in English. To the extent permitted by applicable laws, you and SANSI agree that any cause of action arising out of or related to the sites and the interactive services must commence within one (1) year after the cause of action accrues. Otherwise, such cause of action is permanently barred.

7. Risk of loss
Ownership and risk of loss of SANSI eGift Cards pass to the purchaser as soon as we send our confirmation to the recipient. We are not responsible for lost or stolen SANSI eGift Cards. If you have any questions, please contact our Customer Service.

8. Customer Service
If you need assistance with any aspect of your purchase, ownership, or use of your SANSI eGift Cards, please contact Customer Service. Please refer to your order number, or be ready to supply your email address.

9. Delivery information and requirements for SANSI eGift Cards purchasers
All orders and successful delivery of SANSI eGift Cards are subject to the approval of the purchaser's financial institution. Until the transaction is approved, your SANSI eGift Cards order may be canceled or delayed.
If the date on which you want a SANSI eGift Cards delivered has passed and the recipient has not received an email confirmation with the SANSI eGift Cards details, please contact Customer Service. Please refer to your order number, or be ready to supply your email address.
We are not responsible for SANSI eGift Cards that are undeliverable or not received due to your failure to enter an accurate email address for the recipient. Please check to make sure the email address of the recipient is correct and contact Customer Service if you suspect the recipient did not receive his/her SANSI eGift Cards.

10. Reasons for failed delivery
If you have confirmed the recipient's email address but the SANSI eGift Cards have not been viewed within a reasonable period after the requested delivery date, following is a list of the most common reasons why delivery may have failed:

Spam filter blocked email or routed it to a bulk/spam folder.

Recipient's firewall blocked the email.

Email inbox has exceeded its size limit.

Invalid email address.

If a spam filter is blocking our emails from getting to the recipient's inbox, the email options/settings of the recipient will need to be modified so that our emails are not considered spam.
If you need further assistance, please contact Customer Service. Please refer to your order number, or be ready to supply your email address.

11. Limitation of liability
To the maximum extent permitted by law, subject to applicable consumer protection provisions, SANSI will not be liable for claims or damages of any kind arising out of or in connection with your purchase of the SANSI eGift Cards including damages arising out of changes to or termination of the SANSI eGift Cards program or as a result of you or your recipient redeeming and/or using the SANSI eGift Cards. This applies to all damages of any kind, including but not limited to direct, indirect, incidental, punitive or consequential damages, loss of data, income or profit, loss of or damage to property and claims of third parties.
How long will it take for my order to arrive?
It takes 2 working days by Express shipping after you place an order and we complete shipment. For Standard shipping, most orders will arrive 3-5 working days after shipment is completed.
We are not liable to any shipping delays, nor loss of any kind caused by unforeseen and uncontrollable circumstances, such as unreachable recipients, invalid addresses, weather conditions that affect delivery, customs clearance delays and so on. In these situations, SANSI will try our best to notify customers of the delay, and if possible, make new delivery/collection arrangements with an estimated delivery date.