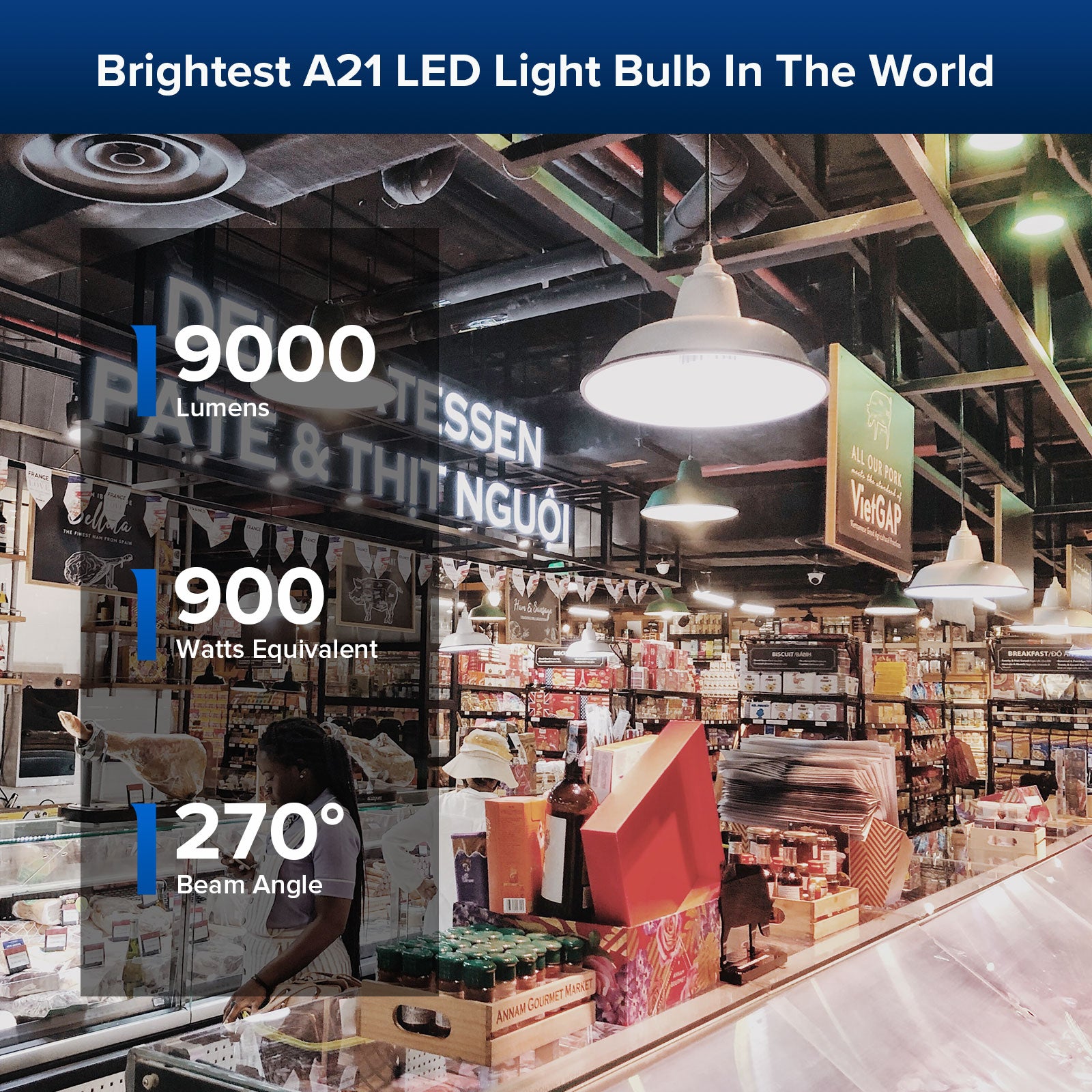 A21 60W LED 5000K Light Bulb (US ONLY)
SANSI 9000 Lumens A21 LED Light Bulb, Super Bright 900W Equiv. E26 Light Bulb with Wide 270° Beam Angle, 5000K Daylight Non-Dimmable Safe 60W Bulb for Garage Warehouse Workshop Church.
🔥 30% OFF
Code:
AUT30
copy
About this item

Super Bright: SANSI's 9000 lumens LED light bulb using only 60 watts of power, equivalent to 900W incandescent bulbs. Recently, it is the brightest LED bulb in the market.

Wide 270° Beam Angle: SANSI A21 60W LED light bulb with wider 270° lighting angle makes it possible to light up every dark corner of your workplace.

Patented Ceramic Technology: SANSI's patented technology replaces the traditional Mcpcb aluminum substrate with a non-conductive ceramic heat sink, directly soldering the LED chip on the ceramic heat sink, effectively reducing the systematic thermal resistance between the LED PN junction and the surface of the heat sink, resulting in faster heat conduction and higher product reliability, making SANSI's bulbs perform with higher light efficiency.

Safe and Reliable: The lamp body is made of special ceramic material, and the flame retardant grade reaches grade V0; the reinforced insulation structure means no risk of electric shock, its safer; the whole shell material reaches the WF2 anti-corrosion grade, which is more reliable and durable; The hollow design is good for heat dissipation.

Guarantees: ETL listed, quality and safety verified, 22.5 years LED bulb lifespan, 5 years warranty.
How long will it take for my order to arrive?
It takes 2 working days by Express shipping after you place an order and we complete shipment. For Standard shipping, most orders will arrive 3-5 working days after shipment is completed.
We are not liable to any shipping delays, nor loss of any kind caused by unforeseen and uncontrollable circumstances, such as unreachable recipients, invalid addresses, weather conditions that affect delivery, customs clearance delays and so on. In these situations, SANSI will try our best to notify customers of the delay, and if possible, make new delivery/collection arrangements with an estimated delivery date.
This product has no reviews yet.