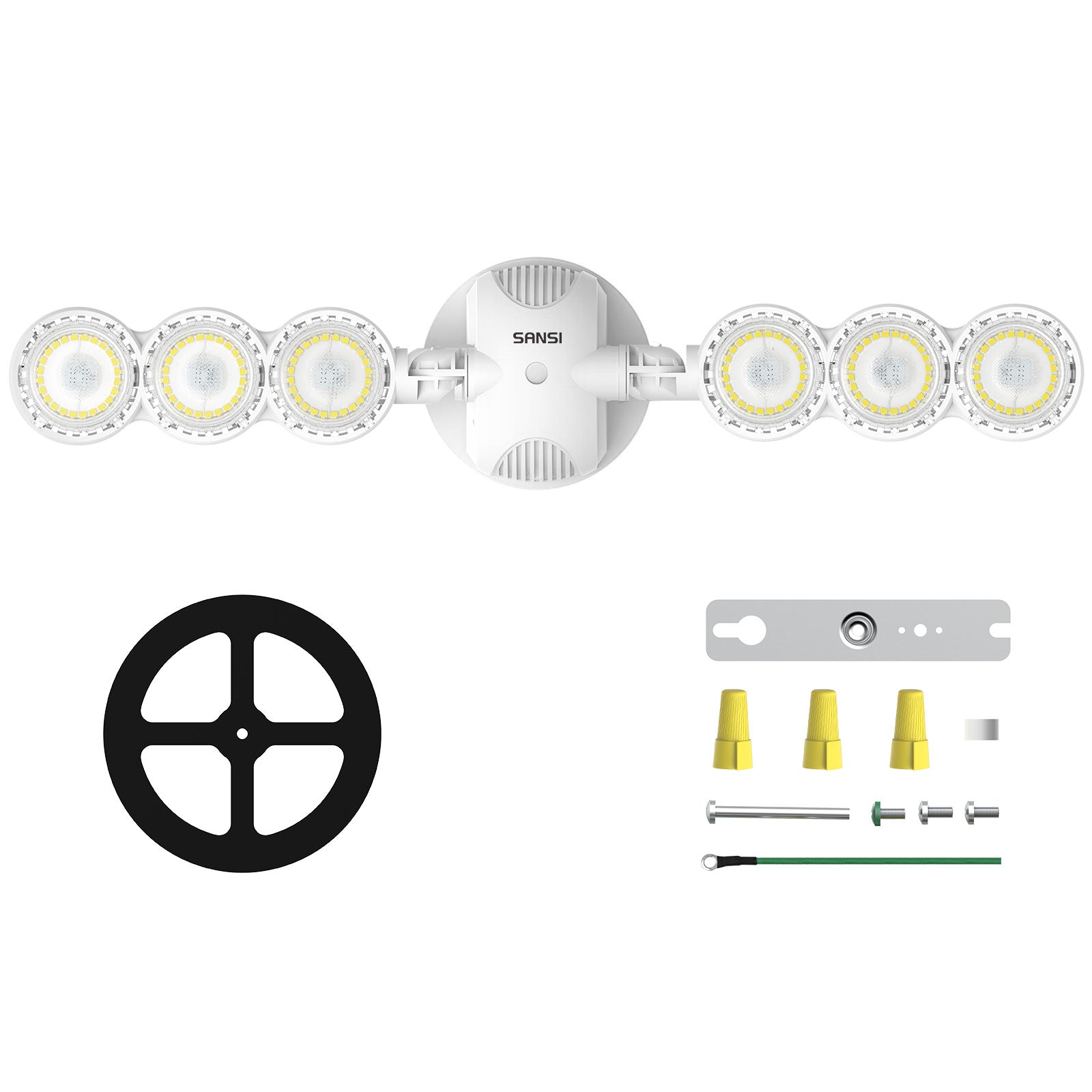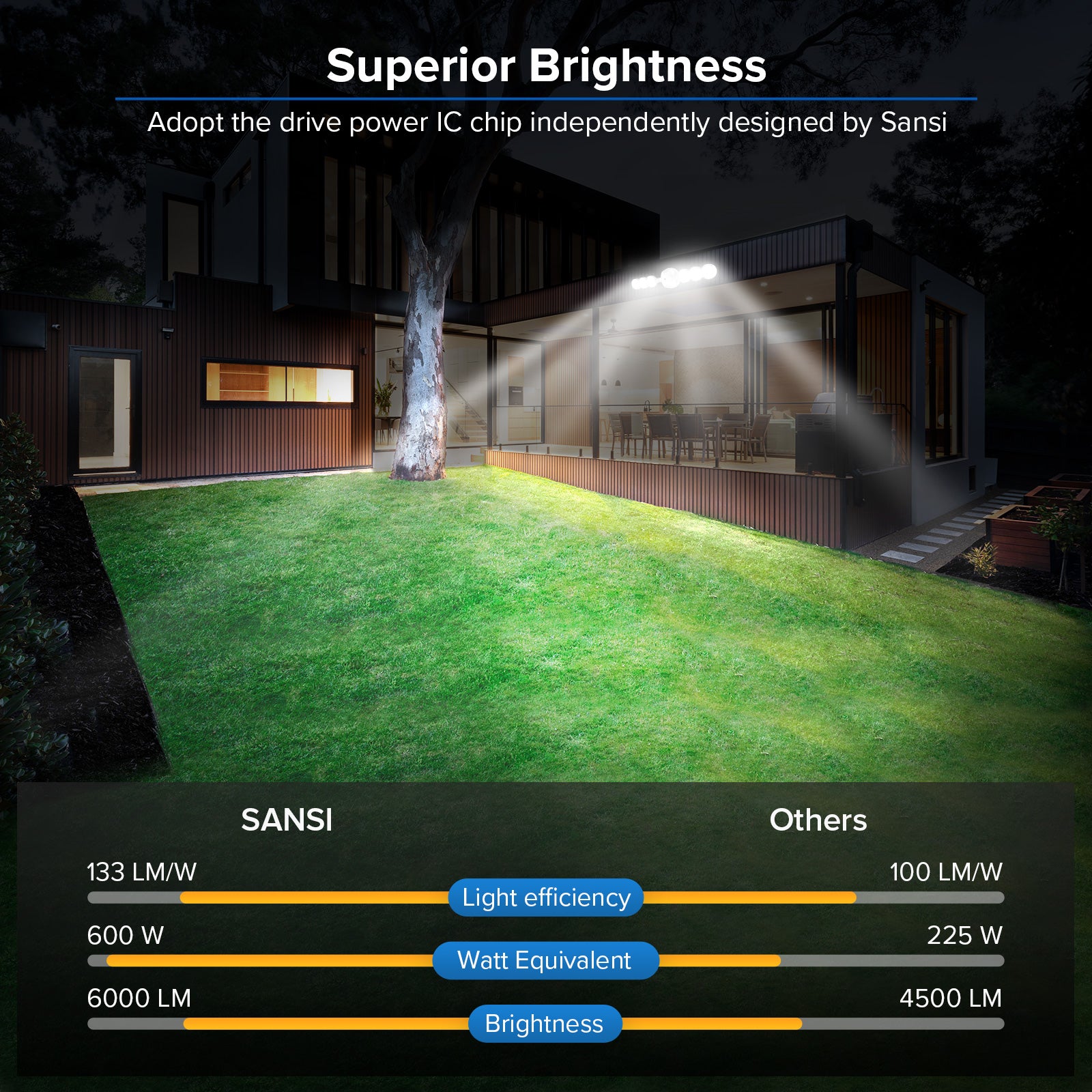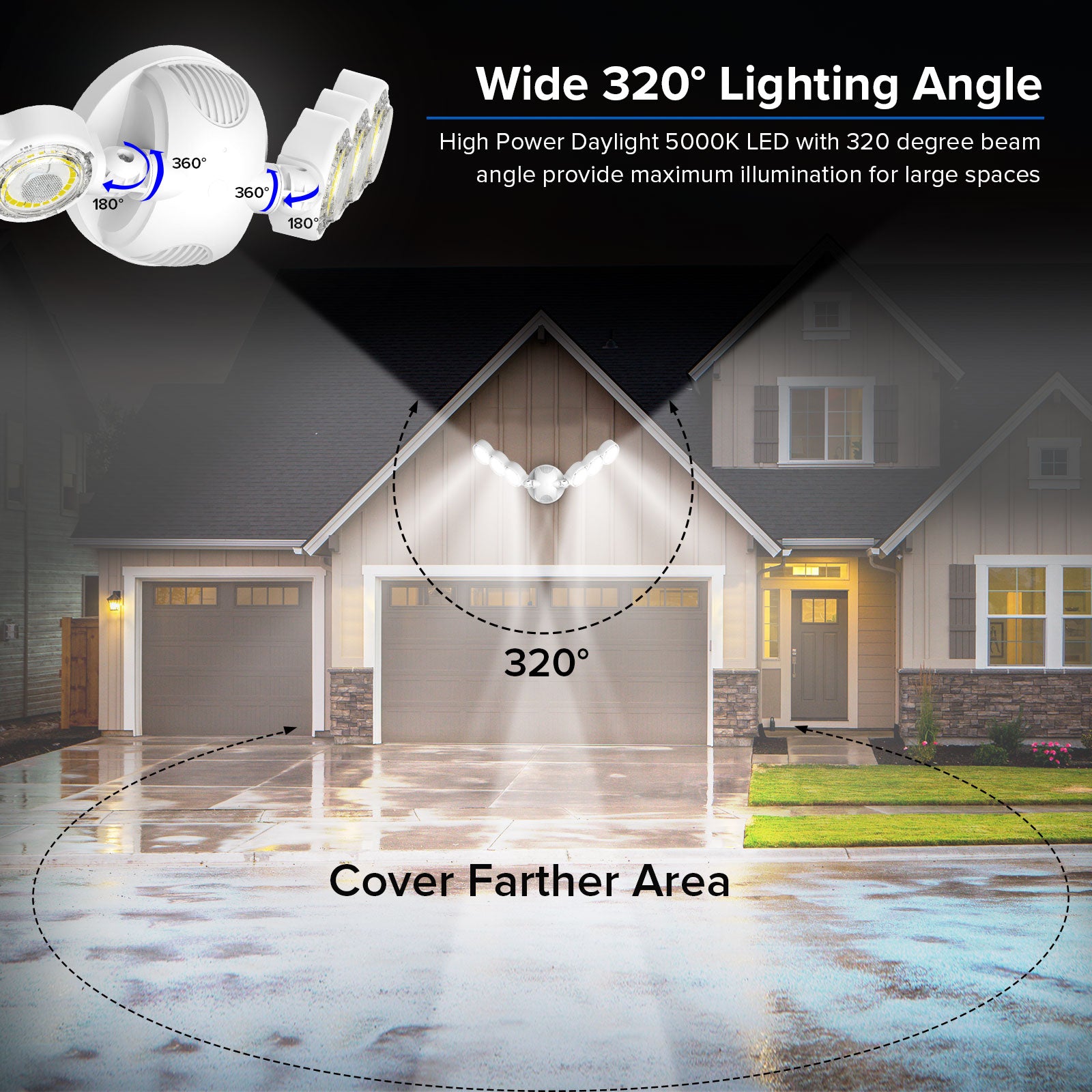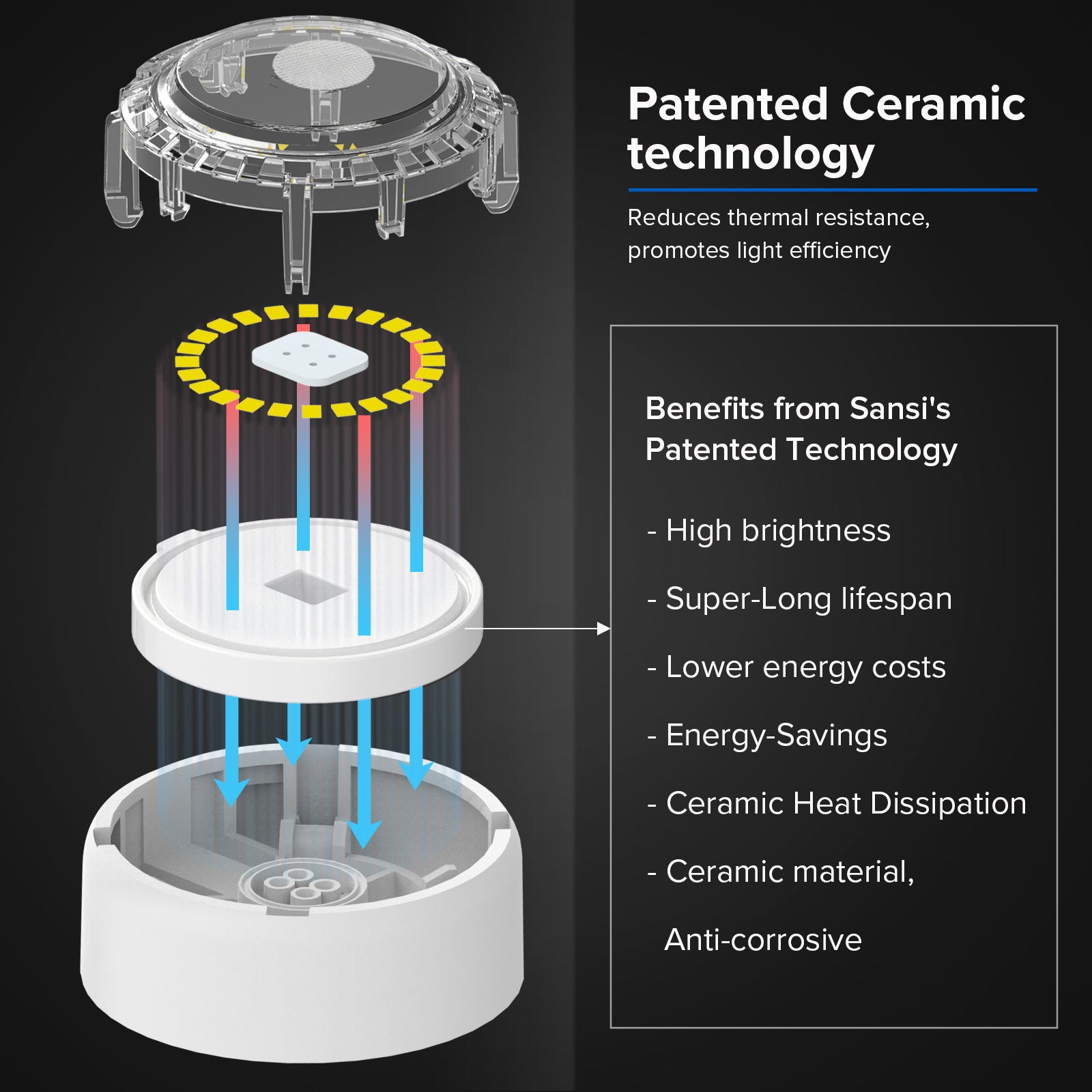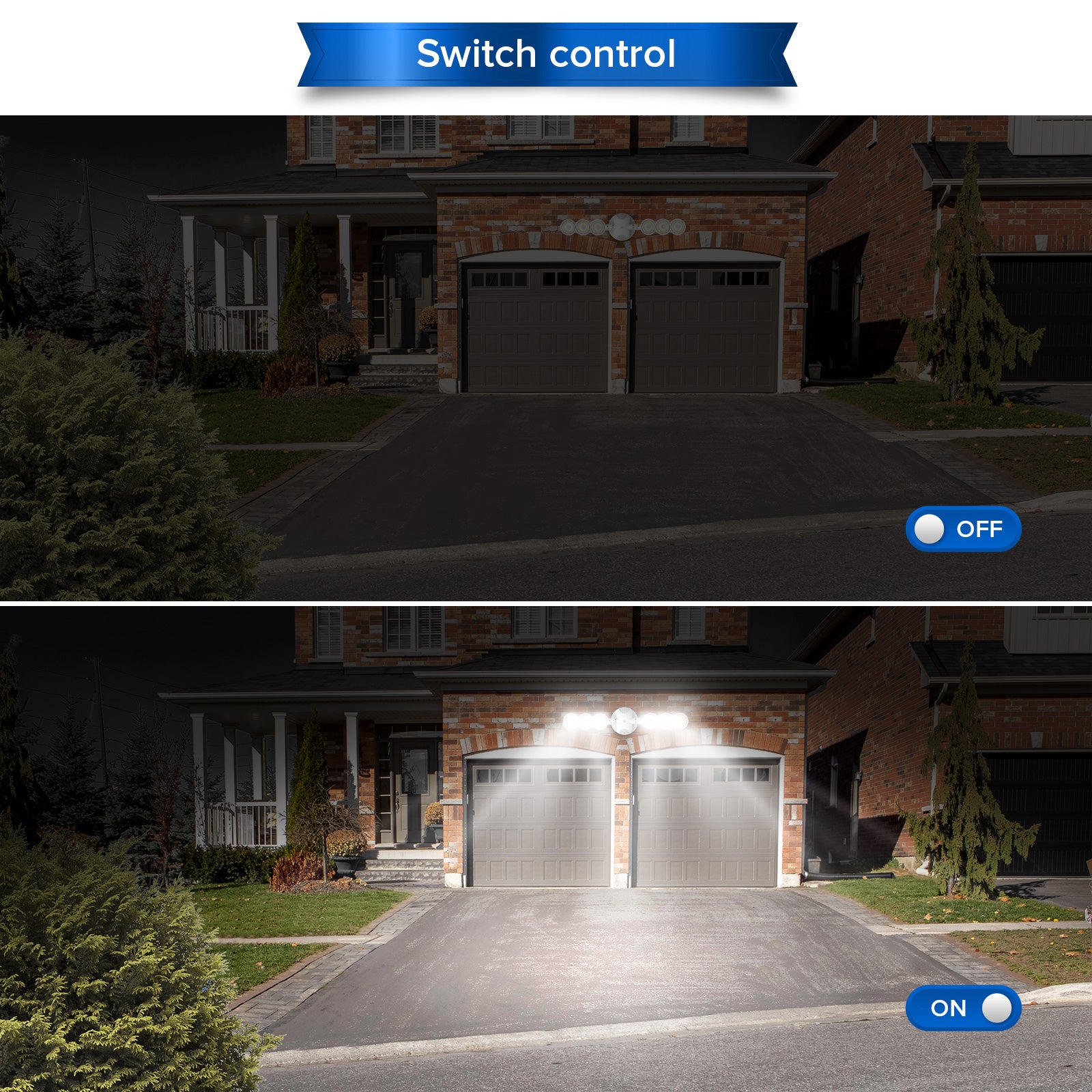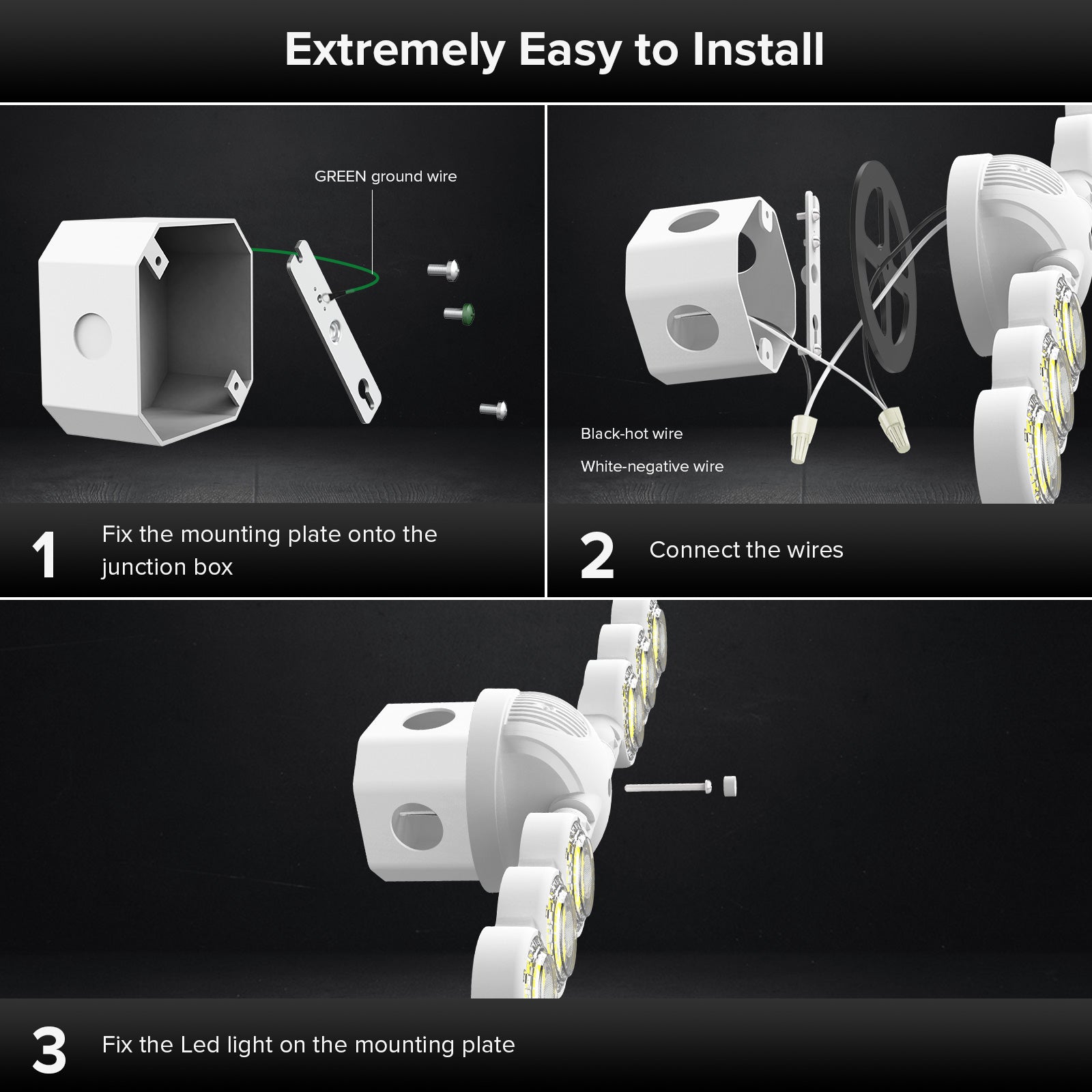 45W LED Security Light (Switch Controlled) (2-pack)
45W LED Security Light (600 Watt Equivalent) with patented Chip on Ceramic (COC) technology and hollow design, through higher effective heat dissipation, improves luminous efficacy and lifespan. Super Bright (6000lm) for yard, porch, garage, garden, etc. 5000K daylight. IP65 waterproof floodlight. Switch controlled.
Features


1. Super bright & energy-saving: Powered by SANSI LED lamp bead as the security light source, enables wall light to produce up to 6000 lm at low-power of 45W; With exclusive lens sealing technology, it provides better illumination(soft light, anti-glare) than normal chips; Save more than 85% electricity bill compared with equivalent traditional halogen bulbs 600W.
2. Switch controlled & easy installation: No motion sensor, no dusk to dawn, SANSI outdoor flood light fixture can just turn it on/off by wall switch. Also exterior LED light can be easily installed for wall mounting by a few simple wiring steps(Installation steps are included in the package). ETL certificated, it brings extra safety to your home.
3.IP65 waterproof & wide coverage: IP65 waterproof rating ensures that LED security lights can withstand rain, sleet, or snow. Perfect lighting solution for entryways, stairs, yards, garages, workshops, and large areas requiring lighting.
4. Ceramic LEDs vs. aluminum LEDs: Compared with other Flood lights (all competitors use aluminum LEDs), ceramic dissipates heat more efficiently than aluminum because it is non-conductive. This allows our LED chips to be mounted directly to ceramic; making each chip-free of fans, housing, adhesive, and PC boards. Ceramic modules have fewer parts than conventional LEDs, and therefore conduct less heat and generate more savings.
5. HCD design: It's easy & flexible to adjust the 2 light heads to a different angle as your requirement. A 5-year unlimited warranty means you are covered for replacement or refund regarding any quality issues, our friendly customer service will reply within 24 hours if there are any issues.

Specification

Item Model Number: C2440-NW-45W
Wattage: 45W
Voltage: AC 120V 60Hz
Replacement Wattage: 600W Incandescent
Beam Angle: 180°
Ra: 80
CCT: 5000K
Lumens: 6000 lm
Working temperature range: -25~+40℃
Product Size: 260mm*156mm*123mm
IP Rate: IP65
Weight: 2.14 lb

Package Included

1*SANSI LED Security Light
1*Waterproof Gasket and 3*Screws
3*Wire Connectors
1*Mounting Bolt
1*Bar-shaped Mounting Plate
1*User Manual
1*Rubber Screw Plug
How long will it take for my order to arrive?
It takes 2 working days by Express shipping after you place an order and we complete shipment. For Standard shipping, most orders will arrive 3-5 working days after shipment is completed.
We are not liable to any shipping delays, nor loss of any kind caused by unforeseen and uncontrollable circumstances, such as unreachable recipients, invalid addresses, weather conditions that affect delivery, customs clearance delays and so on. In these situations, SANSI will try our best to notify customers of the delay, and if possible, make new delivery/collection arrangements with an estimated delivery date.